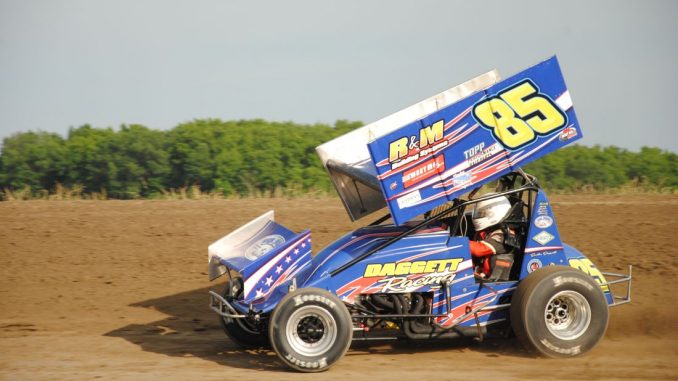 By Bob Buffenbarger
Lake Odessa,Mi.-(6-29-18) Dustin Daggett started on the pole tonight and won, but the journey between the green flag and checkers was the story on a very hot evening at I-96 Speedway. Daggett and Brett Mann made up the front row of the 25 lap Great Lakes Super Sprints feature with Mann rocketing out to a early lead.
Action was halted on lap three when Andy Teunessen, Linden Jones and Danny Sams tangled in turn three with Sam getting upside down. All were okay. After the restart, Phil Gressman took over the the top spot on lap four with Mann staying close as Daggett was 3rd with Gregg Dalman and Chase Ridenour the top five.
With ten circuits complete Gressman was putting some distance between himself and the pack as Daggett and Mann had been swapping postions with Daggett now 2nd. Daggett was fast and began closing on Gressman and getting around him on lap 17. One lap later the yellow flew for a Ridenour spin in turn three.
As the green appeared, Ryan Ruhl made an appearance as he was on the prowl and was using the top taking over 3rd on lap 20. The last caution of the race slowed the pace on lap 22. When the green flew Daggett had things under control but the racing from 2nd back to 6th was furious with Ruhl moving to second ahead of Gressman, Mann and Dalman and the stripe.
Heats for the 25 cars on hand were picked up by Gressman, Kyle Pootenga and Mann. A big crowd saw Teunessen win the B main.
Great Lakes Super Sprints
I-96 Speedway
Lake Odessa, MI
Saturday June 29, 2018
Feature (25 Laps): 1. 85 – Dustin Daggett, 2. 16 – Ryan Ruhl, 3. 7C – Phil Gressman, 4. 19 – Brett Mann, 5. 49T – Gregg Dalman, 6. 84 – Kyle Poortenga, 7. 2F – Matt Foos, 8. 11R – Chase Ridenour, 9. 27X – Jared Lamberson, 10. 28 – Conner Morrell, 11. 23G – Joe Geibe, 12. 5 – Andy Teunessen, 13. 10 – Jay Steinebach, 14. 70 – Eli Lakin, 15. 27 – Brad Lamberson, 16. 18S – Michael Summers, 17. 58 – Tony Bures, 18. 19J – Linden Jones, 19. 77 – Andrew Scheid, 20. 24D – Danny Sams.