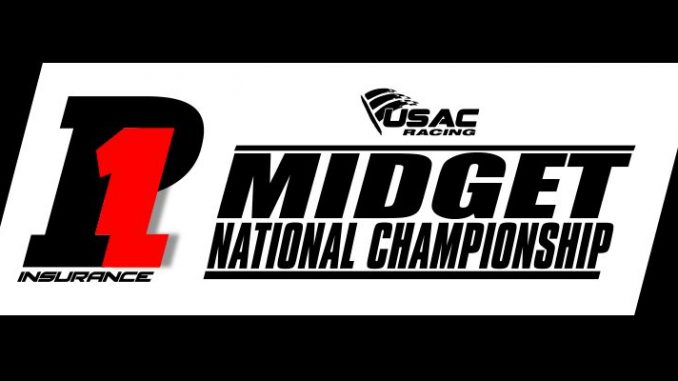 By Richie Murray

Speedway, Indiana……..USAC Triple Crown champion Tracy Hines and Leader Card Racers have signed in as the first entry for the Driven2SaveLives BC39 USAC P1 Insurance National Midget event at the new Dirt Track at IMS, located inside turn three of the Indianapolis Motor Speedway on Septemb.er 5-6.
Hines, the 2000 Silver Crown, 2002 National Sprint and 2015 National Midget titlist, returns to USAC competition for the first time since the season-ending "Turkey Night Grand Prix" in 2015.  Nowadays, Hines' full-time gig is as the director of operation for ThorWorks, one of the entities of ThorSport Racing, yet he remains a racer, competing in about 12 races a year, just for fun and only when the time allows for it, as he puts it.
The majority of his racing these days is in a winged sprint car during the summer months near his Sandusky, Ohio home.  Yet the lure of racing at IMS still shines brightly for the New Castle, Indiana native, as he relishes the opportunity to make his mark at the legendary venue.
"For me and what IMS is doing for short track racing, from the social media standpoint to the acknowledgement of how good the USAC national open wheel drivers are, it's prideful for someone who's spent so many years trying to build the USAC brand to be one of the premier series in short track racing," Hines said.  "For the speedway to follow suit and carry it on and show how important it is, words can't explain that."
Hines will take the wheel for a team that has an illustrious history on the famed, adjacent 2.5-mile – Leader Card Racers.  The Wisconsin-based team owned by the Wilke family has three Indianapolis 500 titles to its name with Rodger Ward in 1959 and 1962, then again in 1968 with Bobby Unser.
The team has earned 134 USAC victories and collected wins in many of the biggest races in the sport of midget racing, including the Chili Bowl Midget Nationals, the Four Crown Nationals, Hut Hundred, the Turkey Night Grand Prix, Pepsi Nationals, Copper World Classic and the Belleville Midget Nationals.
But a win at IMS, especially the inaugural edition on the dirt track, would have a significance that would be extra special to Leader Card Racers' Chris Wilke, the great grandson of the team's patriarch, Bob Wilke.
"It would be huge not just for me, but my family," Wilke said.  "Our last win at Indy came in 1968 and I've always wanted to compete at the Speedway to follow in my great grandfather's footsteps.  The reality of showing up with an IndyCar at the Speedway one day is more of a dream than a reality.  I'm not saying it couldn't ever happen, but now I have an opportunity to go to the Speedway and feel like I can be competitive and hopefully leave my mark like the three generations before me have done.  It would just be very special and I'm just very glad that we have an opportunity to go there and do this."
Hines made a splash in his debut for the Wilke team at a UMARA-sanctioned Midget race at Grundy County Speedway in Morris, Illinois back in 1996, winning the "Illinois State Championship."  Since then, Hines and the Wilkes racked up nine USAC National Midget feature wins between 2002 and 2006.  Although Hines ran for other teams in the following years, the two sides remained close-knit.
"I consider Greg, Chris, Mark, and everybody who's a part of the (Wilke) team, as family," Hines said.  "I first ran with them in 1996 and I drove off-and-on for them for 10 years.  I've always had a great relationship with them and I feel like I've always been a brother figure to Chris.  He's turned into a great young man and he's going to carry their legacy on (fourth generation)."
Wilke remembers the first meeting with Hines in that 1996 race, which marked the beginning of the pair's partnership that included numerous victories and memories together from coast-to-coast.
"I would've been 12 years old at the time when I first met Tracy," Wilke recalls.  "Now I'm 34 and Tracy's been a mentor in my life and someone I've always looked up to.  He's ageless when it comes to talent and there's very few guys who can go their whole career and be successful every time they strap into a racecar."
Now the pairing has returned, Wilke is not only thrilled by the opportunity to compete at IMS, but for the shot in the arm it can provide to all midget racing.
"What better place to put a dirt track than inside the world's greatest track," Wilke exclaimed.  "I think it's probably long overdue.  It's going to be a good show and it's going to attract a lot of eyes being on Brickyard weekend.  Not just a lot fans' eyes, but a lot of NASCAR eyes and national eyes on midget racing.  We've produced some of the best racers in the country and the talent produced is second to none."
The inaugural Driven2SaveLives BC39 leads up to the 25th running of the Big Machine Vodka 400 at the Brickyard powered by Florida Georgia Line honors late USAC champion and three-time Indianapolis 500 starter Bryan Clauson and increases awareness of Indiana Donor Network and Driven2SaveLives.
The Driven2SaveLives BC39 will include a unique format, concluding with a 39-lap feature Sept. 6 in the richest Midget racing event in recent history.  The race will feature more than $70,000 in purse and incentives, including a $15,000 winner's purse – the largest in Midget racing.
Dirt and asphalt racers from around the country have expressed interest in the event, with a large and diverse field – including NASCAR Cup Series drivers – expected to compete.