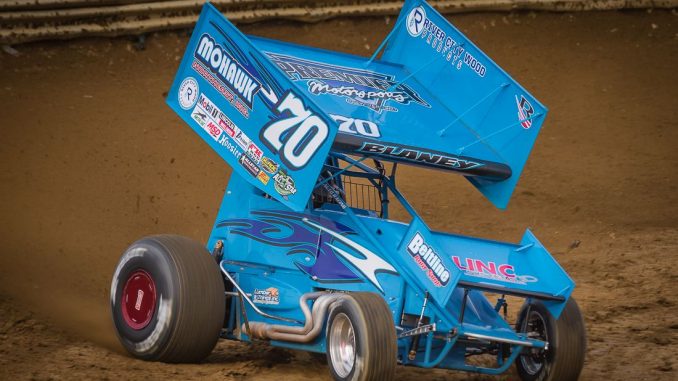 From Tyler Altmeyer
HARTFORD, Ohio (July 7, 2018) – In appropriate fashion, the "Buckeye Bullet" Dave Blaney earned the Lou Blaney Memorial crown on Saturday night at Sharon Speedway, becoming the first repeat winner of the prestigious event in its ten year history. Blaney, son of the legendary Lou Blaney, earned his 49th career Arctic Cat All Star Circuit of Champions presented by Mobil 1 triumph in exciting fashion, ultimately holding off Western Pennsylvania regular George Hobaugh and a fast charging Spencer Bayston in front of a packed house to claim the $5,000 winner's share.
"This is really special for me and my entire family. I'm really happy to win this race," Dave Blaney said in victory lane, driver of the Premier Motorsports/Mohawk Northeast/No. 70. "To be honest, the last couple of weeks we've been working to win this race. You kinda know what you're going to get when you come to Sharon; it is slick and smooth and wide. We had enough for them tonight, I guess. Pete Grove, my car owner, won this race a few years back with Danny Holtgraver. I couldn't be happier to get my first All Star win of the year here at Sharon."
By way of dash victory, Blaney's campaign at the front of the field started from the outside-front row, earning the initial jump over fellow front row starter Carl Bowser and fifth-starting George Hobaugh. Although he was the class of the field during the early segments of the 30-lapper, extending his lead to nearly four seconds just before the midpoint, Blaney's stronghold over the field was soon interrupted by traffic. Hobaugh, who advanced to the runner-up spot on lap two, was able to chip away at Blaney's advantage in traffic, cutting it down to less than two seconds by lap 18, then down to just a half-second by lap 20.
With traffic intensifying in Blaney's preferred groove around the bottom of the speedway, the 2014 Lou Blaney Memorial champion had no choice but to shift lanes and move to the top of the speedway. The desperate lane shift would not only cost momentum, but also cost Blaney the point position, as Hobaugh was able to slip underneath Blaney to officially lead the 22nd circuit. Realizing he needed to move back to the bottom, Blaney recovered in a hurry, eventually working back by Hobaugh as the pair battled a lapped car down the back straightaway. Blaney shut the door on Hobaugh entering turn three and regained control of the field to lead lap 23.
A caution the following circuit would allow Blaney the opportunity to catch his breath. With clean air and an open track in view, Blaney cruised on to lead the remaining circuits unscathed, only encountering lapped traffic slightly before the final checkers flew. Hobaugh held on to finish second to earn his career-best finish with the All Star Circuit of Champions, followed by a cushion-pounding Spencer Bayston from eighth, Gary Taylor, and Chad Kemenah.
"I was just trying to keep myself calm. I was driving around and said 'oh sh–, there's (Dave Blaney),'" George Hobaugh said with a laugh, driver of the Hobaugh's Auto Parts/Matus Motorsports/No. 40. "It's really awesome to run with these guys. I got to watch Lou (Blaney) race as a kid, so to be out here racing with Dave is just a blast."
"You never know what is going on behind you," Blaney explained regarding the lead exchange. "I didn't want to get bottled up too bad behind the lapped cars, so I decided to move up the race track. It may have worked a tiny bit, but not enough."
With many All Star Circuit of Champions competitors planning to enter the upcoming Brad Doty Classic at Attica Raceway Park, as well as the 35th Annual Kings Royal at Eldora Speedway, the 2018 All Star calendar will take a weekend off before returning to competition on Friday and Saturday, July 20 & 21, with a pair of stops in Western Pennsylvania, this time visiting Eriez Speedway and Pittsburgh's Pennsylvania Motor Speedway, respectively. Dubbed the I-79 Summer Shootout, the weekend double will be the final Western Pennsylvania visit for the traveling All Stars in 2018.
Contingency Awards/Results: Sharon Speedway – Saturday, July 7, 2018:
10th Annual Lou Blaney Memorial
EMi Driver's Meeting: 41 Entrants
State Water Heaters Warm-Ups: 13.819 seconds
Lincoln Electric Fast Qualifier: Chad Kemenah – 13.986 seconds
Ford Performance Heat #1: Andrew Palker
All Pro Aluminum Cylinder Heads Heat #2: Paul McMahan
Hunt Brothers Pizza Heat #3: Tony Stewart
Mobil 1 Heat #4: Spencer Bayston
Kistler Racing Products Heat #5: George Hobaugh
Elliott's Custom Trailers & Carts C-Main: Jack Sodeman, Jr.
JE Pistons Dash #1: Carl Bowser
Wix Filters Dash #2: Carson Macedo
Classic Ink USA B-Main: Dale Blaney
Daido Engine Bearings Main Event Winner: Dave Blaney
MSD Performance Hard Charger Award: Lee Jacobs (+13)
(Lincoln Electric, Daido Engine Bearings, MSD Performance: Need decal to qualify for contingency award)
Qualifying
Group (A)
1. 98-Carl Bowser, 14.606; 2. 11-Gary Taylor, 14.829; 3. 57X-Andrew Palker, 14.900; 4. 13M-Brandon Matus, 15.036; 5. O8-Dan Kuriger, 15.322; 6. 5M-Max Stambaugh, 15.474; 7. 98T-Joe Trenca, 15.745; 8. 35-Tyler Esh, 16.035; 9. 4C-Paul Kish, 16.568
Group (B)
1. 10H-Chad Kemenah, 13.986; 2. 21-Dale Blaney, 14.759; 3. 13-Paul McMahan, 14.759; 4. 35Z-Jared Zimbardi, 15.052; 5. 23JR-Jack Sodeman Jr., 15.309; 6. 97au-Mitchell Wormall, 15.395; 7. 33-Brent Matus, 15.408; 8. 49x-Tim Shaffer, 15.452
Group (C)
1. 3G-Carson Macedo, 14.706; 2. 70-Dave Blaney, 14.975; 3. 14-Tony Stewart, 15.370; 4. 19P-Paige Polyak, 15.437; 5. 51-John Garvin, 15.441; 6. 46-Michael Bauer, 16.076; 7. 126-Bryan Salisbury, 16.288; 8. 4W-Eric Williams, 16.424
Group (D)
1. 3-Jac Haudenschild, 15.042; 2. 4-Parker Price-Miller, 15.295; 3. 39-Spencer Bayston, 15.342; 4. 20B-Cody Bova, 15.601; 5. 87-Aaron Reutzel, 15.651; 6. 22-Brandon Spithaler, 16.279; 7. 77L-Haley Lapcevich, 16.504; 8. 11B-Joe McEwen, 16.860
Group (E)
1. 7K-Cale Conley, 15.419; 2. 81-Lee Jacobs, 15.594; 3. 7kx-Dan Shetler, 15.612; 4. 40-George Hobaugh, 15.797; 5. 42-Sye Lynch, 15.959; 6. 55-Gary Kriess, 15.987; 7. 5K-Adam Kekich, 16.131; 8. 27K-Jeremy Kornbau, 99.000
Heat #1 – Group (A) (8 Laps) – Top 4 Transfer
1. 57X-Andrew Palker [2]; 2. 98-Carl Bowser [4]; 3. 5M-Max Stambaugh [6]; 4. 11-Gary Taylor [3]; 5. 13M-Brandon Matus [1]; 6. O8-Dan Kuriger [5]; 7. 98T-Joe Trenca [7]; 8. 35-Tyler Esh [8]; 9. 4C-Paul Kish [9]
Heat #2 – Group (B) (8 Laps) – Top 4 Transfer
1. 13-Paul McMahan [2]; 2. 10H-Chad Kemenah [4]; 3. 97AU-Mitchell Wormall [6]; 4. 35Z-Jared Zimbardi [1]; 5. 49X-Tim Shaffer [8]; 6. 21-Dale Blaney [3]; 7. 33-Brent Matus [7]; 8. 23JR-Jack Sodeman Jr. [5]
Heat #3 – Group (C) (8 Laps) – Top 4 Transfer
1. 14-Tony Stewart [2]; 2. 3G-Carson Macedo [4]; 3. 70-Dave Blaney [3]; 4. 51-John Garvin [5]; 5. 126-Bryan Salisbury [7]; 6. 46-Michael Bauer [6]; 7. 19P-Paige Polyak [1]; 8. 4W-Eric Williams [8]
Heat #4 – Group (D) (8 Laps) – Top 4 Transfer
1. 39-Spencer Bayston [2]; 2. 3-Jac Haudenschild [4]; 3. 4-Parker Price-Miller [3]; 4. 87-Aaron Reutzel [5]; 5. 22-Brandon Spithaler [6]; 6. 20B-Cody Bova [1]; 7. 11B-Joe McEwen [8]; 8. 77L-Haley Lapcevich [7]
Heat #5 – Group (E) (8 Laps) – Top 4 Transfer
1. 40-George Hobaugh [1]; 2. 7K-Cale Conley [4]; 3. 7KX-Dan Shetler [2]; 4. 81-Lee Jacobs [3]; 5. 5K-Adam Kekich [7]; 6. 27K-Jeremy Kornbau [8]; 7. 55-Gary Kriess [6]; 8. 42-Sye Lynch [5]
Dash #1 (4 Laps)
1. 98-Carl Bowser [1]; 2. 11-Gary Taylor [3]; 3. 40-George Hobaugh [5]; 4. 7K-Cale Conley [2]; 5. 14-Tony Stewart [6]; 6. 13-Paul McMahan [4]
Dash #2 (4 Laps)
1. 70-Dave Blaney [1]; 2. 3G-Carson Macedo [4]; 3. 10H-Chad Kemenah [2]; 4. 39-Spencer Bayston [3]; 5. 3-Jac Haudenschild [5]; 6. 57X-Andrew Palker [6]
C-Main (10 Laps) – Top 2 Transfer
1. 23JR-Jack Sodeman Jr. [6]; 2. 33-Brent Matus [1]; 3. 19P-Paige Polyak [2]; 4. 35-Tyler Esh [8]; 5. 55-Gary Kriess [4]; 6. 11B-Joe McEwen [5]; 7. 4C-Paul Kish [11]; 8. 4W-Eric Williams [9]; 9. 98T-Joe Trenca [3]; 10. 77L-Haley Lapcevich [10]; 11. 42-Sye Lynch [7]
B-Main (12 Laps) – Top 4 Transfer
1. 21-Dale Blaney [1]; 2. 49X-Tim Shaffer [3]; 3. 13M-Brandon Matus [2]; 4. 22-Brandon Spithaler [5]; 5. O8-Dan Kuriger [7]; 6. 126-Bryan Salisbury [6]; 7. 5K-Adam Kekich [4]; 8. 33-Brent Matus [12]; 9. 23JR-Jack Sodeman Jr. [11]; 10. 46-Michael Bauer [9]; 11. 27K-Jeremy Kornbau [10]; 12. 20B-Cody Bova [8]
A-Main (30 Laps)
1. 70-Dave Blaney [2]; 2. 40-George Hobaugh [5]; 3. 39-Spencer Bayston [8]; 4. 11-Gary Taylor [3]; 5. 10H-Chad Kemenah [6]; 6. 81-Lee Jacobs [19]; 7. 98-Carl Bowser [1]; 8. 13-Paul McMahan [11]; 9. 3G-Carson Macedo [4]; 10. 5M-Max Stambaugh [15]; 11. 7K-Cale Conley [7]; 12. 7KX-Dan Shetler [16]; 13. 35Z-Jared Zimbardi [17]; 14. 49X-Tim Shaffer [22]; 15. 57X-Andrew Palker [12]; 16. 21-Dale Blaney [21]; 17. 3-Jac Haudenschild [10]; 18. 87-Aaron Reutzel [20]; 19. 51-John Garvin [18]; 20. 22-Brandon Spithaler [24]; 21. 97AU-Mitchell Wormall [14]; 22. 35-Tyler Esh [25]; 23. 4-Parker Price-Miller [13]; 24. 14-Tony Stewart [9]; 25. 13M-Brandon Matus [23] Lap Leaders: Dave Blaney (1-21), George Hobaugh (22), Dave Blaney (23-30)
All Star Circuit of Champions Driver Standings: (after 7/7/2018)
1. Carson Macedo – 2912
2. Chad Kemenah – 2890
3. Aaron Reutzel – 2886
4. Jac Haudenschild – 2826
5. Dave Blaney – 2730
6. Paul McMahan – 2704
7. Parker Price-Miller – 2696
8. Cale Conley – 2546
9. Carl Bowser – 2380
10. Brandon Spithaler – 2342