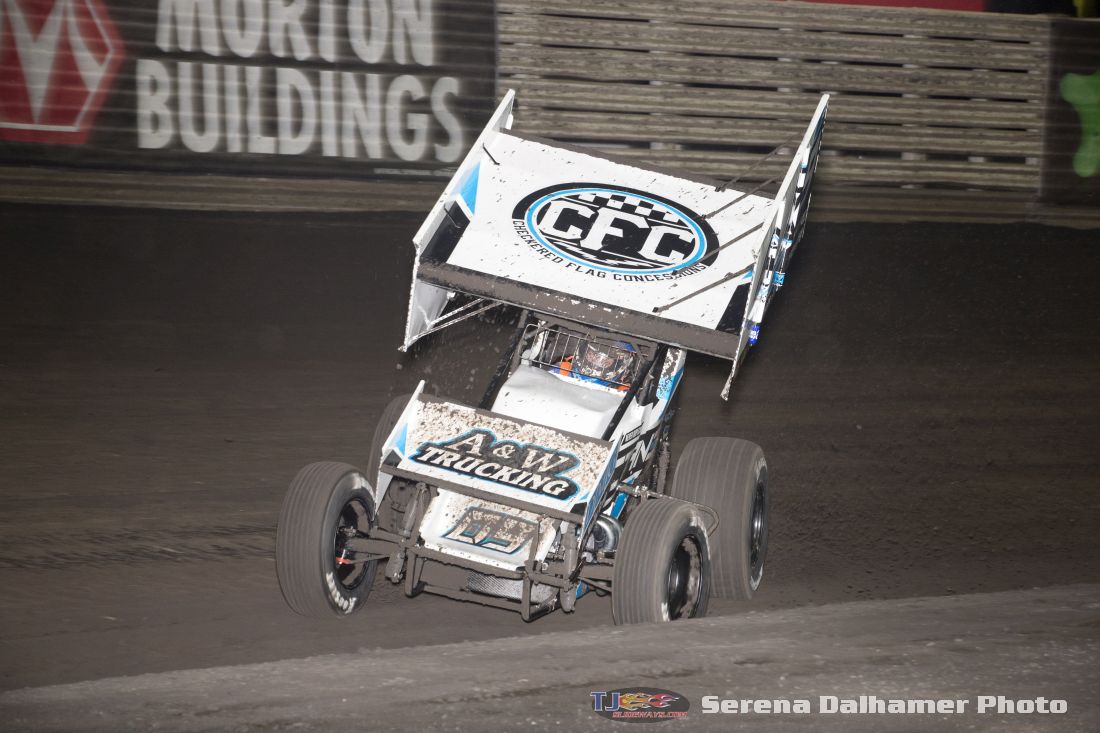 From Eric Arnold
KNOXVILLE, Iowa (July 7, 2018) – Matt Juhl grabbed a hard fought win on Dennison Racing Tee's and Jersey Freeze Night at Knoxville Raceway! The second win of his career at Knoxville the South Dakota driver started on the pole and was able to hold off challenges from Terry McCarl and Davey Heskin in the closing laps. At the halfway point Juhl had a two second lead of Terry McCarl wiped away when the caution came out for a slowing Carson McCarl. On the restart T-Mac was not able to get to Juhl and he once again was pulling away. One last caution on lap 15 the caution flew once again for Lynton Jeffrey who spun down the front stretch after contact with Tasker Phillips. With a five-lap dash to the finish the field was once again lurking to try to steal the win. As the green flag flew Terry McCarl dived to the bottom of turn one and slid up in front of Juhl. Juhl was able to pass back McCarl in turn three but out of nowhere came Davey Heskin who would pass them both on the inside and gar the lead when they came to the line on lap 16. Heskin's lead was brief as he couldn't hold off Juhl for long as the #09 came roaring back to lead lap 17 and the rest of the way to meet Hall of Fame flagman Doug Clark in Victory Lane.
"I seen Terry and Heskin were behind me and I knew Terry was going to pull a slider and I was just trying to get the best start I could off the line," said Juhl in victory lane. "That first caution (restart) worked out for me but then on the second one Terry was able to drive me underneath and it was fun after that with Heskin and Terry. It was quite the race and I hoped you guys liked it! I knew we could do it and it was just getting it done. I'm proud of my guys!"
A big story on this night was Brooke Tatnell who was second in the Lucas Oil Knoxville Championship Cup Series standing coming into tonight. After a disappointing time trial the team changed engines for their heat race. Tatnell would win his heat easily but stopped immediately after taking the checkered flag with a fire in his car. Tatnell suffered minor burns to his legs and was able to start the feature but elected to park his #55 TK Concrete car after one lap to collect points.
In the 360 class McKenna Haase took advantage of her front row starting spot and beat Ryan Giles to the lead going into turn one. Matt Moro was able to catch Haase midway as they raced through lapped traffic, passing her briefly before Haase made the pass back two corners later and retook the point. From there she had Moro, Giles, and Sawyer Phillips on her heals the rest of the way. Sawyer Phillips made a daring pass going into turn one with four laps remaining, passing both Giles and Moro in one corner. Phillips would turn his fastest lap of the night on final lap but it wasn't quite enough to catch Haase as she went on to pick up her second career 360 feature win at Knoxville.
When asked about the slider from Moro, "I knew it wasn't going to clear unless I lifted, so I hit the brakes a little bit and thankfully I was able to duck back underneath of him and get the lead back," said Haase. "There was much left on the bottom and I was like I don't know if I can get that, but we did and very grateful and thankful for my crew who gave me such an awesome car and for everyone that makes it possible, just a really great win for our team!"
The 305 feature was barn burner as well on this night. Eric Bridger who has won six times this season took off with the lead early and appeared to have the race in hand. Knoxville's Ryan Leavitt started fifth and was able to climb to second early but wasn't catching Bridger. With a handful of laps remaining Leavitt began working the low groove and found something that his car liked and he began reeling in the leader. At the white flag Leavitt was able to pull even with Bridger and make the winning pass entering turn one on the last lap and hold on for his second feature win of the season!
"We have had a lot of speed and had weird things happen to us the past several weeks and I just can't thank my guys enough," said Leavitt. "We came from fifth to second right off the bat so I could really kind of focus on what Bridger's weakness were and figure out how to beat him. I was expecting him to go to the top on the restart and he left it (bottom) open, but he ran perfect two or three laps and got away. But then I could see he was spinning his tires out of turn two and I just kept working my line and finally we got back up to him. I'm glad we were able to do that, this is an awesome win for us!"
Join us next weekend, Saturday, July 14, for South Central Coop Night featuring the Lucas Oil ASCS sprint cars! For more information, visit www.KnoxvilleRaceway.com!
410 RESULTS
Time Trials, 1. 24, Terry McCarl, Altoona, IA (5), 15.893; 2. 2KS, Austin McCarl, Altoona, IA (13), 15.954; 3. 20, AJ Moeller, Rockwell City, IA (6), 15.978; 4. 09, Matt Juhl, Tea, SD (8), 16.012; 5. 9, Rager Phillips, Pleasantville, IA (3), 16.155; 6. 71A, RJ Johnson, Tampa, FL (9), 16.165; 7. 12, Lynton Jeffrey, Sydney, NSW, Aust. (10), 16.192; 8. 17W, Shane Golobic, Fremont, CA (4), 16.254; 9. 55, Brooke Tatnell, Sans Souci, NSW, Aus (15), 16.298; 10. 56N, Davey Heskin, St. Michael, MN (18), 16.308; 11. 7, Carson McCarl, Altoona, IA (17), 16.317; 12. 7W, Tasker Phillips, Pleasantville, IA (16), 16.432; 13. 49, Josh Schneiderman, West Burlington, IA (14), 16.537; 14. 75, Glen Saville, Razorback, NSW, Aust (2), 16.558; 15. 15, Bobby Mincer, Burlington, IA (11), 16.619; 16. 21AU, Jordyn Brazier, Sydney, NSW, Aust. (1), 16.76; 17. 85, Chase Wanner, Agency, IA (12), 16.998; 18. 19, Bob Weuve, Newton, IA (7), 17.453;
Heat 1, 8 Laps, No Time: 1. Jordyn Brazier (1); 2. Davey Heskin (3); 3. Josh Schneiderman (2); 4. Lynton Jeffrey (4); 5. Matt Juhl (5); 6. Terry McCarl (6);
Heat 2, 8 Laps, No Time: 1. Shane Golobic (4); 2. Austin McCarl (6); 3. Carson McCarl (3); 4. Rager Phillips (5); 5. Chase Wanner (1); 6. Glen Saville (2);
Heat 3, 8 Laps, No Time: 1. Brooke Tatnell (4); 2. AJ Moeller (6); 3. RJ Johnson (5); 4. Tasker Phillips (3); 5. Bobby Mincer (2); 6. Bob Weuve (1);
A Feature, 20 Laps, No Time: 1. Matt Juhl (1); 2. Terry McCarl (5); 3. Davey Heskin (10); 4. Austin McCarl (8); 5. RJ Johnson (4); 6. Jordyn Brazier (12); 7. Rager Phillips (2); 8. Tasker Phillips (14); 9. Shane Golobic (6); 10. Carson McCarl (11); 11. Josh Schneiderman (13); 12. Lynton Jeffrey (9); 13. Bobby Mincer (15); 14. AJ Moeller (7); 15. Glen Saville (16); 16. Bob Weuve (18); 17. Brooke Tatnell (3); 18. Chase Wanner (17);
360 RESULTS
Time Trials, 1. 9, Ryan Giles, Grimes, IA (9), 16.711; 2. 3, Nate Van Haaften, Otley, IA (15), 16.737; 3. 09, Matt Juhl, Tea, SD (12), 16.739; 4. 3P, Sawyer Phillips, Pleasantville, IA (6), 16.855; 5. 2M, Matt Moro, Polk City, IA (5), 16.875; 6. 70, Calvin Landis, Knoxville, IA (18), 16.887; 7. 55, McKenna Haase, Des Moines, IA (3), 16.925; 8. 40, Clint Garner, Sioux Falls, SD (17), 16.926; 9. 33M, Mason Daniel, Springville, CA (13), 16.931; 10. 15, Christian Bowman, Altoona, IA (4), 16.98; 11. 4, Jon Agan, Knoxville, IA (2), 16.982; 12. 40C, Cody Wehrle, Burlington, IA (7), 17.008; 13. 76, Brad Comegys, Bondurant, IA (16), 17.111; 14. 8L, Tom Lenz, Marion, IA (14), 17.161; 15. 37H, Matt Howard, Lawrence, KS (1), 17.198; 16. 6, Mitchell Alexander, Knoxville, IA (11), 17.311; 17. 24N, Nathan Mills, Bondurant, IA (10), 17.543; 18. 57, Billy Butler, Sacramento, CA (8), 17.395;
Heat 1, 7 Laps, No Time: 1. Jon Agan (1); 2. McKenna Haase (3); 3. Matt Moro (4); 4. Mason Daniel (2); 5. Matt Juhl (5); 6. Ryan Giles (6); 7. Matt Howard (8); 8. Brad Comegys (7); 9. Nathan Mills (9);
Heat 2, 7 Laps, No Time: 1. Christian Bowman (2); 2. Calvin Landis (4); 3. Cody Wehrle (1); 4. Clint Garner (3); 5. Sawyer Phillips (5); 6. Nate Van Haaften (6); 7. Mitchell Alexander (8); 8. Tom Lenz (7); 9. Billy Butler (9);
A Feature, 18 Laps, No Time: 1. McKenna Haase (1); 2. Sawyer Phillips (7); 3. Matt Moro (3); 4. Ryan Giles (2); 5. Calvin Landis (4); 6. Matt Juhl (5); 7. Clint Garner (10); 8. Nate Van Haaften (6); 9. Mason Daniel (11); 10. Christian Bowman (8); 11. Matt Howard (13); 12. Jon Agan (9); 13. Tom Lenz (16); 14. Mitchell Alexander (15); 15. Brad Comegys (14); 16. Nathan Mills (17); 17. Billy Butler (18); 18. Cody Wehrle (12);
305 RESULTS
Time Trials, 1. 81E, Eric Bridger, Winterset, IA (7), 17.693; 2. 33, Jayce Jenkins, Colfax, IA (6), 17.79; 3. 64C, Casey Greubel, Lacona, IA (1), 17.82; 4. 22, Ryan Leavitt, Knoxville, IA (9), 17.836; 5. 21, Evan Epperson, Muscatine, IA (3), 17.845; 6. 99, Matthew Stelzer, Papillion, NE (11), 17.89; 7. 56, Joe Simbro, Pleasantville, IA (4), 17.963; 8. 4, Chris Horton, Indianola, IA (5), 18.01; 9. 26, Chase Young, Des Moines, IA (14), 18.011; 10. 0, Mike Mayberry, Fremont, IA (13), 18.021; 11. 12T, Tyler Glass, Cedar Rapids, IA (10), 18.113; 12. 71, Brandon Worthington, Indianola, IA (12), 18.122; 13. 1K, Kelby Watt, Adel, IA (16), 18.124; 14. 41D, Dan Henning, Columbia, IA (2), 18.268; 15. 41, Jeff Wilke, Genoa, IL (8), 18.3; 16. 50, Mike Ayers, Waukee, IA (15), 18.504;
Heat 1, 6 Laps, No Time: 1. Joe Simbro (3); 2. Evan Epperson (4); 3. Tyler Glass (1); 4. Chase Young (2); 5. Eric Bridger (6); 6. Jeff Wilke (8); 7. Kelby Watt (7); 8. Casey Greubel (5);
Heat 2, 6 Laps, No Time: 1. Mike Mayberry (2); 2. Matthew Stelzer (4); 3. Brandon Worthington (1); 4. Ryan Leavitt (5); 5. Chris Horton (3); 6. Jayce Jenkins (6); 7. Dan Henning (7); 8. Mike Ayers (8);
A Feature, 15 Laps, No Time: 1. Ryan Leavitt (5); 2. Eric Bridger (2); 3. Mike Mayberry (7); 4. Matthew Stelzer (4); 5. Evan Epperson (1); 6. Jayce Jenkins (6); 7. Joe Simbro (3); 8. Kelby Watt (14); 9. Chris Horton (10); 10. Chase Young (9); 11. Casey Greubel (8); 12. Dan Henning (15); 13. Mike Ayers (16); 14. Jeff Wilke (13); 15. Tyler Glass (11); 16. Brandon Worthington (12);