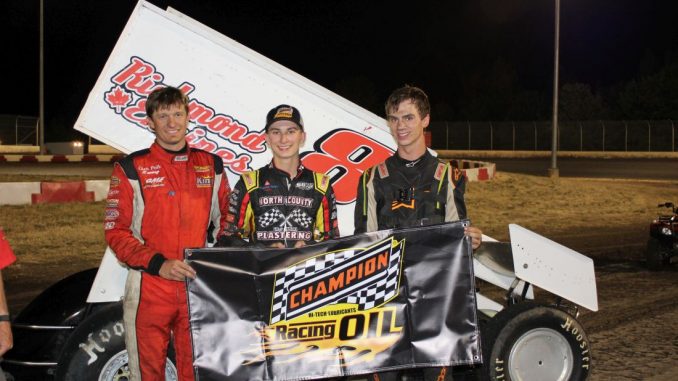 From Ben Deatherage
LEBANON, Or. (July 11, 2018) — Night two of the 2018 Champion Racing Oil Speedweek Northwest, presented by BC Motorsports and Highline Performance, would be at Willamette Speedway on Wednesday, July 11th. Twenty-nine race cars would make the trip to the historic 1/3-mile clay oval. The states of Oregon, Washington, California, Arizona, and Texas were represented as well as the Canadian provinces of British Columbia and Alberta.
Michael Kofoid would lead the charge to the green and took control of the initial race lead. Kofoid, from Penngrove, California and racing for British Columbia car owners Doug and Kathy Rutz, set a torrid pace in open race track. But when they hit traffic he would feel some pressure from challengers and nearly was overtaken only for a caution to come out late in the main just in time.
The stoppage was well timed as it allowed for Kofoid to restart and operate in open track once more. He would master the final restart and come across the line as the winner for his first ever Speedweek Northwest victory. He becomes the thirty-seventh different driver to have scored a triumph during Speedweek in one-hundred-twelve races.
Tyler Thompson, from nearby Harrisburg, would record an incredible second over third finishing John Carney, racing for California car owner Clayton Snow, from El Paso, Texas. Hanford, California's D.J. Netto grabbed fourth with the Dan and Cindi Menne owned mount, driver by Roseville, California gasser Sean Becker, in fifth.
Qualifying would be split into two separate groups with D.J. Netto and Tyler Thompson quickest. Heats were won by Roseburg native Jake Waddell, John Carney, Roseville, California's Willie Croft, and Michael Kofoid. Kelly Miller, from Lethbridge, Alberta, would win the consolation feature.
The Champion Racing Oil Speedweek Northwest, presented by BC Motorsports and Highline Performance, schedule will visit Sunset Speedway Park, in Banks, on Thursday, July 12th. Pit Gates open at 2:00 PM, Front Gates 4:00, Time Trials begin at 5:30, with Racing kicking off at 6:30. Tickets are $16.00 for Adults and Seniors/Military/Juniors (13-17) $13.00. A Family Pass (Two Adults and up to four Youths) is offered for $55.00 while Premium Seats are available for $35.00 each. Tickets, apparel, and more can be purchased online at www.pnwdirtracing.com . For more information log on to www.sunsetspeedwaypark.com.
For the latest news and information regarding the Western Sprint Tour be sure and visit sprints.nwextremseries.com or follow the Facebook page at "Western Sprint Tour" for live updates. Tune in on DirtOval TV to watch LIVE pay-per-view racing action.
Race Results:
Champion Racing Oil Speedweek Northwest presented by BC Motorsports and Highline Performance Race #2
Wednesday, July 11th, 2018
Willamette Speedway
Lebanon, Oregon
A Feature: 1. 8R-Michael Kofoid, ; 2. 7T-Tyler Thompson, ; 3. 7-John Carney II, ; 4. 88N-D.J. Netto, ; 5. 75-Sean Becker, ; 6. 94-Steven Tiner, ; 7. 26-Billy Aton, ; 8. 2K-Kyle Offill, ; 9. 6A-Kyle Miller, ; 10. 3-J.J. Hickle, ; 11. 2JR-Kelly Miller, ; 12. 18-Jason Solwold, ; 13. 31C-Justyn Cox, ; 14. 33-Lucas Ashe, ; 15. 21W-Jake Wheeler, ; 16. 29-Willie Croft, ; 17. 10J-Jake Waddell, ; 18. 7H-Jake Haulot, ; 19. 18T-Tanner Holmes, ; 20. 9-Dustin Freitas,
B Feature: 1. 2JR-Kelly Miller, ; 2. 9-Dustin Freitas, ; 3. 3-J.J. Hickle, ; 4. 33-Lucas Ashe, ; 5. 5-Brian Boswell, ; 6. 12J-John Clark, ; 7. 2-Alex Pettas, ; 8. 70-Raquel Ivie, ; 9. 28-Mark Herz, ; 10. 11X-Ariel Biggs, ; 11. 15R-Jake Gilman, ; 12. 34-T.J. Richman, ; (DNS) 7N-Zack Lynskey,
Heat 1: 1. 10J-Jake Waddell, ; 2. 18-Jason Solwold, ; 3. 88N-D.J. Netto, ; 4. 9-Dustin Freitas, ; 5. 75-Sean Becker, ; 6. 3-J.J. Hickle, ; 7. 2-Alex Pettas, ; 8. 15R-Jake Gilman,
Heat 2: 1. 7-John Carney II, ; 2. 7T-Tyler Thompson, ; 3. 2JR-Kelly Miller, ; 4. 2K-Kyle Offill, ; 5. 26-Billy Aton, ; 6. 28-Mark Herz, ; 7. 7N-Zack Lynskey,
Heat 3: 1. 29-Willie Croft, ; 2. 18T-Tanner Holmes, ; 3. 21W-Jake Wheeler, ; 4. 31C-Justyn Cox, ; 5. 7H-Jake Haulot, ; 6. 11X-Ariel Biggs, ; 7. 5-Brian Boswell,
Heat 4: 1. 8R-Michael Kofoid, ; 2. 94-Steven Tiner, ; 3. 6A-Kyle Miller, ; 4. 12J-John Clark, ; 5. 70-Raquel Ivie, ; 6. 33-Lucas Ashe, ; 7. 34-T.J. Richman,
Qualifying 1: 1. 88N-D.J. Netto, ; 2. 29-Willie Croft, ; 3. 75-Sean Becker, ; 4. 31C-Justyn Cox, ; 5. 2-Alex Pettas, ; 6. 7H-Jake Haulot, ; 7. 18-Jason Solwold, ; 8. 21W-Jake Wheeler, ; 9. 10J-Jake Waddell, ; 10. 18T-Tanner Holmes, ; 11. 9-Dustin Freitas, ; 12. 5-Brian Boswell, ; 13. 3-J.J. Hickle, ; 14. 11X-Ariel Biggs, ; 15. 15R-Jake Gilman,
Qualifying 2: 1. 7T-Tyler Thompson, ; 2. 6A-Kyle Miller, ; 3. 26-Billy Aton, ; 4. 8R-Michael Kofoid, ; 5. 7-John Carney II, ; 6. 94-Steven Tiner, ; 7. 2K-Kyle Offill, ; 8. 33-Lucas Ashe, ; 9. 7N-Zack Lynskey, ; 10. 12J-John Clark, ; 11. 2JR-Kelly Miller, ; 12. 70-Raquel Ivie, ; 13. 28-Mark Herz, ; 14. 34-T.J. Richman,
Current Champion Racing Oil Speedweek Northwest presented by BC Motorsports and Highline Performance Point Standings (Top Ten)
1. 88N-D.J. Netto 183; 2. 7-John Carney II 172; 3. 29-Willie Croft 163; 4. 8R-Michael Kofoid 159; 5. 94-Steven Tiner 155; 6. 33-Lucas Ashe 147; T 26-Billy Aton 147; 8. 2JR-Kelly Miller 139; 9. 31C-Justyn Cox 138; 10. 2K-Kyle Offill 133
2018 Champion Racing Oil Speedweek Northwest presented by BC Motorsports and Highline Performance Schedule
Monday, July 9th-Siskiyou Motor Speedway-Yreka, California-CANCELLED
Tuesday, July 10th-Coos Bay Speedway-Coos Bay, Oregon-Willie Croft
Wednesday, July 11th-Willamette Speedway-Lebanon, Oregon-Michael Kofoid
Thursday, July 12th-Sunset Speedway Park-Banks, Oregon
Friday, July 13th-Cottage Grove Speedway-Cottage Grove, Oregon
Saturday, July 14th-Cottage Grove Speedway-Cottage Grove, Oregon