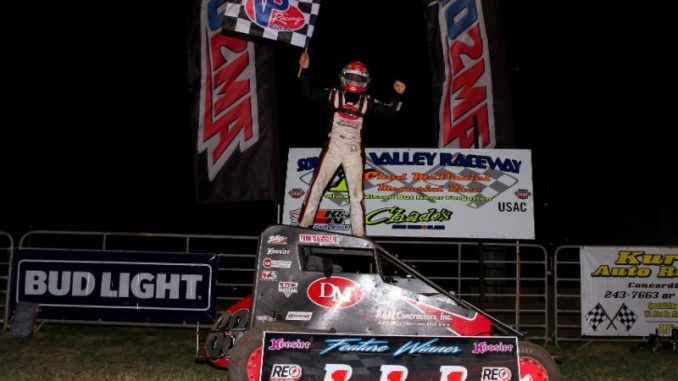 From Richie Murray
BELOIT, Ks. (July 11, 2018) — Prior to Wednesday night's 9th annual "Chad McDaniel Memorial," the last appearance of Kevin Thomas, Jr. at Solomon Valley Raceway in 2015 resulted in a victory.
Likewise, the most recent appearance of Joe Dooling's No. 63 at Solomon Valley in 2016 resulted in a victory.
When you blend the ingredients of Thomas, Dooling and Solomon Valley, it's bound to be a recipe for success.
The Cullman, Alabama native became the first repeat winner of the 2018 USAC P1 Insurance National Midget season, leading all 30 laps on his way to a second "Chad McDaniel Memorial" win.
However, the road to victory lane from the pole position wasn't as smooth and pretty as it may appear on paper. Thomas admits that he was playing with fire on multiple occasions, nearly throwing away a surefire victory despite an otherwise perfect performance.
At the beginning, though, Thomas was flawless, grabbing the lead by a wheel at the line after battling with outside front row starter Logan Seavey for the entirety of the first lap. When Seavey stumbled at the exit of turn four on lap two, Thomas capitalized and immediately posted a half-straightaway lead. By the eighth lap, Thomas had already entered lapped traffic with a full-straightaway advantage.
With half the 30-lap distance in the rearview and Thomas on full Rad Racer cruiser mode, the beginning of the second half would prove topsy-turvy up front.
On the lap 16 restart following a Tyler Thomas flip, second-running Seavey clipped the turn two infield tire, losing ground that was all to Ryan Robinson's advantage as he took possession of second from Seavey and initiated his pursuit of K. Thomas.
However, on the 18th lap, K. Thomas got completely sideways between turns three and four. Robinson had nowhere to go and rammed into the side of the K. Thomas machine, kickstarting Thomas back into action, but accepting the brunt of the misfortune as he stopped at the edge of the infield to bring out the yellow. Robinson would restart from the tail and manage a 13th place finish by race's end.
Thomas knew he got away with one on this occasion, but that's racing, and on a bullring like Solomon Valley, it's sometimes a vicious part of the game.
"You had to be aggressive tonight because there were holes you had to get through to keep your tires spinning," Thomas recalled. "You couldn't go in there half-cocked. I did a few times and it about cost me the race. It was unfortunate for Ryan Robinson. He got turned around because of my mistake. That's small track racing. He did nothing wrong. It's just unfortunate that happened to him."
Seavey got a reprieve and returned to second for the lap 18 restart, but Thomas was money once again, distancing himself from Seavey and, ultimately, widening the gap to a full-straightaway with five laps remaining as he tussled with lapped traffic, escaping with relative ease.
Thomas was in complete control down the stretch as he raced to his fourth career USAC National Midget feature win and his second at the quarter-mile in the north central Kansas birthplace of two-time Indianapolis 500 winner Rodger Ward. Second went to Seavey, followed by Justin Grant, Jason McDougal and Tanner Carrick rounding out the top-five.
"Bryan (Clauson)'s won this race a couple times and I've won this race a couple times now," Thomas reflected. "To win it the second time in the 63 that he won in, and in memory of Chad McDaniel, there's a lot of emotions running into one victory lane. I'm very humbled by the opportunity I've gotten with this team. Being able to win these races is something I can't even speak of."
Coming into Wednesday night's race, seven different winners had reached victory lane in the first seven events of the season, the longest such streak since 1987. Yet, Thomas was keen on putting an end to that factoid by winning his second series feature in his last three outings following a triumph in the "Indiana Midget Week" finale at Kokomo Speedway in June.
To Thomas, the fact that the season reached the mid-point of July to find a repeat winner, shows the talent and depth of the field he faces every time he steps into a USAC Midget, making each victory that more meaningful to him.
"Some people complain about midget racing," Thomas begins. "They say they run into each other too much or they drive disrespectfully. You've got a lot of people out there with a lot of talent and a lot of good racecars. It's good racing. Sometimes you get into people and that's not the way racing should be, but you're racing on fifth and quarter-miles, really small tracks. It's bound to happen. I'd like to see anybody else who complains about it get out here and do it and not run into something. You've got a lot of kids out here with a lot of talent. There's a lot of depth and it's hard to win a midget race right now. It's so tough. You've got to be on your game and you can't make mistakes, and if you do make a mistake, you just got to hope for the best. Tonight, we got lucky with one of my mistakes and still ended up winning the race, but nine out of ten times, that doesn't happen."
Contingency award winners Wednesday night at Solomon Valley Raceway included Tucker Klaasmeyer (Simpson Race Products First Heat Winner & KSE Racing Products Hard Charger), Zane Hendricks (Competition Suspension, Inc. Second Heat Winner), Maria Cofer (Chalk Stix Third Heat Winner), Tyler Courtney (Indy Race Parts Semi Winner) and Ryan Robinson (Wilwood Brakes 13th Place Finisher).
——————————–
USAC P1 INSURANCE MIDGET NATIONAL CHAMPIONSHIP RACE RESULTS: July 11, 2018 – Solomon Valley Raceway – Beloit, Kansas – 9th Annual "Chad McDaniel Memorial"
QUALIFYING: 1. Holly Shelton, 67K, Kunz/Curb-Agajanian-11.944 (New Track Record); 2. Justin Grant, 17BC, Clauson/Marshall/Wood-12.033; 3. Tyler Courtney, 7BC, Clauson/Marshall-12.137; 4. Ryan Robinson, 71, Kunz/Curb-Agajanian-12.172; 5. Chad Boat, 84, Tucker/Boat-12.176; 6. Logan Seavey, 67, Kunz/Curb-Agajanian-12.177; 7. Kevin Thomas, Jr., 63, Dooling-12.177; 8. Jason McDougal, 15, Petry/Goff-12.179; 9. Tanner Carrick, 71K, Kunz/Curb-Agajanian-12.225; 10. Kyle Craker, 76E, FMR-12.243; 11. Brady Bacon, 76m, FMR-12.274; 12. Jerry Coons, Jr., 25, Petry/Goff-12.331; 13. Spencer Bayston, 97, Kunz/Curb-Agajanian-12.377; 14. Brayton Lynch, 1K, RKR-12.452; 15. Tyler Thomas, 91T, Thomas-12.476; 16. Tucker Klaasmeyer, 27, Kunz/Curb-Agajanian-12.545; 17. Zane Hendricks, 27z, Tucker/Boat-12.548; 18. Maria Cofer, 35, Petry/Goff-12.649; 19. Dave Darland, 85, Central-12.785; 20. Sam Johnson, 72, Kunz/Curb-Agajanian-12.798; 21. Brett Becker, 2B, Becker-12.951; 22. Holley Hollan, 14, Kunz/Curb-Agajanian-12.977; 23. Curtis Spicer, 4, Spicer-13.330; 24. Cole Bodine, 39BC, Clauson/Marshall-13.553; 25. Kyle Pfeifer, 54p, Pfeifer-13.570; 26. Glenn Waterland, 11c, Waterland-13.908; 27. Shaun Shapel, 84s, Shapel-14.636.
SIMPSON RACE PRODUCTS FIRST HEAT: (10 laps, top-5 transfer) 1. Klaasmeyer, 2. K. Thomas, 3. Bayston, 4. Robinson, 5. Shelton, 6. Darland, 7. Hollan, 8. Craker, 9. Pfeifer. 2:09.97
COMPETITION SUSPENSION (CSI) SECOND HEAT: (10 laps, top-5 transfer) 1. Hendricks, 2. McDougal, 3. Boat, 4. Bacon, 5. Grant, 6. Johnson, 7. Waterland, 8. Spicer, 9. Lynch. NT
CHALK STIX THIRD HEAT: (10 laps, top-5 transfer) 1. Cofer, 2. Coons, 3. T. Thomas, 4. Carrick, 5. Seavey, 6. Bodine, 7. Shapel, 8. Becker, 9. Courtney. NT
INDY RACE PARTS SEMI: (12 laps, top-7 transfer) 1. Courtney, 2. Craker, 3. Darland, 4. Bodine, 5. Hollan, 6. Johnson, 7. Shapel, 8. Spicer, 9. Waterland, 10. Lynch, 11. Becker. NT
FEATURE: (30 laps, starting position in parentheses) 1. Kevin Thomas, Jr. (1), 2. Logan Seavey (2), 3. Justin Grant (5), 4. Jason McDougal (8), 5. Tanner Carrick (9), 6. Holly Shelton (6), 7. Chad Boat (3), 8. Tyler Courtney (7), 9. Kyle Craker (10), 10. Tucker Klaasmeyer (15), 11. Spencer Bayston (13), 12. Brady Bacon (11), 13. Ryan Robinson (4), 14. Jerry Coons, Jr. (12), 15. Maria Cofer (17), 16. Zane Hendricks (16), 17. Holley Hollan (20), 18. Cole Bodine (21), 19. Sam Johnson (19), 20. Dave Darland (18), 21. Tyler Thomas (14), 22. Shaun Shapel (22). NT
—————————-
**Pfeifer flipped during the first heat. Lynch flipped during the semi. T. Thomas flipped on lap 16 of the feature.
FEATURE LAP LEADERS: Laps 1-30 K. Thomas.
KSE RACING PRODUCTS HARD CHARGER: Tucker Klaasmeyer (15th to 10th)
WILWOOD BRAKES 13TH PLACE FINISHER: Ryan Robinson
NEW USAC P1 INSURANCE MIDGET NATIONAL CHAMPIONSHIP POINTS: 1-Seavey-537, 2-Boat-495, 3-Bayston-482, 4-K. Thomas-465, 5-Courtney-465, 6-Grant-460, 7-Bacon-443, 8-Robinson-398, 9-Carrick-389, 10-Zeb Wise-369.
NEXT USAC P1 INSURANCE MIDGET NATIONAL CHAMPIONSHIP RACES: July 13-14 – Jefferson County Speedway – Fairbury, Nebraska – Riverside Chevrolet "Midwest Midget Championship" presented by Westin Packaged Meats and Schmidt's Sanitation