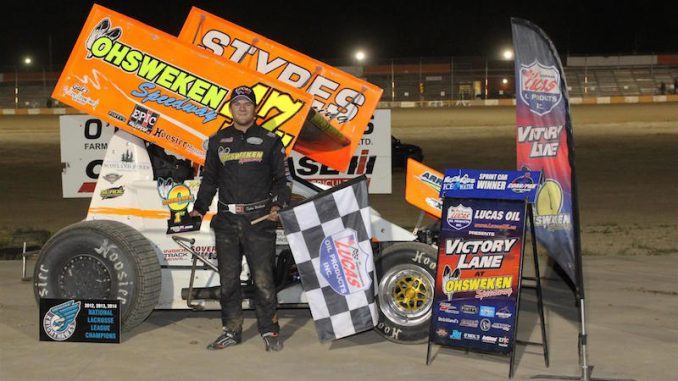 By Clayton Johns
OHSWEKEN, Ont. (July 15, 2018) – A fun-filled night at Ohsweken Speedway had 114 cars sign in across four divisions for Sponsor and Kids Bike Night presented by Strickland's GMC on Friday, July 13. Thanks to the support of dozens of race teams, 72 bicycles were given away to lucky junior fans in attendance. The drivers and teams were also able to treat a number of their sponsors to a complimentary night at the races.
After the final checkered flag had waved, it was Dylan Westbrook claiming the Kool Kidz-Corr/Pak 360 Sprint Car Feature win from the pole and Jacob Dykstra who grabbed his first career Strickland's GMC Crate Sprint Car win. For the stock cars, Lee Winger won the Middleport Mechanical Thunder Stock Feature and Dusty DeBoer collected the checkered flag in the HRW Automotive Mini Stock main event.
It was Dylan Westbrook and Scott Kreutter who started on the front row for the 20-lap Kool Kidz-Corr/Pak 360 Sprint Car Feature event. Westbrook took the lead from the front row on the opening lap and never looked back as he outpaced Kreutter to the checkered flag. Third-starting Mack DeMan and fourth-starting Jim Huppunen held those positions to the finish while Chris Steele rounded out the top-five.
Cory Turner raced forward from 21st to 7th to earn the hard charger award. Kreutter, Tyler Hendricks and Mack DeMan started the night with heat race wins. Westbrook earned the Ackland Insurance 'Top Gun' as the night's top qualifier after earning the most passing points in heat race competition by going from seventh to second in heat two. He then pulled the pole starting spot for the main event via the top-eight redraw. It was Westbrook's sixth victory this season.
When the green flag waved on the Strickland's GMC Crate Sprint Car main event, it was Caleb Wood and Jacob Dykstra leading the field to full speed. Wood grabbed the lead on the opening lap before Dykstra, the 15-year-old from Port Colborne, Ont., drove to the point on lap two. From there, Dykstra was able to maintain the top spot throughout a handful of restart and held off point leader Jesse Costa to score his first career Strickland's GMC Crate Sprint Car win. Shone Evans rounded out the podium while Holly Porter drove from 13th to a fourth-place finish. Aaron Turkey rallied to a fifth-place result after transferring from the B-Main and starting 21st. Turkey was also the race's hard-charger.
Evans, Hannah Ferrell and Brad Herron collected heat race wins to begin the evening while Paul Klager won the B-Main and claimed the 19th starting spot for the Feature.
Ohsweken Speedway
Ohsweken, ONT
Friday July 13, 2018
Winged 360 Sprint Cars
Feature:
1. 47x – Dylan Westbrook
2. 49 – Scott Kreutter
3. 17x – Mack DeMan
4. 14h – Jim Huppunen
5. 80 – Chris Steele
6. 38 – Tyler Hendricks
7. 97 – Cory Turner
8. 0 – Mikey Kruchka
9. 18 – Josh Shantz
10. 9 – Steve Lyons
11. 91 – Ryan Turner
12. 22 – Shawn Sliter
13. 90 – Travis Cunningham
14. 11 – Jamie Turner
15. 55 – Mike Thorne
16. 0c – Cole Macdonald
17. 5c – Conor Mahoney
18. 15 – Dan Nanticoke
19. 9b – Scott Burke
20. 21j – John Burbridge
21. 44 – Barry Dunn
22. 6 – Curtis Gartly
Crate Sprint Cars
Feature:
1. 5d – Jacob Dykstra
2. 52 – Jesse Costa
3. 87x – Shone Evans
4. 1 – Holly Porter
5. 68 – Aaron Turkey
6. 4 – Hannah Ferrell
7. 5 – DJ Christie
8. 12 – Brad Herron
9. 88h – Josh Hansen
10. 56 – Dereck Lemyre
11. 70 – Baily Heard
12. 1eh – Paul Klager
13. mk8 – Matt Hill
14. 8 – Steven Beckett
15. 19 – Brandon Murrell
16. 51 – Trevor Young
17. 49h – Jerry Hill
18. 3b – Blaine Barrow
19. 9c – Brian Nanticoke
20. 7 – Caleb Wood
21. 9 – Paul Ballantyne
22. 43h – Ryan Hunsinger
23. 24a – AJ Lewis
24. 49l – Lucas Smith