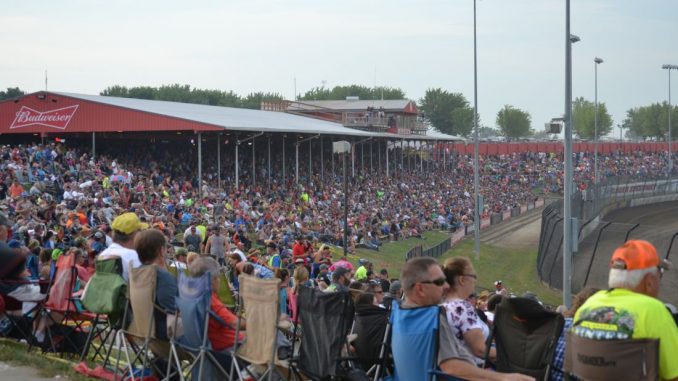 By T.J. Buffenbarger
The best teams I have witnessed in sprint car racing have a combination of preparation and talent that puts them in situations to capitalize on opportunities when everything is not going according to plan. Donny Schatz's third Kings Royal crown in a row and fifth overall falls under that category.
Schatz drove away from the field after taking the lead from early leader Trey Starks for a handful of laps. This proved to be the deciding moment of the Kings Royal feature, more so than Brad Sweet's difficulties lapping his teammate Daryn Pittman (More on this later). The handle went away on Schatz's car the second half of the feature. Had Schatz  not been able pull away from the field after taking the lead it's likely that Sweet would have caught him despite the issue in traffic.
"That's what won us the race to be real honest with you," said Schatz. "Starks set a pretty good pace and was doing pretty good. I thought 'damn, I better pick up the pace' and I started pushing. Maybe I shouldn't have. Maybe I should have stayed slow a little bit and try to keep my tires underneath me. I'm not so sure I didn't abuse them and use them up a little too much through the middle part of the race. That might have been the determining factor of being slow at the end. I guess we'll never know."
After the feature I expected the standard Schatz interview after a big race where we recap important moments in the race but feels like he has his focus already turned to the next World of Outlaws race in Lernerville. Instead Schatz seemed more relaxed and enjoying that moment of winning more than I had seen him in that setting in the past. Between losing Jason Johnson in June and some of the things his own Tony Stewart Racing team has overcome this year Schatz seemed to be enjoying the moment.
"Rick (Warner) is not totally healthy, Scuba (Steve Swenson), we were without him for six weeks. Its put everybody in bad positions where they have kind of been at each other all year to get the performance back while you deal with that adversity. Whether its three, five, (Kings Royal wins) whatever, count your blessings on this. Jason lost his life not too long ago. It could have been any one of us at any time at any moment."
Both nights in the media center Schatz was smiling, even cutting a joke or two in a situation where he's normally has not let his game face down.
Another thing learned in the media session after Saturday is Schatz does not look up at Eldora's big screen to see who might be coming up behind him.
"I'm not the kind of person that sits there and looks at the board and see's who's on the board. When the race is over I did," said Donny about finding out Sweet was behind him. "I already knew because (Sweet) slid me in one after the race. So, I didn't have to look to see who was coming."
For those that do not enjoy seeing Schatz dominate history has shown us many sprint car drivers seem to hit their peak in their 40's, which Schatz has just entered. Considering the fitness regimen, he maintains if he stays healthy and the pieces at Tony Stewart Racing remain intact I don't foresee a decline in Schatz's frequency in victory lane anytime soon.
KRR's "Oh No!" moment…
I'm not sure if I've ever been in a larger collection of people watching something take place where you could collectively feel everyone wondering what was going on when Daryn Pittman and Brad Sweet had signals crossed as Sweet was looking to lap his teammate. It didn't seem to matter which side you were cheering for or even for those of us covering the event we were all surprised at that development.
The reason I decided to put that story up shortly after the race report immediately following the Kings Royal early Sunday morning was due to how Brad Sweet handled the situation. I'm not sure I would have been as calm and had my thoughts together as well as Sweet did in that situation. I wanted to show that level of maturity off in the story.
The sad thing was reading some of the comments directed towards Pittman from that incident. Its natural to wonder what happened, but I felt a lot of people took their venom towards the situation entirely too far on social media.
Fastest school teacher on dirt…
Being a school teacher is not an unusual occupation for people involved in racing thanks to having large periods of time off in the summer. For the second year in a row Lee Jacobs will have a great story to tell his third-grade class on how he spent his summer vacation. Jacobs found way to drive through the middle of the race track to finish fourth in one of the biggest sprint car races in the world.
"We are not a big race team. We don't have trailer full of cars and motors. This is the only car we have with us." said Jacobs. "To do this from 16th is absolutely incredible. 50 of some the best cars in the entire country and to go from 16th to fourth in this race is amazing."
It seems appropriate that the third grrade school teacher by trade had some youth on his team to help throughout the weekend.
"Hats off to my crew. A.J. Haven, Brian Shane, A.J.'s boy, and my brother in law. We had two 14-year-old kids helping us all weekend long," said Jacobs.
To do this has been amazing. My car owner John Lewis for believing in me, sticking by me when this year hasn't been the best year. We've had our ups and downs, but he's stuck with us. He knows what we can do and tonight we showed what we can do as a team."
Ironically the car Jacobs fourth place run was a former Donny Schatz J&J from Tony Stewart Racing.
50/50 (thousand)
It took until the wee hours of the morning to get all the tickets printed off, but one lucky fan from Central Pennsylvania left Eldora Speedway with more money than Donny Schatz did for winning the Kings Royal. Eldora's famous 50/50 jackpot at the Kings Royal blew away any previous records for 50/50 drawings at the track by five figures with a $50,199 jackpot that could have potentially went higher had sales been able to continue later in the evening. Now that its known the jackpot could potentially go to this level it will be interesting to see what Eldora officials do to adjust and how high the jackpot can potentially get.
Other feel good stories from Saturday included…
Had Cory Eliason not used up his tires as quickly at the start of the race there is a chance he could have been in the position Sweet was contending for the win Saturday at Eldora. Eliason had a standout performance that was more of what I expected from the highly touted young man from Selma, California. Landing on the podium this young man is going to be one to watch in the future.
Kraig Kinser's fifth place run with Dancer Logistics on the car as primary sponsor for the weekend. Kinser's run came at the perfect time to showcase the partnership as Shawn Dancer, Dancer Logistics owner, had engine issues on Friday that kept him out of the Saturday program.
Some drivers take a while to adjust to Eldora, even in its current configuration that seems less intimidating according to a lot of the drivers I spoke with. Seeing Brock Zearfoss in his first Eldora start and his second trip during this year's Kings Royal gives me the impression Zearfoss has taken to the Big E like a fish to water. Zearfoss looked solid all weekend and shined on Saturday, but unfortunately was tangled up in a first late altercation that his team was able to make repairs from to rejoin the field. Now with more laps under his belt I'm looking forward to seeing the next performance by Zearfoss at Eldora.
Speaking of drivers that Eldora Speedway fits their driving style, Rico Abreu threw some of the most heart stopping slide jobs all weekend including one to put himself in the show for Saturday's program during the final moments of the B-Main. Abreu then charged from 24th to 9th in the finale.
Jacob Allen's performance running the bottom the entire weekend to strong finishes including a sixth place in Saturday's finale had some of the most passionate crowd responses throughout the week. Allen has been improving all season and its difficult to fathom at times how he hasn't picked up a World of Outlaws feature event yet.
Ryan Smith bounced back from breaking a rear end before the program began on Friday to making the Kings Royal on Saturday.
The 2017 Kings Royal feature went green to checkered and the 2018 feature went non-stop after an opening lap caution. This was surprising in 2017 but thinking back over the past few years ever time I've seen winged sprint cars at Eldora on a wide, slick, smooth Eldora surface everything from the 360's to the Kings Royal have seen few to no cautions.