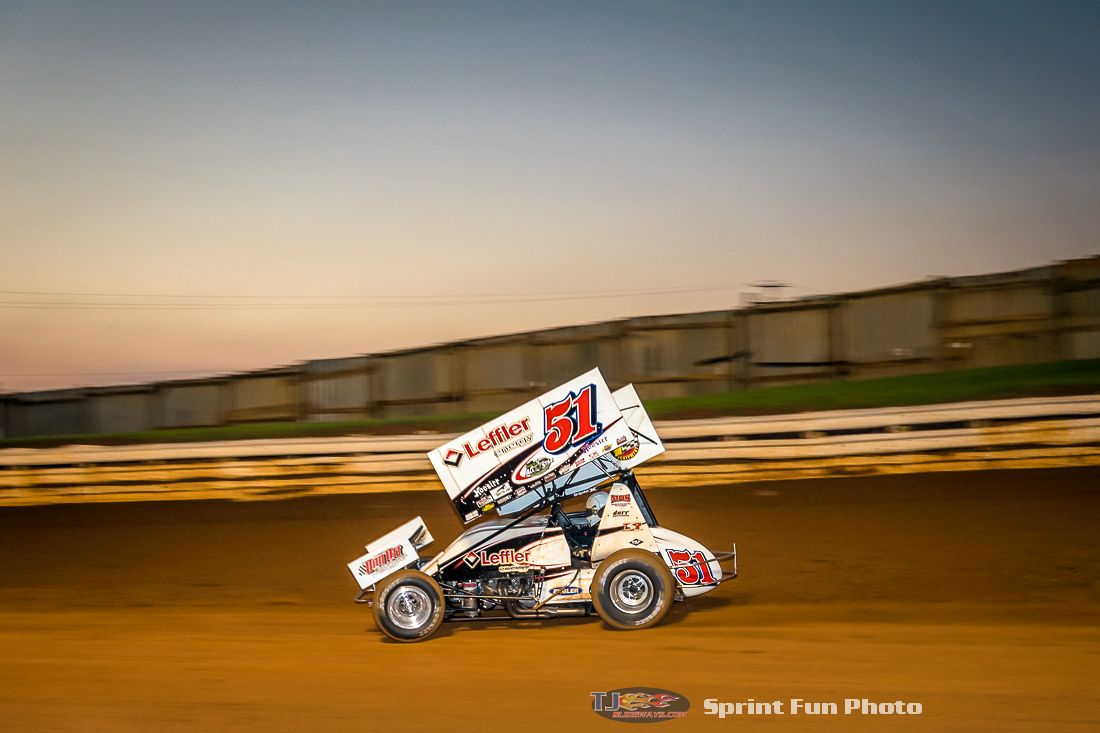 ABBOTTSTOWN, PA – July 19, 2018 – Freddie Rahmer got by David Gravel on a double-file restart with nine laps remaining to win the Gettysburg Clash at Lincoln Speedway for the Pennsylvania Posse. Rahmer, joining his father Fred, became the sixth father-son duo to win World of Outlaws Craftsman Sprint Car Series Features. Gravel and Daryn Pittman completed the podium.
Last year's Gettysburg Clash winner David Gravel won the Sears Craftsman Dash to earn the pole for the 35-Lap Feature. Gravel got the jump on the start while Daryn Pittman got around front row starter Alan Krimes for second down the backstretch.
Gravel reached heavy lapped traffic on Lap 8 allowing Pittman, Krimes and company to close in. Two laps later, James McFadden brought out the Yellow Flag, giving Gravel a clear track. On the restart, Krimes took second from Pittman down the backstretch briefly, only to have Pittman power back to the runner-up position coming back to the line.
Rahmer, who started sixth, worked by Krimes for third on Lap 13 with a slider and set his sets on the lead duo. As Gravel and Pittman worked through heavy traffic, Rahmer closed in and moved by Pittman for second on Lap 20.
Danny Dietrich, a five-time Lincoln winner in 2018, worked his way into third by Pittman and began reeling in Rahmer and Gravel. In heavy lapped traffic, Dietrich threw a massive slider for second on Rahmer in turn three, but lost the handle and spun, leaving fourth-place running Brad Sweet nowhere to go. Neither was able to continue, a crushing blow to Sweet's Championship efforts.
The caution also negated Gravel's sizable lead. The double-file restart with nine laps remaining lined up Rahmer to the outside of Gravel. Rahmer used a brilliant run, glued to the middle, to take the lead down the backstretch, sending the Pennsylvania fans into a frenzy anticipating a hometown win.
Rahmer extended the lead and was just reaching the back of the field as he took the checkered for the first time as a World of Outlaws winner and sent Lincoln Speedway into pandemonium.
After collecting his breath, Rahmer said, "We work so hard for this, I knew if we got into position, we could win one of these races. I didn't know if they were close the last two laps, but we got it done."
Freddie and Fred Rahmer joined racing royalty as just the sixth father-son duo to win World of Outlaws Features, joining the Kinser, Swindell, Haudenschild, Smith and Kaeding families.
"Of all the things that have happened in racing, this is the coolest," National Sprint Car Hall of Famer member Fred Rahmer, who is the all-time leading Feature winner at Lincoln Speedway, said while holding back tears in Victory Lane. "It took me a lot damn longer to win one of these races than him," Rahmer added with a smile.
David Gravel was understandably disappointed after leading 26 laps to come home second, but wished his best on Freddie Rahmer and congratulated him on his first victory. "I didn't need that yellow, but that's racing. It's a tough one to swallow, you lead that many laps, you want to win," Gravel said.
Daryn Pittman completed the podium after a torrid battle with Donny Schatz for third and also congratulated the Rahmer family, "Congrats to Fred and Freddie, what an amazing performance from them. We were really good in the beginning, but kind of faded at the end. The last few laps with Donny were excellent, he ran me clean as always. This is a good run for this whole team and we'll see what we have at The Grove."
Schatz came from 11th to finish fourth with Lucas Wolfe completing the top five.
Greg Wilson came forward to sixth with Brian Montieth finishing seventh. Brent Marks earned KSE Hard Charger honors coming from 21st to eighth, Krimes faded to ninth and 20th-starting Logan Schuchart completed the top ten.
The World of Outlaws Craftsman Sprint Car Series continues its 40th Anniversary Season this weekend at Williams Grove Speedway with two increased purses. Friday, July 20th's Feature will carry the $5,000 bonus of the Morgan Cup, meaning the winner will take home $13,000. Saturday, July 21st's Feature will pay $20,000 to the winner. If you can't make it to the track, be sure to watch all the action LIVE on DIRTVision.com!
World of Outlaws Craftsman Sprint Car Series
Lincoln Speedway
Lincoln, PA
Thursday July 19, 2018
Qualifying: 1. 49-Brad Sweet, 13.451; 2. 5-David Gravel, 13.492; 3. 87-Alan Krimes, 13.582; 4. 7S-Jason Sides, 13.613; 5. 9-Daryn Pittman, 13.675; 6. 51-Freddie Rahmer, 13.718; 7. 24-Lucas Wolfe, 13.739; 8. O7-Gerard McIntyre, 13.761; 9. 27-Greg Hodnett, 13.781; 10. W20-Greg Wilson, 13.796; 11. 1A-Jacob Allen, 13.821; 12. 48-Danny Dietrich, 13.823; 13. 21-Brian Montieth, 13.868; 14. 39-Cory Haas, 13.898; 15. 15-Donny Schatz, 13.921; 16. 1S-Logan Schuchart, 13.944; 17. 3Z-Brock Zearfoss, 13.948; 18. 1X-Chad Trout, 13.97; 19. 55K-Robbie Kendall, 13.986; 20. 3-James McFadden, 13.993; 21. 19-Brent Marks, 14.023; 22. 2-Shane Stewart, 14.031; 23. 11K-Kraig Kinser, 14.049; 24. 69-Tim Glatfelter, 14.057; 25. 1XX-Tim Wagaman, 14.057; 26. 59-Jim Siegel, 14.075; 27. 86-Steve Storrie, 14.114; 28. 39M-Anthony Macri, 14.116; 29. 17-Sheldon Haudenschild, 14.179; 30. 88-Brandon Rahmer, 14.186; 31. 44-Trey Starks, 14.186; 32. 2W-Glenndon Forsythe, 14.281; 33. 18-Ian Madsen, 14.43; 34. 73B-Brett Michalski, 15.051
Heat #1 (8 Laps) – Top 5 Transfer: 1. 49-Brad Sweet [1]; 2. 9-Daryn Pittman [2]; 3. 21-Brian Montieth [4]; 4. 27-Greg Hodnett [3]; 5. 3Z-Brock Zearfoss [5]; 6. 1XX-Tim Wagaman [7]; 7. 19-Brent Marks [6]; 8. 18-Ian Madsen [9]; 9. 17-Sheldon Haudenschild [8]
Heat #2 (8 Laps) – Top 5 Transfer: 1. 5-David Gravel [1]; 2. 51-Freddie Rahmer [2]; 3. W20-Greg Wilson [3]; 4. 2-Shane Stewart [6]; 5. 1X-Chad Trout [5]; 6. 39-Cory Haas [4]; 7. 59-Jim Siegel [7]; 8. 88-Brandon Rahmer [8]; 9. 73B-Brett Michalski [9]
Heat #3 (8 Laps) – Top 5 Transfer: 1. 87-Alan Krimes [1]; 2. 24-Lucas Wolfe [2]; 3. 15-Donny Schatz [4]; 4. 1A-Jacob Allen [3]; 5. 55K-Robbie Kendall [5]; 6. 11K-Kraig Kinser [6]; 7. 44-Trey Starks [8]; 8. 86-Steve Storrie [7]
Heat #4 (8 Laps) – Top 5 Transfer: 1. 48-Danny Dietrich [3]; 2. 7S-Jason Sides [1]; 3. O7-Gerard McIntyre [2]; 4. 3-James McFadden [5]; 5. 1S-Logan Schuchart [4]; 6. 39M-Anthony Macri [7]; 7. 2W-Glenndon Forsythe [8]; 8. 69-Tim Glatfelter [6]
Sears Craftsman Dash (6 Laps): 1. 5-David Gravel [1]; 2. 87-Alan Krimes [2]; 3. 7S-Jason Sides [4]; 4. 9-Daryn Pittman [3]; 5. 49-Brad Sweet [7]; 6. 51-Freddie Rahmer [5]; 7. 48-Danny Dietrich [8]; 8. 24-Lucas Wolfe [6]
Last Chance Showdown (12 Laps) – Top 4 Transfer: 1. 19-Brent Marks [2][-]; 2. 39-Cory Haas [1][-]; 3. 11K-Kraig Kinser [3][-]; 4. 1XX-Tim Wagaman [5][-]; 5. 59-Jim Siegel [6][$300]; 6. 88-Brandon Rahmer [10][$250]; 7. 39M-Anthony Macri [8][$225]; 8. 17-Sheldon Haudenschild [9][$200]; 9. 69-Tim Glatfelter [4][$200]; 10. 18-Ian Madsen [13][$200]; 11. 44-Trey Starks [11][$200]; 12. 86-Steve Storrie [7][$200]; 13. 73B-Brett Michalski [14][$200]; 14. 2W-Glenndon Forsythe [12][$200]
Feature (35 Laps): 1. 51-Freddie Rahmer [6][$10,000]; 2. 5-David Gravel [1][$5,500]; 3. 9-Daryn Pittman [4][$3,200]; 4. 15-Donny Schatz [11][$2,800]; 5. 24-Lucas Wolfe [8][$2,500]; 6. W20-Greg Wilson [10][$2,300]; 7. 21-Brian Montieth [9][$2,200]; 8. 19-Brent Marks [21][$2,100]; 9. 87-Alan Krimes [2][$2,050]; 10. 1S-Logan Schuchart [20][$2,000]; 11. O7-Gerard McIntyre [12][$1,500]; 12. 17-Sheldon Haudenschild [25][$400]; 13. 39-Cory Haas [22][$1,100]; 14. 55K-Robbie Kendall [19][$1,050]; 15. 7S-Jason Sides [3][$1,000]; 16. 27-Greg Hodnett [13][$900]; 17. 39M-Anthony Macri [28][$]; 18. 2-Shane Stewart [14][$800]; 19. 3-James McFadden [16][$800]; 20. 18-Ian Madsen [27][$]; 21. 1X-Chad Trout [18][$800]; 22. 1A-Jacob Allen [15][$800]; 23. 1XX-Tim Wagaman [24][$800]; 24. 3Z-Brock Zearfoss [17][$800]; 25. 11K-Kraig Kinser [23][$800]; 26. 48-Danny Dietrich [7][$800]; 27. 49-Brad Sweet [5][$800]; 28. 59-Jim Siegel [26][$]; Lap Leaders: David Gravel 1-26, Freddie Rahmer 27-35; KSE Hard Charger Award: 19-Brent Marks[+13]