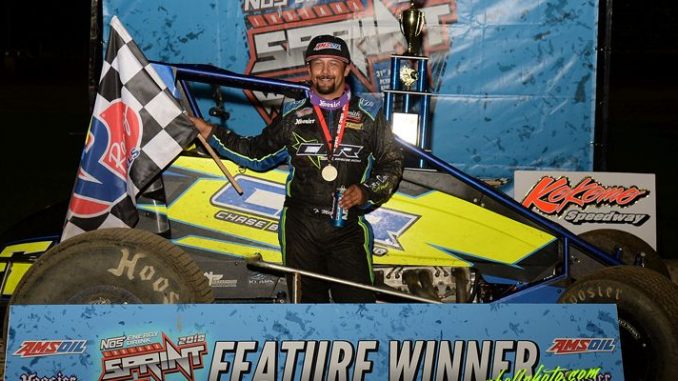 From Richie Murray
Kokomo, Indiana………Thomas Meseraull has a knack for driving a variety of different cars to victory lane.
In 2017, he raced to three wins for three different teams and finished in the top-five for six different teams in USAC AMSOIL National Sprint Car competition.
In 2018, the story remains the same as he once again notched the victory at the Kokomo Speedway round of NOS Energy Drink "Indiana Sprint Week" for the Chase Briscoe Racing team. Just as he did last year, the San Jose, California native became the first and, thus far, only driver to win feature events for multiple teams following a victory for Chris Dyson Racing at New York's Weedsport Speedway in June.
But it took a slight unplanned change to get to that point as the team rolled a different machine out of the trailer than it had run in the first two ISW events, the white and red Briscoe family throwback design. Tuesday night, the blue and yellow ride hit the track, which Meseraull just so happens to be undefeated behind the wheel of this year.
"Originally, we were planning on running this car on the big tracks," Meseraull said. "We planned on running this at Lawrenceburg, but with the (Saturday) cancellation (at Kokomo), we just went ahead and ran it tonight. We didn't have a seat in this car, so we just were going with the red car. We're going to look at running this thing the rest of the week. The red and white car seemed to race a lot softer. It seemed to want to bite on entry. I've only driven the blue car two times and we're two for two in it. Sometimes you get that car that just seems to go. Whenever you show up in really good equipment, it's really hard not to run well."
It didn't take too long for fourth-starting Meseraull to pick his way to the front as he got by Grant initially, then diamonded off turn four to nip Jarett Andretti at the line for second by the completion of lap one.
The following lap saw the 30-lap main event's lone red flag as Brady Bacon, Robert Ballou, Jason McDougal and Chad Boespflug all became entangled in turn four, with Ballou taking the brunt of the misfortune, flipping over once, but walking away uninjured.
On the ensuing restart, first and second consisted of the two most recent Kokomo ISW winners in Cummins and Meseraull. Meseraull stuck the top and lurched around the outside of Cummins at the exit of four on lap three to reach the point, bringing Chris Windom along with him on the high side to second.
"The top looked good in the B and they had rolled it in really nice," Meseraull remembered. "Kyle Cummins was running the bottom and I knew I wasn't going to pass him on the bottom. The way the track had been getting really thick up top – I call it thick and loamy – where it's just like loose, thick dirt. I knew I just needed to get up there, get around him and get some distance on him. Anytime I get out front, I feel like I need to go. I need to go! I moved up top and the thing about bounced us upside down. I just sucked up it and was like, 'do it again!'
A lap 12 restart following a Carson Short spin saw Windom take a peek under Meseraull for the race lead to no avail, but the one on the charge was Chase Stockon, who rallied from sixth, and took over possession of second from Windom on the 13th lap.
With less than ten to go, Meseraull and Stockon formed a two-car breakaway as they entered lapped traffic. That forced Meseraull to alter his line, diving low and attempting to slide past traffic as Stockon lay in the shadows. Meseraull, though, was practically flawless, even with pressure being applied from Stockon underneath.
"I roll around the top better," Meseraull said matter of factly. The nights we have to run the bottom and we struggle, I pretty much just put that on me. I'm not one of the guys who's good at rolling the bottom. My expertise is at running the top. I'm running the top, I catch lapped traffic and they're all running my line. I'm not that much faster than them. I see guys up, but when you get the move over flag, you know somebody's coming and you've got to protect the lead."
Stockon remained close by, waiting to capitalize on any misstep through traffic by Meseraull. On the 27th lap, Meseraull swung high on the front straight, saw a crevice between the lapped cars of Isaac Chapple and McDougal entering turn one and split them on the bottom, then drifted back to the top. That pinned Stockon behind the two and allowed Meseraull to extend the gap and close out his eighth career USAC AMSOIL National Sprint Car victory over Stockon, Justin Grant, new ISW point leader Windom and Kevin Thomas, Jr.
Contingency award winners Tuesday night at Kokomo Speedway were Dave Darland (Bell Helmets Fast Time Award), Jason McDougal (Simpson Race Products First Heat Winner), C.J. Leary (Competition Suspension, Inc. Second Heat Winner), Carson Short (Chalk Stix Third Heat Winner), Robert Ballou (Indy Race Parts Fourth Heat Winner), Josh Hodges (KSE Racing Products/B & W Auto Mart Hard Charger), Timmy Buckwalter (Wilwood Brakes 13th Place Finisher) and Jarett Andretti (Roger & Barb Tapy 13th Fastest Qualifier).
USAC AMSOIL SPRINT CAR NATIONAL CHAMPIONSHIP RACE RESULTS: July 24, 2018 – Kokomo Speedway – Kokomo, Indiana – 31st NOS Energy Drink "Indiana Sprint Week"
BELL HELMETS QUALIFYING: 1. Dave Darland, 36D, Goodnight/Curb-Agajanian-12.968; 2. Kevin Thomas, Jr., 69, Dynamics-12.971; 3. Chase Stockon, 32, 32 TBI-12.976; 4. Timmy Buckwalter, 7, LNB-12.989; 5. Tyler Thomas, 2E, Epperson-13.005; 6. Chris Windom, 5, Baldwin-13.029; 7. Thomas Meseraull, 5B, Briscoe-13.049; 8. Chad Boespflug, 98, NineEight-13.077; 9. Brady Bacon, 99, Bacon-13.079; 10. Scotty Weir, 17G, On The Gass-13.098; 11. Dakota Jackson, 3, Jackson-13.108; 12. Justin Grant, 4, TOPP-13.110; 13. Jarett Andretti, 18, Andretti-13.129; 14. Kyle Cummins, 3c, EZR/Cummins-13.131; 15. Tony DiMattia, 50, TDM-13.146; 16. Tyler Courtney, 7BC, Clauson/Marshall/Newman-13.174; 17. Jason McDougal, 21K, Krockenberger-13.190; 18. C.J. Leary, 30, Leary-13.198; 19. Kody Swanson, 23, Karraker-13.214; 20. Brody Roa, 91R, BR-13.228; 21. Matt Westfall, 33m, Marshall-13.264; 22. Jake Swanson, 92, Sertich-13.266; 23. Carson Short, 21, RCM-13.294; 24. Robert Ballou, 12, Ballou-13.297; 25. Clinton Boyles, 57, Hazen-13.329; 26. Tom Harris, 5E, Harris-13.336; 27. Koby Barksdale, 22, Barksdale-13.348; 28. Tyler Hewitt, 97x, One More Time-13.391; 29. Josh Hodges, 74x, Hodges-13.422; 30. R.J. Johnson, 19, Reinbold/Underwood-13.430; 31. Joe Bares, 19A, Bares-13.534; 32. Tyler Clem, 21x, Pollock-13.536; 33. Isaac Chapple, 52, LNR/Chapple-13.568; 34. Brandon Mattox, 2v, Fitzpatrick-13.676; 35. Jordan Kinser, 5K, Kinser-13.704; 36. Travis Thompson, 28, Mattox/Nigg-13.961; 37. Robert Bell, 71, Bell-13.986.
SIMPSON RACE PRODUCTS FIRST HEAT: (10 laps, top-4 transfer to feature) 1. McDougal, 2. Andretti, 3. Boyles, 4. Chapple, 5. Darland, 6. Bacon, 7. T. Thomas, 8. Hodges, 9. Westfall, 10. Bell. 2:13.51
COMPETITION SUSPENSION, INC. (CSI) SECOND HEAT: (10 laps, top-4 transfer to feature) 1. Leary, 2. Windom, 3. J. Swanson, 4. Cummins, 5. K. Thomas, 6. Johnson, 7. Mattox, 8. Harris, 9. Weir. 2:10.98
CHALK STIX THIRD HEAT: (10 laps, top-4 transfer to feature) 1. Short, 2. K. Swanson, 3. Stockon, 4. Meseraull, 5. Jackson, 6. DiMattia, 7. Bares, 8. Barksdale, 9. Kinser. 2:12.24
INDY RACE PARTS FOURTH HEAT: (10 laps, top-4 transfer to feature) 1. Ballou, 2. Courtney, 3. Roa, 4. Grant, 5. Buckwalter, 6. Boespflug, 7. Hewitt, 8. Clem, 9. Thompson. 2:17.52
SEMI: (12 laps, top-6 transfer to feature) 1. K. Thomas, 2. T. Thomas, 3. Bacon, 4. Darland, 5. Hodges, 6. Buckwalter, 7. Boespflug, 8. Barksdale, 9. Jackson, 10. Westfall, 11. Harris, 12. Weir, 13. Hewitt, 14. DiMattia, 15. Mattox, 16. Johnson, 17. Clem, 18. Thompson, 19. Bell, 20. Kinser, 21. Bares. NT
FEATURE: (30 laps – starting positions in parentheses) 1. Thomas Meseraull (4), 2. Chase Stockon (6), 3. Justin Grant (3), 4. Chris Windom (5), 5. Kevin Thomas, Jr. (8), 6. Dave Darland (7), 7. Tyler Courtney (12), 8. Tyler Thomas (10), 9. C.J. Leary (14), 10. Josh Hodges (21), 11. Kyle Cummins (1), 12. Brady Bacon (11), 13. Timmy Buckwalter (9), 14. Brody Roa (16), 15. Kody Swanson (15), 16. Jake Swanson (17), 17. Chad Boespflug (23), 18. Matt Westfall (24), 19. Jason McDougal (13), 20. Carson Short (18), 21. Isaac Chapple (22), 22. Clinton Boyles (20), 23. Jarett Andretti (2), 24. Robert Ballou (19). NT
—————————-
**Bares flipped during the semi. Ballou flipped on lap 2 of the feature.
FEATURE LAP LEADERS: Laps 1-2 Cummins, Laps 3-30 Meseraull.
KSE RACING PRODUCTS/B & W AUTO MART HARD CHARGER: Josh Hodges (21st to 10th)
WILWOOD BRAKES 13TH PLACE FINISHER: Timmy Buckwalter
BELL HELMETS FAST TIME AWARD: Dave Darland
ROGER & BARB TAPY 13TH FASTEST QUALIFIER: Jarett Andretti
NEW USAC AMSOIL SPRINT CAR NATIONAL CHAMPIONSHIP POINTS: 1-Courtney-1457, 2-Windom-1456, 3-K. Thomas-1448, 4-Bacon-1274, 5-Stockon-1268, 6-Darland-1241, 7-Ballou-1224, 8-Leary-1178, 9-Grant-1155, 10-Boespflug-923.
NEW NOS ENERGY DRINK "INDIANA SPRINT WEEK" POINTS: 1-Windom-215, 2-Darland-199, 3-Courtney-197,4-Bacon-194, 5-K. Thomas-194, 6-Leary-184, 7-Stockon-182, 8-Meseraull-149, 9-Grant-147, 10-Hodges-131.
NEXT USAC AMSOIL SPRINT CAR NATIONAL CHAMPIONSHIP RACE: July 25 – Terre Haute Action Track – Terre Haute, Indiana – 31st Annual NOS Energy Drink "Indiana Sprint Week"