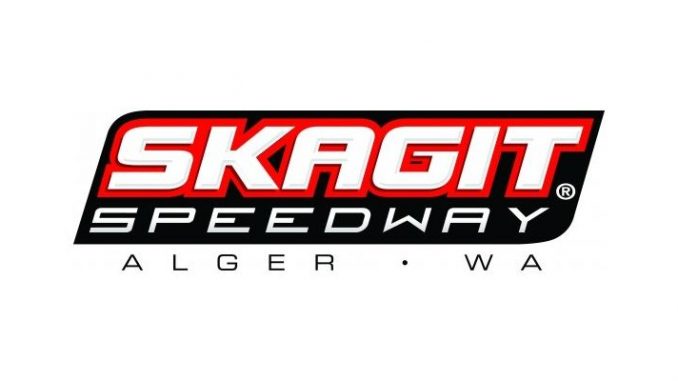 From Kaleb Hart
ALGER, Wa. (August 4, 2018) — On a rapidly moving Janicki Industries night at Skagit Speedway, Jayme Barnes was the best in show as he took his second victory of 2018 in the Cook Road Shell Sportsman Sprints. Joining him in victory lane were Kevin Smith and Jon Gunderson.
The Cook Road Shell Sportsman Sprints were the featured class on the night and Jayme Barnes took full advantage of his outside row one starting spot to give car owner Frank Sherman his second victory of the year. Barnes shot to the lead off the cushion in turn two on the initial start and started building his lead. Cory Swatzina raced into second and would close on Jayme amongst slower cars, but the veteran from Everett, WA consistently made the correct choice amongst slower cars on his way to the win. Swatzina would settle for second and Trevor Cook was third after setting quick time. Kelsey Carpenter, Barnes and Joe Lyon won the heats.
A caution riddled A Main for the Modified division ended up with Kevin Smith winning his third feature of the year. Smith used a lap five restart to take the lead from his brother Rick, then survived restart after restart to score the victory ahead of Craig Moore and Rick Smith. Moore and Kevin won the heat races.
The Outlaw Tuners had another entertaining A Main on Saturday, as Jon Gunderson pushed forward for a last lap pass to take the main event win away from Brian Michelson. Matt Shaw rounded out the podium. Gunderson and Clint Meins won the heats.
Cook Road Shell Sportsman Sprints
Fast Time – Trevor Cook 12.650
Heat 1 – Kelsey Carpenter, Trevor Cook, Malachi Gemmer, Bill Rude, Devin Barnes, Kevin Kirkpatrick
Heat 2 – Jayme Barnes, Bailey Sucich, Ashleigh Johnson, Eric Turner, Steve Parker, Brett McGhie
Heat 3 – Joe Lyon, Cory Swatzina, Zach McCabe, Michael Bollinger, John Tharp
Main – Jayme Barnes, Swatzina, Cook, Carpenter, Turner, Johnson, D Barnes, Parker, Bollinger, Lyon, McCabe, Gemmer, Tharp, McGhie, Kirkpatrick, Rude, Sucich
Lap Leaders – Barnes 1-25
Modifieds
Heat 1 – Kevin Smith, Mike Steltz, Ben Gunderson, Branden Nutter, Louis Nutter Jr, Dan Butenschoen
Heat 2 – Craig Moore, Rick Smith, Jeff Blanton, Mel Decker, Adam Holtrop
Main – Kevin Smith, Moore, R Smith, Steltz, Holtrop, Decker, Gunderson, Blanton, Nutter, Nutter Jr
Lap Leaders – R Smith 1-4 K Smith 5-25
Outlaw Tuners
Heat 1 – Jon Gunderson, Brian Michelson, Quincy Reta
Heat 2 – Clint Meins, Matt Shaw, Jack Desrosier, TJ Campbell, Brandon Jansen
Main – Jon Gunderson, Michelson, Shaw, Campbell, Desrosier, Reta, Jansen, Meins
Lap Leaders – Michelson 1-16 Gunderson 17