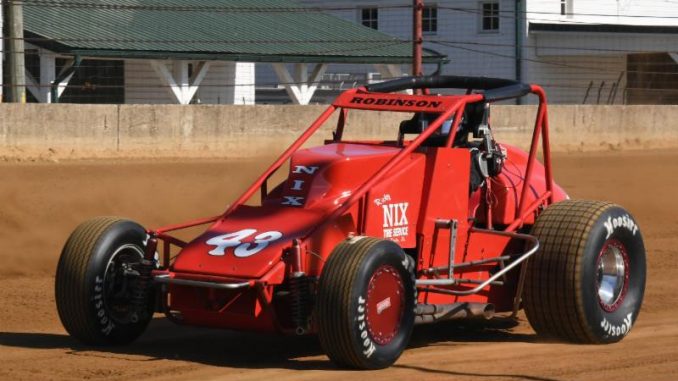 From USAC
Salem, Indiana………John Heydenreich has signed on to drive A.J. Felker Racing's USAC Silver Crown car when the series hits the high banks this Saturday, August 11, at Salem Speedway for the 59th running of the "Joe James/Pat O'Connor Memorial."
The Bloomsburg, Pa. driver is one of 18 drivers in series history to have started at least 100 races. The 1998 "Rocky Mountain Classic" Silver Crown winner at Colorado's Pikes Peak International Raceway reached the triple digits in his most recent start, in 2016, at Williams Grove Speedway in Mechanicsburg, Pa. This Saturday's race will mark Heydenreich's first appearance in the "Joe James/Pat O'Connor Memorial" since competing in the midget portion of the 2000 event.
Heydenreich's Felker Racing ride will have a familiar look, sporting the cherry red colors and the No. 43 seen for so many years on Ricky Nix's cars. Felker purchased the combo car from Nix last year just prior to his passing and decided to keep the car pretty much the same out of respect.
The very same car, sponsored by Ricky Nix Tire Service, Eddie Gilstrap Motors and Nick Bohannon LLC, ran on the Indiana State Fairgrounds dirt in the "Hoosier Hundred" earlier this May with driver Daniel Robinson.
Car owner Felker is a longtime midget racer himself, winning on the banks of Winchester (Ind.) Speedway, but has yet to strike gold at Salem, located just about 45 minutes from his home in Jeffersonville, Ind.
Additional entries for Saturday's 75-lap race on the .555-mile paved oval are four past series champs, including two-time and defending "James/O'Connor" winner Kody Swanson of Kingsburg, California. The three-time series champ (2014-15-17) leads the standings in the DePalma Motorsport No. 63 as he aims to win an unprecedented fifth series race in a row become the winningest driver in the history of the USAC Silver Crown Champ Car Series. He's currently tied with Jack Hewitt at 23 career triumphs.
The three additional Silver Crown champs in the field include the pair out of the Gene Nolen Racing stable: Chris Windom of Canton, Ill. and Jerry Coons, Jr. of Tucson, Ariz. Lincoln, Indiana's Dave Darland, fresh off a two-win performance at "Indiana Sprint Week" will wheel the No. 32 for Williams & Wright Racing.
The field is also stacked with a bevy of USAC National feature winners. Among them are 2008 "James/O'Connor" winner Jacob Wilson of Crawfordsville, Ind., Salem first-timer Kyle Hamilton of Danville, Ind., 2000 winner Eric Gordon of Greenfield, Ind., Phoenix winner Bobby Santos of Franklin, Mass., the driver who recorded the fastest official Silver Crown lap, Aaron Pierce of Muncie, Ind., 2014 Lucas Oil Raceway last-lap winner David Byrne of Shullsburg, Wisc. and Terre Haute victor Justin Grant of Ione, Calif.
The Discover Scott County "Joe James/Pat O'Connor Memorial" presented by Kentuckiana Ford Dealers featuring the USAC Silver Crown Champ Car Series and Lucas Oil Great American Stocks gets underway with the opening of the pit area at 1pm, the opening of the front gates at 3pm, drivers meeting at 3pm, practice at 3:30pm, qualifying at 5:45pm and racing at 7pm.
Adult and teen reserve tickets are $23. Tickets for kids age 7-12 are $5 with ages 6 and under getting in for free.
Fans can listen to the race live on the USAC app or catch video of the race one day later, on-demand at http://www.Loudpedal.TV/. You can follow along with live updates on https://www.facebook.com/usacracing/, https://www.twitter.com/USACNation/ and on the Race Monitor app.
————————————
"JOE JAMES/PAT O'CONNOR MEMORIAL" ENTRY LIST:
07 JACOB WILSON/Crawfordsville, IN (Wilson Brothers Racing)
2 PATRICK LAWSON/Edwardsville, IL (Patrick Lawson)
6 KYLE HAMILTON/Danville, IN (Klatt Enterprises)
7 (R) KYLE ROBBINS/New Castle, IN (KR Racing)
16 TERRY JAMES/St. Louis, MO (Dr. Jim Logan)
17 CHRIS WINDOM/Canton, IL (Gene Nolen Racing)
18 (R) TRAVIS WELPOTT/Pendleton, IN (Welpott Racing)
20 JERRY COONS, JR./Tucson, AZ (Gene Nolen Racing)
21 ERIC GORDON/Greenfield, IN (Armstrong Racing)
22 BOBBY SANTOS/Franklin, MA (DJ Racing)
24 (R) MIKE HAGGENBOTTOM/Levittown, PA (Haggenbottom Racing)
26 AARON PIERCE/Muncie, IN (Sam Pierce)
32 DAVE DARLAND/Lincoln, IN (Williams & Wright Racing)
39 MATT GOODNIGHT/Winchester, IN (Goodnight Racing)
40 DAVID BYRNE/Shullsburg, WI (Byrne Racing)
43 JOHN HEYDENREICH/Bloomsburg, PA (A.J. Felker)
63 KODY SWANSON/Kingsburg, CA (DePalma Motorsports)
80 (R) TONI BREIDINGER/Hillsborough, CA (Breidinger Racing)
81 (R) CODY GALLOGLY/Pataskala, OH (Curtis Williams)
91 JUSTIN GRANT/Ione, CA (Hemelgarn Racing)
(R) represents a USAC Silver Crown Champ Car Rookie of the Year contender.