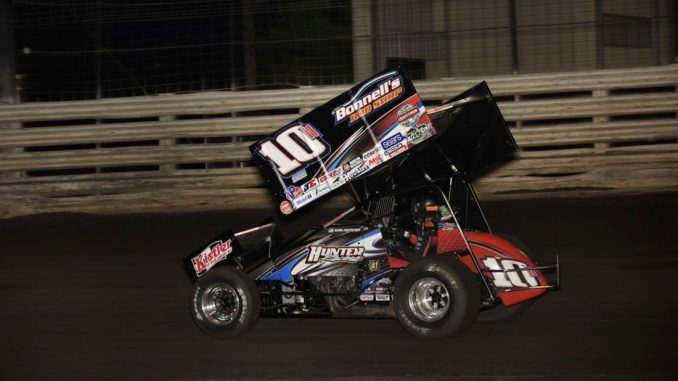 By T.J. Buffenbarger
After the points were tallied from two nights of preliminaries at the Knoxville Nationals Chad Kemenah of Rob and Rita Hunter's race team, earned the outside front row starting position for the Knoxville Nationals. Instead of celebrating their accomplishment Kemenah along with his brother/crew chief and other team members were pulling into Wal Mart parking lot car wash to wait in line with other race teams that competed on Thursday.
While a lot of top name drivers are taking in Knoxville night life or resting in their motor homes, Kemenah is with his brother, car owner, and the rest of the team getting their car cleaned up before going to bed. Not exactly the way most would think a team would celebrate earning a front row starting spot for the biggest event in all of sprint car racing, but Kemenah wouldn't have it any other way.
"What we have is really good stuff. This is the way we choose to do it. Like my wife said, even if that situation arose I'm not the guy that can sit back and watch."
The car wash is a necessary but mundane part of dirt sprint car racing. This trip to clean the car it was obvious that Kemenah had some extra excitement from their preliminary night performance at Knoxville Raceway that ended with a 5th place finish that scored enough points to land them the front row starting spot.
The day started off well when Kemenah's son Creed drew a good number for qualifying.
"It started with a pill draw today. Creed's making a funny thing that he was going draw a 23 or 24 because he did it two years in a row and pulled the number and said he got 10 spots better!" better said Kemenah. "That got things started off on the right foot."
Kemenah capitalized on that draw with the second fastest time in qualifications. Kemenah's good luck didn't end as potential trouble was lurking during his heat race when a rock broke the spark plug. Kemenah was able to hold on to the fourth and final transfer spot, making him one of the three qualifiers in the top 10 to qualify through their heat race.
"Stuff just fell the right way tonight," said Kemenah. "When that happens at Knoxville you have to take advantage of it because lady luck can be way worse than no luck. We'll see if we can capitalize on starting up front in this thing and maybe get a really good finish or go and win this thing."
With the qualifying night behind him the question becomes can Kemenah and his team beat Donny Schatz and Brad Sweet who are widely considered the favorites to win Saturday's finale? When asked Kemenah was hesitant but confidence in their chances.
"I don't know. It seems like probably 95% of the people in this game try to figure out how to beat Donny Schatz on a nightly basis. There is no doubt about it, this is kind of his stomping grounds. We have to put 50 good laps together, we get a good race car underneath us, and I think we can pull it off."
When asked to reflect on his accomplishments and his starting spot for Saturday Kemenah was still contemplating the night, but it was easy to see that confidence was building leading into Saturday's finale.
"Right now it hasn't sunk in yet. It seems like whenever I've made this thing or when I do make them it's always a mid-pack deal or the year I came from 22nd to 5th, but I've had a lot of good runs at this place. Its treated me well. I've had a lot of heartaches at this place too, but we're going to walk in with a smile on our face and the mentality that we can win this damn thing!"