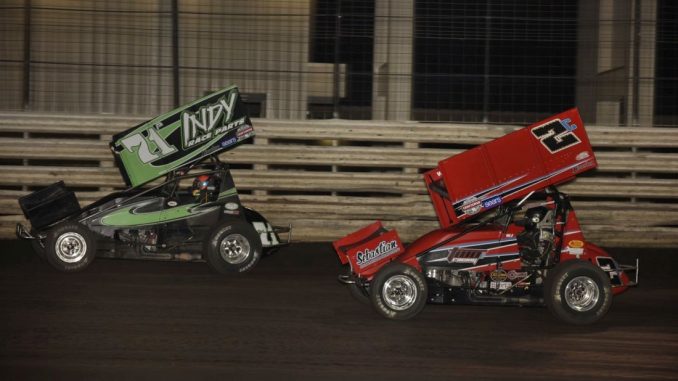 By T.J. Buffenbarger
KNOXVILLE, Iowa (August 11, 2018) – Parker Price-Miller turned a last minute ride after parting ways with the team he started the season with, to make the 5-Hour ENERGY Knoxville Nationals presented by Casey's General Stores A-Main for the first time by winning the B-Main. Price-Miller from Kokomo, Indiana started on the front row and drove Bernie Steuben's Indy Race Parts car into the finale for the biggest sprint car race in the world. Price-Miller led every lap in route to the victory.
While Price-Miller pulled away from the field Wolfe found himself pressured by Daryn Pittman for the second spot. Pittman was able to pass Wolfe on lap three. Wolfe continued to pressure Pittman to return the favor but could not make the pass.
Further back in the field David Gravel was charging from his seventh starting spot. By lap six Gravel was already up to fifth and pressuring Brock Zearfoss for the final transfer spot. Gravel and Zearfoss nearly made contact diving low in turn three, but Zearfoss was able to hold the position.
On lap 10 Gravel picked up some speed and used the top side of the race track to drive by Wolfe and Zearfoss to move up to third. Wolfe briefly took over fourth before Zearfoss took the position back.
Gravel continued to pick up speed driving up to Pittman to challenge for second spot but could not get enough momentum to drive by Pittman.
Price-Miller cruised to the victory with Pittman, Gravel, and Zearfoss transferring to the A-Main. Knoxville Raceway point leader Austin McCarl came up one spot short rounding out the top five.
58th Annual 5-Hour ENERGY Knoxville Nationals presented by Casey's General Stores
World of Outlaws Craftsman Sprint Car Series
Knoxville Raceway
Knoxville, IA
Saturday August 11, 2018
B-Main (22 Laps): 1. 71P – Parker PriceMiller, 2. 9 – Daryn Pittman, 3. 5 – David Gravel, 4. 4 – Brock Zearfoss, 5. 2KS – Austin McCarl, 6. 24W – Lucas Wolfe, 7. 17 – Sheldon Haudenschild, 8. 19 – Brent Marks, 9. 13 – Mark Dobmeier, 10. 36 – Jamie Veal, 11. 39 – Spencer Bayston, 12. 15H – Sam Hafertepe Jr, 13. 11K – Kraig Kinser, 14. 83 – Cory Eliason, 15. 55 – Brooke Tatnell, 16. 1 – Sammy Swindell, 17. 56N – Davey Heskin, 18. 49J – Josh Schneiderman, 19. 35 – Skylar Prochaska, 20. 7S – Jason Sides, 21. 97G – Hunter Schuerenberg, 22. 44 – Trey Starks, 23. 5H – Sammy Walsh, 24. 17X – Josh Baughman. (First four finishers transferred to the A-Main)