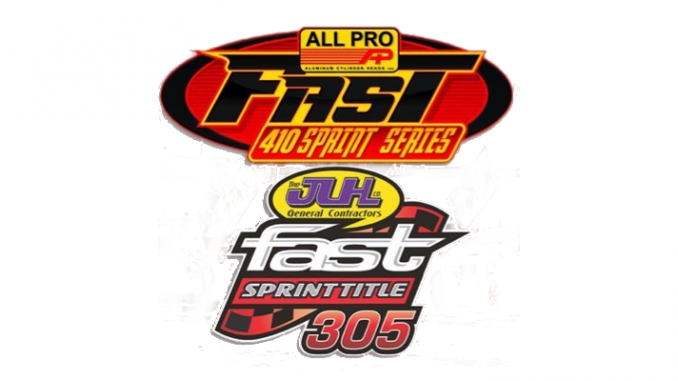 By Brian Liskai
MANSFIELD, Ohio – The Beer Barrel Bourbon was flowing in the pits Saturday, Aug. 11 at Mansfield Motor Speedway after Cap Henry drove the Lane Racing machine carrying the company's colors to the biggest win of his sprint car career at the 2nd Annual Great Lakes Dirt Nationals Presented by Lowes earning $20,000 for back-to-back All Pro Aluminum Cylinder Heads FAST 410 Championship Series Presented by Ohio Logistics victories. Nineteen-year-old Tyler Street earned his first every sprint car win in the JLH General Contractor FAST 305 Championship Series Presented by Engine Pro for a $2,000 payday.
The win is the third overall victory in a row for Henry came into the event third in the FAST standings.
"This is awesome. Thanks to Cody (Sommers, Mansfield promoter) and everyone who put this Mansfield deal together. They keep working really hard on this place and keep getting it better and better. This is a great deal. I love the Knoxville Nationals but I like 20 grand too," Henry said beside his Beer Barrel Bourbon, Metropolitan Landscaping, UTEC, Geck Electric, J&J Auto Racing, Wings Unlimited, FK Rod Ends backed machine.
"We got out front at the right time…it's always better to not lead right away. Byron (Reed) was stuck there and Trevor Baker doesn't have a whole lot of experience and we just went when we needed to. I have to thank the Lanes; Mike, Zack and Nick. This deal is pretty low budget and every body works really hard. This is going to be a fun night," the Republic, Ohio driver added.
Vienna, W. Va. driver Cale Conley, who scored the FAST win at Waynesfield Raceway Park last month, drove from fifth to a runner-up finish.
"The car was really good…I made some driving mistakes all through the race and probably could have capitalized on the lead at some points but just wasn't polished enough in lapped traffic. I was a little too patient tonight. I probably should have just pounded it went. I have to thank the man up stairs for letting us come out here and race and thank Mansfield for putting on a race for people who didn't go out to Knoxville. This is very cool to have a high paying race for everyone. This is awesome. The track was really racy. Congrats to Cap. I want to thank Dave (Jessup, car owner) and Randy and everyone who makes it possible for us to come out here and do this. Second place is a pretty good run for us…we're happy and we're going to keep on building off of this and hopefully go get a couple of more wins this year," said Conley beside his Merchant Services, All Star Performance, Brookville Auto Parts, Duncan Oil, RFM backed #7K.
Street has been knocking on the door for a win all season and he broke down the door Saturday. Street started the 25 lap feature on the outside front row and quickly took the lead. He had to survive a few early cautions but had a dominate machine, leading every lap. The win is especially special Street as his home in Fredericktown, Ohio is only 20 miles away from Mansfield Motor Speedway.
The win should propel Street into the top three of the FAST points.
"This feels so good to finally get our first win. I've dreamt of this for so long. To get this at Mansfield, 20 minutes from home…it feels so amazing. We struggled off the start…the motor kept stumbling and I was afraid Dustin (Stroup, who won the race a year ago) would pull underneath me. Every time there was a caution it would tighten the car so much I could get a heck of a run off of two. My mom and dad…everyone did an amazing job. Dad gave me an amazing set-up," said Street beside his B&B Drain Service, MLTW Machine & Tool, Schaeffer's Oil, Griff's Engines, Neil Kadey Insurance, Truform Race Designs, Greber Racing Components, Mr. and Mrs. C backed machine.
Pleasant Hill, Ohio's Matt Westfall earned the $3,000 pay day leading all 25 laps of the The Buckeye Outlaw Sprint Series (BOSS) non-wing sprint car feature for his sixth overall victory of the season. Ty Tilton got one last opportunity when the feature's only caution flew with four laps to go. But Westfall was not to be denied aboard the Ray Marshall Motorsports machine.
"The key was starting up front. In the heat race we weren't very good but found it there at the end to get into the redraw. It's actually kind of funny; we went up for the redraw and I had Luke Hall's daughter draw and she drew me the one. I want to thank all the fans for coming out. The race track was great tonight; it was two grooves and you could go any where you wanted. This is a great race and Cody puts on a great event. We were here last year and I struggled so we redeemed ourselves tonight," said Westfall beside his Buckeye Machine, DPI Ink, Crazy Lady Bar backed #33M.
Four time FAST champion Byron Reed and Trevor Baker brought the field to green for the 40-lap FAST 410 feature with Reed gaining the advantage. Reed pulled away slightly while the battle behind him heated up involving Baker, Danny Dietrich, Broc Martin and Henry.
The first caution flew with seven laps scored for Martin who had mechanical woes. On the restart Reed continued to lead Baker, Dietrich and Henry with Conley closing. Baker shot around Reed for the lead just before the caution flew on lap 10 for a stalled Rob Chaney.
On the ensuing restart Henry drove around Reed into second with Conley and Dietrich quickly closing. Just as Henry began challenging Baker for the lead Ryan Brought brought out the caution with mechanical issues on lap 16. Baker got a tremendous restart over Henry with Conley, Dietrich and Reed staying close.
With the crossed flags in the air Henry drove to Baker's inside to grab the lead with Conley taking second a lap later. Henry caught the back of the field on lap 22 but maintained a 1.5 second lead over Conley with Baker, Dietrich and 16th starter Tyler Gunn in tow. With 15 laps to go Henry had a comfortable lead while Conley rain uncontested for second but a fantastic battle was going on for third involving Baker, Gunn and Dietrich.
Gunn's charge came to a halt with a flat tire with 10 laps to go, necessitating a fuel stop. When the race resumed Henry pulled away from Conley with Dietrich taking the third position over 13th starter Cole Duncan and 17th starter DJ Netto. In clean air and no traffic Henry built his lead to over 2.5 seconds and drove away to the win over Conley, Dietrich, Duncan and Netto.
The FAST 305 A-main saw Luke Griffith and Street in the front row and when the green flew Griffith had the slight advantage until Street drove to his outside coming to complete the first lap. Griffith spun on lap four, collecting fifth place runner, Jordan Ryan. On the restart Griffith would stop again, ending his night.
When the green flew once again Street held the lead over Stroup, Paul Weaver, Jimmy McGrath, Kyle Capodice and John Ivy. With laps to go Street was mired in heavy lapped traffic allowing Stroup to close but a spin by Ken Rossey brought out the final caution.
Stroup made an attempt for the lead on the ensuing restart but Street kept his momentum on the high side. The mover was Capodice who utilized the bottom groove to move from fourth to second in one lap. Street was too strong though and drove to the win over Capodice, Weaver, Ivy and Stroup.
The All Pro Aluminum Cylinder Heads FAST 410 Championship Series Presented by Ohio Logistics will be back in action Friday, Aug. 17 at Attica Raceway Park in Attica, Ohio followed by the series' first ever visit to Sharon Speedway in Hartford, Ohio on Saturday, Aug. 18. There are only four series events remaining in 2018.
The JLH General Contractor Contractor FAST 305 Championship Series Presented by Engine Pro will compete Friday, Aug. 17 at Attica Raceway Park as only three events remain this season.
About the FAST Championship Series:
The FAST Series was started as a way to promote the great racing fans have enjoyed in Northwest/North Central Ohio at Attica Raceway Park and Fremont Speedway – thus the FAST acronym stood for Fremont Attica Sprint Title. Over the past couple of years the series has expanded to include other tracks and is now known as simply the FAST Championship Series.
Those who are seeking additional information regarding the 2018 All Pro Aluminum Cylinder Heads FAST Series presented by Ohio Logistics, or the 2018 JLH General Contractors FAST '305' Series presented by Engine Pro, can do so by logging on to the official online home of the FAST Series at www.fastondirt.com. Be sure to stay updated on everything FAST related and 'Like' FAST on Facebook at fb.com/fastondirt and follow FAST on Twitter at @FASTseries.
FAST On Dirt, Inc. would like to thank the following contributors to the 2018 FAST Series point fund: All Pro Aluminum Cylinder Heads, Ohio Logistics, JLH General Contractors, Engine Pro, Kistler Racing Products, Engler Machine & Tool, CP-Carillo Pistons, Design Graphics Group Inc., SCS Gearbox, Reebar Die Casting, Hoseheads.com, Level Performance, Young's RV Centers, Gressman Powersports, Hoserville Ohio, Jon Wright's Custom Chrome Plating, Fremont Fence, Baumann Auto Group, Fricker's, Goofy Golf, NAPA Auto Parts, Hoosier Tire, UNOH, Welty Financial Services, EZ Shop, US Army, Weld Racing Wheels, Joe and Fran Darmofal and the Pub 400 of Fremont.
About All Pro Aluminum Cylinder Heads – www.allproheads.com
All Pro Aluminum Cylinder Heads is the industry leader in small block Chevy aluminum cylinder heads as well as the new generation 3 and Mopar W9RP heads. All Pro caters to the hard core racer always looking for the perfect design for a specific application. Whether it's sprints, super late models, drag racing, off-road, marine or road racing, you can't on All Pro.
About JLH General Contractor:
Based in Fremont, Ohio and owned by long-time racing supporter Jon Horn, The JLH Co. LLC is your one-stop for custom home remodeling, plaster restoration, and drywall installation services. Their dedicated craftsmen will help you build the home you want out of the house you have. You can also trust JLH for construction services, including garages and pole barns. JLH also provides custom siding, roofing and window installation. For more information call Jon Horn at 419-559-9449.
About Ohio Logistics – www.ohiologistics.com
Headquartered in Findlay, Ohio, Ohio Logistics provides all the assets and operational support necessary to meet your most sophisticated logistical requirements. The company's story is one of very impressive growth. Started in June of 1988, Findlay's Tall Timbers Distribution Center, Inc. opened in the General Purpose Foreign Trade Zone #151 in the Tall Timbers Business Park. By 1996 the company had grown to 5 locations in 3 States and started doing business as Ohio Logistics. Currently Ohio Logistics is in 18 locations in 6 states operating over 6,000,000 square feet. Built on a sound financial base, Ohio Logistics will strive to exceed your expectations regarding your leasing and supply-chain management needs.
About Engine Pro
Engine Parts Group, Inc. the parent of Engine Pro was founded in 1989 by independent engine parts distributors looking for a way to work cooperatively in buying and marketing. Today it functions as both a distribution network for brand name internal engine parts and as a specialty engine parts producer, marketing under the Engine Pro name. Engine Pro sells exclusively to engine builders, machine shops and jobbers. As part of our tradition of specializing in distributing engine parts to engine professionals, Engine Parts Group now serves more than 12,000 customers from 36 distribution centers. Engine Pro produces high performance engine parts and the line continues to grow with the frequent addition of new parts and applications. Engine Pro brand products are designed to offer the highest quality in high performance parts along with a moderate price to give racers and performance engine builders a more affordable way to do what they do best—win races. Find the nearest Engine pro distributor at enginepro.com
FAST 410 winners 2018
April 21, Fremont Speedway – Craig Mintz
May 4, Attica Raceway Park – Byron Reed
May 5, Fremont Speedway – Craig Mintz (2)
May 18, Attica Raceway Park – Stuart Brubaker
May 25, Fremont Speedway – Craig Mintz (3)
June 1, Attica Raceway Park – Cap Henry
June 2, Fremont Speedway – Craig Mintz (4)
June 29, Attica Raceway Park – Broc Martin
June 30, Fremont Speedway – Chris Andrews
July 3, Waynesfield Raceway Park – Cale Conley
July 7, Fremont Speedway – Chris Andrews (2)
July 27, Attica Raceway Park – Travis Philo
Aug. 4, Fremont Speedway – Cap Henry
Aug. 11, Mansfield Motor Speedway – Cap Henry (2)
JLH General Contractor FAST 305 Championship Series Presented by Engine Pro Points
1. Jamie Miller, 2433 pts.
2. John Ivy – 104 pts.
3. Tyler Street – 178pts.
4. Kyle Peters – 194 pts.
5. Brandon Moore – 196 pts.
6. Kyle Capodice – 215 pts.
7. Seth Schneider – 262 pts.
8. Bobby Clark – 302 pts.
9. Matt Lucius – 574 pts.
10. Dustin Rall – 1056 pts.
FAST 305 winners in 2018
May 4, Attica Raceway Park – Dustin Stroup
May 5, Fremont Speedway – Bobby Clark
May 18, Attica Raceway Park – Paul Weaver
May 26, Fremont Speedway – Steve Rando
June 15, Limaland Motorsports Park – Jamie Miller
June 16, Fremont Speedway – Jamie Miller (2)
June 29, Attica Raceway Park – Jamie Miller (3)
June 30, Fremont Speedway – Jamie Miller (4)
July 3, Waynesfield Raceway Park – John Ivy
July 6, Attica Raceway Park – Dustin Stroup (2)
July 13, Limaland Motorsports Park – Alvin Roepke
July 27, Attica Raceway Park – Paul Weaver (2)
July 28, Fremont Speedway – Jamie Miller (5)
Aug. 3, Limaland Motorsports Park – Jamie Miller (6)
Aug. 11, Mansfield Motor Speedway – Tyler Street
Results Aug. 11, 2018
Mansfield Motor Speedway
Starting position – [*]
FAST 410 Sprints
Qualifying
1. 22C-Cole Duncan, 14.685; 2. 5T-Travis Philo, 14.740; 3. 16-Chris Andrews, 14.770; 4. 48-Danny Dietrich, 14.776; 5. 83-Rob Chaney, 14.786; 6. 22B-Ryan Broughton, 14.790; 7. 7K-Cale Conley, 14.801; 8. 23-DJ Foos, 14.802; 9. O9-Craig Mintz, 14.865; 10. 97-Broc Martin, 14.905; 11. 4H-Cap Henry, 14.934; 12. 68G-Tyler Gunn, 14.987; 13. 45-Trevor Baker, 15.006; 14. 5-Byron Reed, 15.009; 15. 17-Caleb Helms, 15.113; 16. 60-Kory Crabtree, 15.128; 17. 19-Mitch Harble, 15.174; 18. 35-Stuart Brubaker, 15.187; 19. 23B-Chase Baker, 15.260; 20. A79-Brandon Wimmer, 15.293; 21. 11N-Dj Netto, 15.332; 22. 57X-Andrew Palker, 15.343; 23. 7DK-Dylan Kingan, 15.355; 24. 33D-Tyler Dunn, 15.380; 25. 9M-Jordan Ryan, 15.492; 26. 20i-Kesley Ivy, 15.521; 27. 8J-Jess Stiger, 15.600; 28. 16M-Danny Mumaw, 15.638; 29. 7-Troy Kingan, 15.876; 30. 59J-Kirk Jeffries, 16.131
Heat #1 – (8)Laps – Top 4 Transfer
1. 45-Trevor Baker[1]; 2. 83-Rob Chaney[3]; 3. O9-Craig Mintz[2]; 4. 22C-Cole Duncan[4]; 5. 11N-Dj Netto[6]; 6. 9M-Jordan Ryan[7]; 7. 7-Troy Kingan[8]
Heat #2 – (8)Laps – Top 4 Transfer
1. 5-Byron Reed[1]; 2. 97-Broc Martin[2]; 3. 22B-Ryan Broughton[3]; 4. 5T-Travis Philo[4]; 5. 35-Stuart Brubaker[5]; 6. 59J-Kirk Jeffries[8]; 7. 20i-Kesley Ivy[7]
Heat #3 – (8)Laps – Top 4 Transfer
1. 4H-Cap Henry[2]; 2. 7K-Cale Conley[3]; 3. 17-Caleb Helms[1]; 4. 16-Chris Andrews[4]; 5. 8J-Jess Stiger[7]; 6. 23B-Chase Baker[5]; 7. 7DK-Dylan Kingan[6]
Heat #4 – (8)Laps – Top 4 Transfer
1. 48-Danny Dietrich[4]; 2. 60-Kory Crabtree[1]; 3. A79-Brandon Wimmer[5]; 4. 68G-Tyler Gunn[2]; 5. 33D-Tyler Dunn[6]; 6. 23-DJ Foos[3]; 7. 16M-Danny Mumaw[7]
B-Main – (10)Laps – Top 5 Transfer
1. 11N-Dj Netto[1]; 2. 35-Stuart Brubaker[2]; 3. 9M-Jordan Ryan[5]; 4. 23-DJ Foos[8]; 5. 19-Mitch Harble[13]; 6. 8J-Jess Stiger[3]; 7. 16M-Danny Mumaw[12]; 8. 20i-Kesley Ivy[10]; 9. 59J-Kirk Jeffries[6]; 10. 23B-Chase Baker[7]; 11. 7-Troy Kingan[9]; 12. 7DK-Dylan Kingan[11]; 13. 33D-Tyler Dunn[4]
A-Main – (40)Laps
1. 4H-Cap Henry[4]; 2. 7K-Cale Conley[5]; 3. 48-Danny Dietrich[3]; 4. 22C-Cole Duncan[13]; 5. 11N-Dj Netto[17]; 6. A79-Brandon Wimmer[12]; 7. 5T-Travis Philo[14]; 8. 5-Byron Reed[1]; 9. 45-Trevor Baker[2]; 10. 68G-Tyler Gunn[16]; 11. 23-DJ Foos[20]; 12. 22B-Ryan Broughton[10]; 13. O9-Craig Mintz[9]; 14. 35-Stuart Brubaker[18]; 15. 9M-Jordan Ryan[19]; 16. 16-Chris Andrews[15]; 17. 23B-Chase Baker[22]; 18. 17-Caleb Helms[11]; 19. 97-Broc Martin[6]; 20. 60-Kory Crabtree[8]; 21. 83-Rob Chaney[7]; 22. 19-Mitch Harble[21]
FAST Hard Charger: 23-DJ Foos +9
FAST 305
Qualifying
1. 26-Jamie Miller, 16.183; 2. 1W-Paul Weaver, 16.372; 3. 7M-Brandon Moore, 16.392; 4. 12-Kyle Capodice, 16.411; 5. 97-Kyle Peters, 16.488; 6. 77I-John Ivy, 16.503; 7. 11G-Luke Griffith, 16.528; 8. 4s-Tyler Street, 16.559; 9. 1BB-Jordan Ryan, 16.561; 10. 5JR-Jimmy Mcgrath Jr, 16.646; 11. 21-Dustin Stroup, 16.808; 12. 36-Seth Schneider, 16.820; 13. 47-Matt Lucius, 16.863; 14. 73-Joe Armbruster, 16.881; 15. Z10-Kevin Mingus, 16.901; 16. 1Q-Thomas Radivoy, 16.961; 17. 14-Luke Daughtery, 16.972; 18. 8-Bobby Clark, 16.980; 19. 1J-Jeremy Shambaugh, 17.417; 20. 66-Ken Rossey, 17.443; 21. 25R-Matt Russell, 17.460; 22. 11X-George Englert, 17.606; 23. 13-Jeremy Duposki, 17.628; 24. 39C-Scott Riley, 17.749; 25. 18R-Duffy Rubel, 17.761; 26. 75-Jerry Dahms, 22.419
Heat #1 – (8)Laps – Top 5 Transfer
1. 11G-Luke Griffith[2]; 2. 5JR-Jimmy Mcgrath Jr[1]; 3. 12-Kyle Capodice[3]; 4. 26-Jamie Miller[4]; 5. 47-Matt Lucius[5]; 6. 1Q-Thomas Radivoy[6]; 7. 11X-George Englert[8]; 8. 1J-Jeremy Shambaugh[7]; 9. 18R-Duffy Rubel[9]
Heat #2 – (8)Laps – Top 5 Transfer
1. 4s-Tyler Street[2]; 2. 21-Dustin Stroup[1]; 3. 97-Kyle Peters[3]; 4. 1W-Paul Weaver[4]; 5. 73-Joe Armbruster[5]; 6. 66-Ken Rossey[7]; 7. 75-Jerry Dahms[9]; 8. 14-Luke Daughtery[6]; 9. 13-Jeremy Duposki[8]
Heat #3 – (8)Laps – Top 5 Transfer
1. 1BB-Jordan Ryan[2]; 2. 36-Seth Schneider[1]; 3. 8-Bobby Clark[6]; 4. 7M-Brandon Moore[4]; 5. Z10-Kevin Mingus[5]; 6. 77I-John Ivy[3]; 7. 39C-Scott Riley[8]; 8. 25R-Matt Russell[7]
A-Main – (25)Laps
1. 4s-Tyler Street[2]; 2. 12-Kyle Capodice[7]; 3. 1W-Paul Weaver[11]; 4. 77I-John Ivy[18]; 5. 21-Dustin Stroup[6]; 6. 8-Bobby Clark[9]; 7. 7M-Brandon Moore[12]; 8. 97-Kyle Peters[8]; 9. 5JR-Jimmy Mcgrath Jr[4]; 10. 73-Joe Armbruster[14]; 11. 26-Jamie Miller[10]; 12. Z10-Kevin Mingus[15]; 13. 11X-George Englert[19]; 14. 66-Ken Rossey[17]; 15. 47-Matt Lucius[13]; 16. 14-Luke Daughtery[23]; 17. 1J-Jeremy Shambaugh[22]; 18. 75-Jerry Dahms[20]; 19. 39C-Scott Riley[21]; 20. 13-Jeremy Duposki[24]; 21. 36-Seth Schneider[5]; 22. 11G-Luke Griffith[1]; 23. 1BB-Jordan Ryan[3]; 24. 1Q-Thomas Radivoy[16]
FAST Hard Charger: 77i-John Ivy +14
BOSS
Qualifying
1. 82-Mike Miller, 18.225; 2. 2DI-Dustin Ingle, 18.266; 3. 18-Dallas Hewitt, 18.327; 4. 33M-Matt Westfall, 18.421; 5. 68G-Tyler Gunn, 18.589; 6. 19-Matt Cooley, 18.607; 7. 87-Paul Dues, 18.692; 8. 14-Chad Wilson, 18.710; 9. 6-Bill Rose, 18.368; 10. 44-Joe Liguori, 18.703; 11. 44s-Michael Fischesser, 18.799; 12. 91x-Aaron Middaugh, 19.041; 13. 5-Bob McMillen, 19.260; 14. 14J-Eric Jennings, 19.377; 15. 31L-Buddy Lowther, 19.531; 16. 66-Mark Rossey, 20.613; 17. 9G-Cody Gardener, 18.134; 18. 42-Ty Tilton, 18.365; 19. 77-Kory Crabtree, 18.777; 20. 21-Carmen Perigo, 18.909; 21. 24L-Lee Underwood, 19.068; 22. 86-Rick Holley, 19.410; 23. 18D-Bobby Distel, 19.575; 24. 97-Scott Hardman, 99.000; 25. 57-Clinton Boyles, 18.235; 26. 53-Steve Little, 18.494; 27. 9N-Luke Hall, 18.800; 28. 79-Mike Burkin, 19.182; 29. 320-George Willard, 19.386; 30. 35-Tyler Powell, 19.902; 31. 3-Joe Butera, 19.996
Heat #1 – (8)Laps – Top 4 Transfer
1. 2DI-Dustin Ingle[3]; 2. 33M-Matt Westfall[1]; 3. 18-Dallas Hewitt[2]; 4. 68G-Tyler Gunn[5]; 5. 82-Mike Miller[4]; 6. 14-Chad Wilson[8]; 7. 87-Paul Dues[7]; 8. 19-Matt Cooley[6]
Heat #2 – (8)Laps – Top 4 Transfer
1. 6-Bill Rose[4]; 2. 44s-Michael Fischesser[2]; 3. 44-Joe Liguori[3]; 4. 91x-Aaron Middaugh[1]; 5. 5-Bob McMillen[5]; 6. 31L-Buddy Lowther[7]; 7. 66-Mark Rossey[8]; 8. 14J-Eric Jennings[6]
Heat #3 – (8)Laps – Top 4 Transfer
1. 42-Ty Tilton[3]; 2. 9G-Cody Gardener[4]; 3. 77-Kory Crabtree[2]; 4. 24L-Lee Underwood[5]; 5. 86-Rick Holley[6]; 6. 18D-Bobby Distel[7]; 7. 21-Carmen Perigo[1]
Heat #4 – (8)Laps – Top 4 Transfer
1. 9N-Luke Hall[2]; 2. 57-Clinton Boyles[4]; 3. 53-Steve Little[3]; 4. 79-Mike Burkin[1]; 5. 320-George Willard[5]; 6. 35-Tyler Powell[6]; 7. 3-Joe Butera[7]
B-Main – (10)Laps – Top 6 Transfer
1. 82-Mike Miller[1]; 2. 14-Chad Wilson[5]; 3. 14J-Eric Jennings[14]; 4. 5-Bob McMillen[2]; 5. 87-Paul Dues[9]; 6. 18D-Bobby Distel[7]; 7. 320-George Willard[4]; 8. 66-Mark Rossey[10]; 9. 35-Tyler Powell[8]; 10. 3-Joe Butera[12]; 11. 31L-Buddy Lowther[6]; 12. 86-Rick Holley[3]; 13. 19-Matt Cooley[13]
A-Main – (25)Laps
1. 33M-Matt Westfall[1]; 2. 42-Ty Tilton[3]; 3. 6-Bill Rose[7]; 4. 18-Dallas Hewitt[9]; 5. 44s-Michael Fischesser[6]; 6. 9G-Cody Gardener[4]; 7. 9N-Luke Hall[2]; 8. 68G-Tyler Gunn[13]; 9. 57-Clinton Boyles[5]; 10. 77-Kory Crabtree[11]; 11. 14-Chad Wilson[18]; 12. 24L-Lee Underwood[15]; 13. 2DI-Dustin Ingle[8]; 14. 53-Steve Little[12]; 15. 82-Mike Miller[17]; 16. 44-Joe Liguori[10]; 17. 5-Bob McMillen[20]; 18. 14J-Eric Jennings[19]; 19. 18D-Bobby Distel[22]; 20. 91x-Aaron Middaugh[14]; 21. 87-Paul Dues[21]; 22. 79-Mike Burkin[16]
Hard Charger: 14-Chad Wilson +7