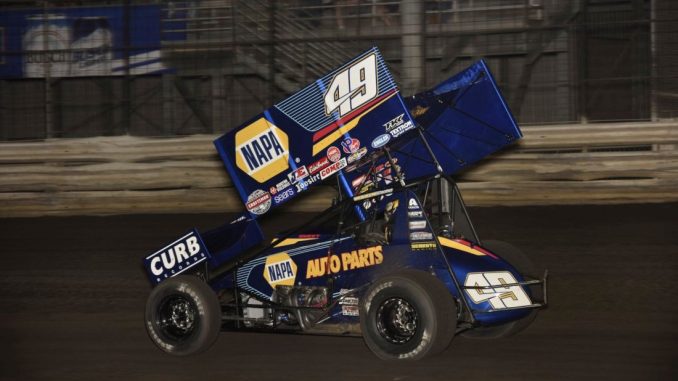 KNOXVILLE, Iowa (August 11, 2018) – Brad Sweet etched his name into the history books on Saturday by winning the 58th Annual 5-Hour ENERGY Knoxville Nationals presented by Casey's General Stores finale on Saturday at Knoxville Raceway. Sweet from Grass Valley, California held off 10-time Knoxville Nationals champion Donny Schatz during a green-white-checkered finish to take home the $150,000 top prize and the title as Nationals champion.
Afterwards Sweet was elated but exhausted from the final two laps of the event.
"I held my breath those last two laps," said Sweet about the two lap showdown for the win. "I wasn't sure if I wanted that caution or didn't. With Donny (Schatz) breathing down my throat I told myself I need to hit these two laps on the bottom perfect. They were not perfect, but they were good enough to get the win."
Leading into the last night of competition at Knoxville Sweet was on edge until he found some inspiration on the track's video board.
"I was honestly very uptight and nervous all day," said Sweet. "Then the video with Jason Johnson came on and I got teared up. Then my mind went really calm and maybe I realized I should just do what Jason would do. Go out and run the shit out of it, and that's what I did! I'm sure the hell hope he's looking down smiling."
The victory was Sweet's third win this week in competition at Knoxville Raceway with earlier wins coming at the Capitani Classic on Sunday and his preliminary feature on on Thursday.
The first half…
Brad Sweet took the lead at the start with Chad Kemenah in second. Behind them Donny Schatz drove up to third on the opening lap with Kyle Larson dropping briefly to fifth behind Aaron Reutzel until Larson drove around Reutzel for fourth in turns three and four.
Sweet pulled away to a sizeable lead in the early stages of the feature while Schatz and Larson exchanged side jobs at each end of the race track swapping third place for multiple laps. While racing for second Schatz and Larson were able close the gap on second place Kemenah.
Kemenah was able to hold Schatz at bay until lap nine when he stumbled on the inside berm coming off turn two and allowed Schatz to drive by for second. One lap later Larson passed Kemenah for third position.
Once occupying second and third positions Larson and Schatz continued to exchange slide jobs including racing three wide off turn two at one point splitting slower traffic, but each time Schatz maintained the second spot. This allowed Sweet to build up a four second advantage.
Further back Aaron Reutzel was making his presence felt passing Chad Kemenah for fourth position on lap 20 right before the red flag came out when Rico Abreu turned over between turns three and four. Abreu exited his car under his own power.
While Sweet pulled away during the restart Larson finally made a pass stick on Schatz in turns one and two for second place. Two laps later the caution appeared for the halfway stop in the feature.
The second half…
While Sweet continued to build up another sizeable lead after a restart further back in the field Carson Macedo was making a run into the top five driving by Kemenah to enter the top five.
Sweet's large lead was short lived though when he made a mistake getting crossed up in turns one and two and allowed Kyle Larson to pull alongside. Larson led laps 28 and 29 before Sweet took the lead back on lap 30. This also allowed Schatz to close in on the lead duo.
On lap 41 Schatz started to pick up steam and took second from Larson. From there Sweet's lead started to shrink, but with some moves through slower traffic Sweet built the lead up again until a red flag with two laps to go for Kerry Madsen flipping between turns three and four. Madsen emerged from his car under his own power after the incident.
This set up a green-white-checkered finish for the Knoxville Nationals title. Sweet slowly approached the restart line and did well taking off, but Schatz immediately went to the top of the track to challenge for the lead. Sweet and Schatz were side by side for the lead as the white flag came out. Sweet used the bottom to perfection over the final lap to edge Schatz by the second closest margin of victory in the history of the Knoxville Nationals at 0.133 seconds. Larson, Reutzel, and Tim Kaeding rounded out the top five.
58th Annual 5-Hour ENERGY Knoxville Nationals presented by Casey's General Stores
World of Outlaws Craftsman Sprint Car Series
Knoxville Raceway
Knoxville, IA
Saturday August 11, 2018
A-Main (50 Laps): 1. 49 – Brad Sweet, 2. 15 – Donny Schatz, 3. 57 – Kyle Larson, 4. 87 – Aaron Reutzel, 5. 3 – Tim Kaeding, 6. 41 – Carson Macedo, 7. 10H – Chad Kemenah, 8. 1S – Logan Schuchart, 9. 2 – Shane Stewart, 10. 5 – David Gravel, 11. 18 – Ian Madsen, 12. 49X – Tim Shaffer, 13. 1A – Jacob Allen, 14. 71 – Gio Scelzi, 15. 27 – Greg Hodnett, 16. 41S – Dominic Scelzi, 17. 9 – Daryn Pittman, 18. 71P – Parker Price-Miller, 19. 4 – Brock Zeargoss, 20. 09 – Matt Juhl, 21. 13X – Paul McMahan, 22. 2M – Kerry Madsen, 23. 24 – Terry McCarl, 24. 24R – Rico Abreu, 25. 21 – Brian Brown.