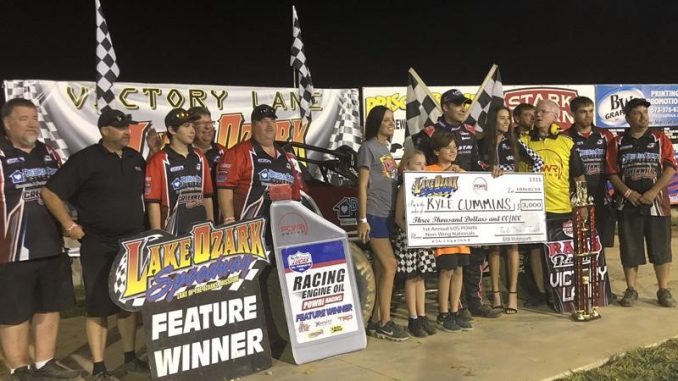 From Brian Walker
ELDON, MO (August 18, 2018) – After missing Friday's opener to the WAR Non-Wing Nationals, Kyle Cummins hauled down to Eldon, Missouri on Saturday from his hometown of Princeton, Indiana to join the field for just second-ever event with the POWRi Lucas Oil WAR Sprint League. At the end of the night, he led from start-to-finish and dominated all 25 laps at the Lake Ozark Speedway to score his second-career victory, a $3,000 payday, and the inaugural championship at the WAR Non-Wing Nationals. The victory also makes Cummins eligible for the $20,000 Bell Racing USA Triple Crown Challenge, which he has committed to attempting at Lucas Oil (September 22nd) and Fairbury (October 6th).
Attracting another group of 31 entries for Saturday's finale of the WAR Non-Wing Nationals at Lake Ozark, the same four heat program would server as preliminary action for the POWRi Lucs Oil WAR Sprints. Shon Deskins won Hinchman Racewear heat one, Chris Parkinson took Bell Racing USA heat two, Landon Simon scored Schure Built Suspension heat three and Wesley Smith claimed Wilwood Disc Brakes heat four. Parkinson's fourth-to-first run gave him LRB, Inc. #HighPointMan honors, to which he declined the high point challenge and redrew a six for the feature inversion.
Slotting Kyle Cummins and Wesley Smith on the front row, it was Cummins who roared into the early lead and bolted straight to the top. He was quickly chased by Landon Simon, who moved from fourth into second on the opening lap. Cummins built a healthy advantage in the early running until the first caution of the night flew on lap eight for Quinton Benson, who entered the night second in the point standings, but left on the hook.
As the field re-fired, all eyes turned to the battle for third as Chris Parkinson, Wesley Smith and Wyatt Burks went three-wide on numerous occasions battling for position. Soon the action turned to the runner-up spot as a three-way war was waged between Simon, Riley Kreisel and Parkinson. Kreisel and Simon went toe-to-toe trading sliders corner-after-corner and competing in close quarters. Their furious battle allowed Parkinson to sneak up and make it a three-car battle, but the action all came to a head on lap 18 when chaos struck.
Coming together battling for the spot, contact between Riley Kreisel and Chris Parkinson sent both drivers around and ensued to collect Landon Simon and Mario Clouser, taking out three of the top four runners. Going back to green for the final time, Cummins pulled away from the field while Ty Hulsey continued his march to the front of the field rolling the bottom.
As the double checkered flags flew on the inaugural WAR Non-Wing Nationals, it ws Princeton, Indiana's Kyle Cummins crossing the line to score a dominating victory at Lake Ozark Speedway. Making it two victories in to attempts with the POWRi Lucas Oil WAR Sprint League, Cummins presence has been an overwhelming force showing up and running away with the loot. Making himself eligible for the $20,000 bonus in the Bell Racing USA Triple Crown Challenge, Cummins could earn a huge five-figure payday if he can also win at Lucas Oil Speedway (September 22nd) and Fairbury American Legion Speedway (October 6th).
Following Cummins to the line in second-place was Oklahoma's Ty Hulsey, who guided the Risley Racing No. 24H from tenth-to-second. After initially finishing third, Wesley Smith was found light at the scales and his great run was unfortunately diminished with a disqualification. Officially, Jack Wagner rounded out the podium to earn a career-best result in what was a hard-charging 20th-to-third bid. Closing out the top five was Wyatt Burks finishing in fourth and JD Black coming home in fifth. Rounding out the top ten was Logan Faucon (6th), Anthony Nicholson (7th), Ben Brown (8th), Mario Clouser (9th) and Jeff Wingate (10th).
Up next for the POWRi Lucas Oil WAR Sprint League is a trip to the Sunflower State of Kansas for a doubleheader at Humboldt Speedway in Humboldt, Kansas. Running alongside the Lucas Oil POWRi West Midgets, the WAR Sprints will compete on Friday and Saturday, August 24th-25th as they make their league debut at Humboldt.
POWRi Lucas Oil War Non-Wing Sprint Cars
Heat Race #1 (8 Laps): 1. 7-Shon Deskins, [3]; 2. 7M-Chance Morton, [2]; 3. 73-Samuel Wagner, [1]; 4. 22S-Slater Helt, [4]; 5. 7R-JD Black, [8]; 6. 82-Vinny Ward, [6]; 7. 2H-Luke Howard, [7]; 8. 5-Kory Bales, [5]
Heat Race #2 (8 Laps): 1. 65-Chris Parkinson, [4]; 2. 24H-Ty Hulsey, [1]; 3. 11W-Wyatt Burks, [5]; 4. 41-Brad Wyatt, [3]; 5. 16-Anthony Nicholson, [7]; 6. 31-Dylan Kadous, [8]; 7. 77-Jack Wagner, [6]; 8. 2-Zach Clark, [2]
Heat Race #3 (8 Laps): 1. 24-Landon Simon, [2]; 2. 3C-Kyle Cummins, [3]; 3. 49B-Ben Brown, [1]; 4. 90-Riley Kreisel, [7]; 5. 15B-Quinton Benson, [5]; 6. 7JR-Warren Johnson, [4]; 7. 30-Ryan Kent, [6]; 8. 31M-Joe Miller, [8]
Heat Race #4 (8 Laps): 1. 12-Wesley Smith, [1]; 2. 24C-Craig Carroll, [4]; 3. 52F-Logan Faucon, [3]; 4. 8-Jeff Wingate, [5]; 5. 4-Braydon Cromwell, [2]; 6. 22ADAY-Matthew Sharon, [6]; 7. 6-Mario Clouser, [7]
B Feature (12 Laps): 1. 41-Brad Wyatt, [2]; 2. 31-Dylan Kadous, [3]; 3. 6-Mario Clouser, [10]; 4. 77-Jack Wagner, [11]; 5. 15B-Quinton Benson, [4]; 6. 30-Ryan Kent, [12]; 7. 82-Vinny Ward, [6]; 8. 31M-Joe Miller, [13]; 9. 2-Zach Clark, [15]; 10. 7JR-Warren Johnson, [8]; 11. 5-Kory Bales, [14]; 12. 22ADAY-Matthew Sharon, [7]; 13. 2H-Luke Howard, [9]; 14. 22S-Slater Helt, [1]; 15. 4-Braydon Cromwell, [5]
A Feature (25 Laps): 1. 3C-Kyle Cummins, [1]; 2. 24H-Ty Hulsey, [10]; 3. 77-Jack Wagner, [20]; 4. 11W-Wyatt Burks, [7]; 5. 7R-JD Black, [11]; 6. 52F-Logan Faucon, [12]; 7. 16-Anthony Nicholson, [16]; 8. 49B-Ben Brown, [15]; 9. 6-Mario Clouser, [19]; 10. 8-Jeff Wingate, [13]; 11. 41-Brad Wyatt, [17]; 12. 24C-Craig Carroll, [3]; 13. 73-Samuel Wagner, [14]; 14. 24-Landon Simon, [4]; 15. 65-Chris Parkinson, [6]; 16. 90-Riley Kreisel, [8]; 17. 7-Shon Deskins, [5]; 18. 30-Ryan Kent, [22]; 19. 31-Dylan Kadous, [18]; 20. 7M-Chance Morton, [9]; 21. 15B-Quinton Benson, [21]; 22. 12-Wesley Smith, [2]
Winged 360 Sprint Cars
Heat Race #1 (8 Laps): 1. 0-Taylor Walton, [1]; 2. 6-Bryan Grimes, [2]; 3. 86-Tony Bruce Jr, [5]; 4. 1P-Curtis Evans, [3]; 5. 18X-Nathan Ryun, [7]; 6. 89-Todd McVay, [4]; 7. 43-Frank Brown, [6]; 8. 55-Jack Potter, [8]
Heat Race #2 (8 Laps): 1. 4-Evan Martin, [1]; 2. 57-Billy Butler, [2]; 3. 28-Jonathan Cornell, [5]; 4. 37H-Nicholas Howard, [4]; 5. 51-Mitchell Moore, [6]; 6. 85-Forrest Sutherland, [3]; 7. 27-Danny Thoman, [7]
Heat Race #3 (8 Laps): 1. 38-Cody Baker, [1]; 2. 21-Miles Paulus, [4]; 3. 91-Riley Kreisel, [3]; 4. 10-Mike Trent, [6]; 5. 3V-Tyler Utz, [7]; 6. 3-Ayrton Gennetten, [5]; 7. 65-T.J. Muths, [2]
A-Main (25 Laps): 1. 0-Taylor Walton, [2]; 2. 21-Miles Paulus, [1]; 3. 86-Tony Bruce Jr, [5]; 4. 4-Evan Martin, [3]; 5. 6-Bryan Grimes, [7]; 6. 3-Ayrton Gennetten, [16]; 7. 91-Riley Kreisel, [10]; 8. 57-Billy Butler, [8]; 9. 51-Mitchell Moore, [15]; 10. 38-Cody Baker, [4]; 11. 37H-Nicholas Howard, [13]; 12. 3V-Tyler Utz, [12]; 13. 10-Mike Trent, [9]; 14. 43-Frank Brown, [20]; 15. 1P-Curtis Evans, [14]; 16. 55-Jack Potter, [22]; 17. (DNF) 28-Jonathan Cornell, [6]; 18. (DNF) 18X-Nathan Ryun, [11]; 19. (DNF) 89-Todd McVay, [17]; 20. (DNF) 27-Danny Thoman, [19]; 21. (DNF) 65-T.J. Muths, [21]