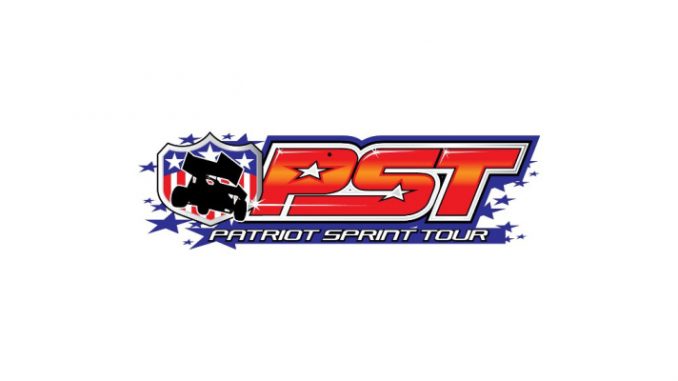 By Paul Harkenrider
(Dundee, NY) Not very often does it take this long in the season for five-time Patriot Sprint Tour series champion Jared Zimbardi to find himself in victory lane, but Friday night was shockingly his first win all season as the Bradford, PA pilot scored the victory over Joe Trenca and hard charging Jordan Thomas.
The win was not easy as Zimbardi had to hold off stout competition in Joe Trenca as well as Jonathan Preston and Kyle Drum in the first half of the race.
Two cautions occurred in the first four laps of the 25 lap A Main, one of which included PST point leader, Chuck Hebing, who fell off the pace on lap four. His night would come to an end early.
Kyle Drum, who started 9th was immediately vying for a top five position in the opening laps, and once he was able to crack into the top five, the Wayland, NY driver continued to make a push to the front.
Drum continued to clear cars as circuits ticked away and by lap ten, Drum was in the runner up position chasing Zimbardi the race leader. Drum continued to run the bottom side of the race track and get himself almost wing to wing with his brother in law. Then on lap 12, Drum would make contact with a safety tire off turn two damaging his front end and the 47's night would be complete.
Another driver who was making a strong charge to the front was 15th starter Jordan Thomas who by lap four was already up to spot seven.
Several laps later, Thomas would get into the top five and begin to battle for that final podium spot with Jonathan Preston and Darryl Ruggles. On lap 21, Josh Azzi would spin in turn one and try to keep it going but would end clipping third place runner Jonathan Preston. Preston, who had nowhere to go, would get put on his side bringing out the red flag.
The battle for third was amazing but so was the battle for the race lead between Joe Trenca and Jared Zimbardi. The low lane was fast all night for Trenca and he was able to get a great run on lap 19 to take the race lead but that lead was very brief as Zimbardi would take it right back on lap 20.
The last thing Trenca needed was that red flag on lap 21 as Zimbardi was able to get back out into clean air on the restart and pull away from the rest of the field. Zimbardi would cross the line first over Joe Trenca, Jordan Thomas, Darryl Ruggles and Scott Goodrich would take home a career best fifth place finish.
Jordan Thomas was the obvious choice for the Casey's Truck Salvage 'Salvage of the night' award after having a mishap during qualifying and was forced to start 15th but salvaged the night by finishing third.
David Just was the final car to take the checkered and he would be awarded with the Prestige Pool & Spa Final Finisher award.
Heat Race wins went to Jared Zimbardi, Pete Richardson, and Chuck Hebing. Kyle Drum was the Bonnell's Collision Center Dash for Cash winner.
The championship battle is on as Chuck Hebing's night ended early and Jordan Thomas came home in third so Hebing point lead is all but gone.
Five full point events remain with another one happening tonight (August 25) at Woodhull Raceway as we try for the fourth time at New York's Toughest Bull Ring. We then travel to Land of Legends Raceway in Canandaigua for a Midweek affair this Wednesday, August 29th.
Fans as always are encouraged to check out www.patriotsprinttour.com, like us on facebook and follow @PatriotSprints on Instagram and Twitter.
Patriot Sprint Tour
Outlaw Speedway
Dundee, NY
Friday August 24, 2018
Heat Race #1: 1. 82 – Jared Zimbardi 2. 30 – Scott Goodrich 3. 47 – Kyle Drum 4. 54J – Dave Just 5. 61 – Parker Evans 6. 79 – Jordan Thomas 7. 25G – Tyler Graves 8. 99k – Dan Kuhn
Heat Race #2: 1. 67 – Pete Richardson 2. 22 – Jonathan Preston 3. 1Q – Thomas Radivoy 4. 98 – Joe Trenca 5. 121 – Steve Glover 6. 17 – Josh Azzi 7. 9 – Kevin Carlson 8. 48A – Alysha Bay
Heat Race #3: 1. 45 – Chuck Hebing 2. X – Dan Bennett 3. 48jr – Darryl Ruggles 4. 22r – Mike Koehler 5. 38 – Brad Knab 6. 13 – Kieth Granholm 7. 54jr – Scott Just
Bonnell's Collison Center Dash for Cash: 1. 47 – Kyle Drum 2. 61 – Parker Evans 3. 38 – Brad Knab 4. 1Q – Thomas Radivoy 5. 22e – Mike Koehler 6. 121 – Steve Glover
A Main: 1. 82 – Jared Zimbardi 2. 98 – Joe Trenca 3. 79 – Jordan Thomas 4. 48jr – Darryl Ruggles 5. 30 – Scott Goodrich 6. 1Q – Thomas Radivoy 7. 61 – Parker Evans 8. 38 – Brad Knab 9. 13 – Kieth Granholm 10. 54jr – Scott Just 11. X – Dan Bennett 12. 54J – Dave Just 13. 48A – Aysha Bay 14. 99K – Dan Kuhn 15. 22x – Jonathan Preston 16. 121 – Steve Glover 17. 17z – Josh Azzi 18. 9 – Kevin Carlson 19. 47 – Kyle Drum 20. 22r – Mike Koehler 21. 25g – Tyler Graves 22. 45 – Chuck Hebing 23. 67 – Pete Richardson