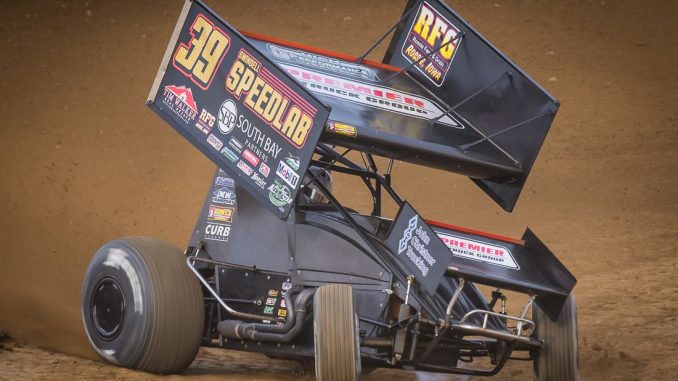 Inside Line Promotions
BECHTELSVILLE, Pa. (Aug. 27, 2018) – Spencer Bayston has been sidelined for an indefinite amount of time after sustaining a broken right leg last Thursday during an Arctic Cat All Star Circuit of Champions event in Pennsylvania.
Bayston, who was driving the Kevin Swindell Racing No. 39 sprint car, qualified third quickest in his group and won a heat race to advance into the dash at Grandview Speedway. Unfortunately, a freak accident occurred during the race as mud from the track caved in the right side panels. The force broke Bayston's fibula and tibia in his right leg.
"I'd been running down a little bit," Bayston said. "I went to the top. I was behind a car in turn three. He checked up a little so I turned a little bit and got a little more sideways. All of a sudden the right side of the car collapsed. I was able to crank left and hit the switch at the same time and spin it out. It took me a minute to realize what happened. I think it put me into shock because I didn't even notice my leg. It ripped the right armguard apart. Originally I thought my right arm had more of an injury than my leg did. I was in a lot of pain. I unbelted and felt my leg start to tingle. I looked down and the whole right side panel was basically wrapped around my leg. I was able to reach down to try to bend it back enough to get my foot out. I pulled myself out with my hands and stepped on the seat to get myself out the last little bit. My leg didn't have any support and it buckled. That's when I realized it was broken. Thankfully at that point I was halfway out of the car and Eric with the All Stars was right there and he got me out of the car the rest of the way."
Bayston had surgery on Friday morning at Lehigh Valley Cedar Crest in Allentown, Pa., and he was released to return home to Indiana on Saturday. He arrived home early Monday morning after flying back with All Star series owner and former NASCAR driver Tony Stewart.
"Thankfully Tony gave me a ride because flying commercial would have been excruciating," Bayston said. "I got a rod in my leg. I felt a lot better after that because it's straight and supported. I don't even have a cast on. It's just wrapped up. The rod is my cast. I can start putting weight on it as soon as I want. The pain I'm in now I'm not able to do that. I'll slowly apply some pressure and move my ankle around and bend my knee. It's up to my time schedule. I think the realistic goal to return to racing is World Finals (in October)."
During Bayston's absence Kevin Swindell Racing is looking to fill in the schedule with a funded driver. If interested in an opportunity, contact Swindell at kswindell39@gmail.com .
"Spencer has done a great job for us and we hope he recovers quickly," Swindell said. "He has set high expectations for the ride so we're looking to work with someone who can come in and compete for wins just like Spencer has done."
QUICK RESULTS –
Aug. 23 – Grandview Speedway in Bechtelsville, Pa. – Qualifying: 3; Heat race: 1 (2); Dash: DNF (7); Feature: DNS (8).
SEASON STATS –
34 races, 1 win, 4 top fives, 13 top 10s, 23 top 15s, 28 top 20s
UP NEXT –
TBD
MEDIA LINKS –
Website: http://www.KevinSwindellRacing.com
Twitter: https://twitter.com/KevinSwindell
Facebook: https://www.facebook.com/KevinSwindellRacing
SPONSOR SPOTLIGHT – Mike Curb and Curb Records
Curb Records, which recently celebrated its 50th anniversary, is one of the world's leading independent music companies. Owned and operated by Mike Curb since 1962, Curb Records has achieved more than 425 No. 1 records, more than 1,500 top-10 records and charged more than 4,500 total records. Mike Curb has competed within the motor sports industry for more than 40 years, including teams on the NASCAR, IndyCar, World of Outlaws and USAC circuits. For more information about Curb Records, visit http://www.CurbRecords.com. To learn more about Mike Curb, visit http://www.MikeCurb.com.
"I'm very grateful for the support of Mike Curb and everyone at Curb Records throughout the years," Swindell said. "Mike and Curb Records have done a lot for drivers in the racing industry for a long time."
Swindell would also like to thank John Christner Trucking, DKW Transport, Premier Truck Group, Rossie Feed & Grain, High Performance Lubricants, Tim Walker Real Estate, TWRentToOwn.com, Premier Truck Group, E-Distribution Racing, MPI Steering Wheels, ButlerBuilt Professional Seat Systems, Racing Optics, Arai Helmets, Maxim Chassis, DMI, Hoosier Racing Tires, Sweet Manufacturing, Brown & Miller Racing Solutions, Kenny's Components and Swindell Speed Lab for their continued support.