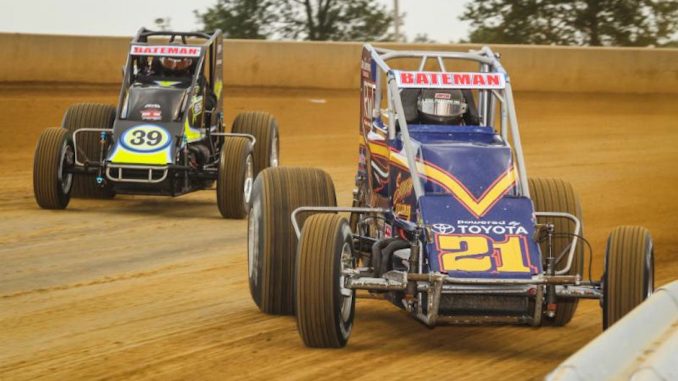 From Richie Murray
Du Quoin, Illinois………The entry list for Sunday's USAC Silver Crown Champ Car Series' "Ted Horn 100" at the one-mile Du Quoin State Fairgrounds dirt oval has been released with 41 cars filling up the sheet!
Pits and registration open at 1pm on raceday, Sunday, September 2. The ticket office and grandstands open at 4pm. Silver Crown practice runs from 5pm to 6:10pm.
Qualifying is set for 6:30pm. The Qualifying race is scheduled for 7:15pm. Pre-race ceremonies begin at 7:45pm with the 100-mile "Ted Horn 100" green flag set for 8:15pm.
Advance adult tickets are $25. Advanced children 11 and under are $10. On the day of the race, adult are $30. Children 11 and under are $10. Adult pit passes are $35 apiece. Pit passes for children 11 and under are $20.
If you miss it live or want to watch all the action again, catch it on http://www.Loudpedal.TV/ with on-demand coverage the very next day. You can also listen to flag-to-flag coverage LIVE on the USAC app.
———————————-
"TED HORN 100" ENTRY LIST:
04 (R) NEIL SHEPHERD/Warsaw, IN (Shepherd Racing)
07 JACOB WILSON/Crawfordsville, IN (Wilson Brothers Racing)
2 PATRICK LAWSON/Edwardsville, IL (Patrick Lawson)
4 JOE LIGUORI/Tampa, FL (Liguori Racing)
5 J.C. BLAND/Springfield, IL (Bland Brothers Enterprises)
6 BRADY BACON/Broken Arrow, OK (Klatt Enterprises)
7 (R) KYLE ROBBINS/New Castle, IN (KR Racing)
8 (R) JOHNNY PETROZELLE/Denton, NC (Cornell-Petrozelle Racing)
9 (R) CHRIS DYSON/Pleasant Valley, NY (Chris Dyson Racing)
10 C.J. LEARY/Greenfield, IN (Mickey Meyer)
12 BRIAN TYLER/Mt. Pleasant, NC (Galas Motorsports)
14 KEN SCHRADER/Fenton, MO (Dennis & Dave McQuinn)
16 AUSTIN NEMIRE/Sylvania, OH (Nemire-Lesko Racing)
17 CHRIS WINDOM/Canton, IL (Gene Nolen Racing)
18 (R) TRAVIS WELPOTT/Pendleton, IN (Welpott Racing)
20 JERRY COONS, JR./Tucson, AZ (Gene Nolen Racing)
21 JEFF SWINDELL/Germantown, TN (Swanson Racing)
23 TERRY JAMES/St. Louis, MO (Todd Satterthwaite)
24 (R) KEITH BURCH/Farmington, MO (Keith Burch)
29 JOEY MOUGHAN/Springfield, IL (Joey Moughan)
31 (R) DAVE BERKHEIMER/Mechanicsburg, PA (Berkheimer Racing)
33 JACKIE BURKE/Houston, TX (Jackie Burke)
34 TERRY BABB/Decatur, IL (Ken Morford)
39 MATT GOODNIGHT/Winchester, IN (Goodnight Racing)
40 DAVID BYRNE/Shullsburg, WI (Byrne Racing)
41 A.J. FIKE/Galesburg, IL (Dave & Dennis McQuinn)
47 (R) AUSTIN MUNDIE/Dallas, TX (Les Butler)
51 RUSS GAMESTER/Peru, IN (Gamester Racing)
56 (R) KEVIN THOMAS, JR./Cullman, AL (Foxco Racing)
63 KODY SWANSON/Kingsburg, CA (DePalma Motorsports)
71 SHANE COCKRUM/Benton, IL (Hardy Boys Racing)
75 BILL ROSE/Plainfield, IN (Bill Rose Racing)
77 CHRIS URISH/Elkhart, IL (Chris Urish)
81 SHANE COTTLE/Kansas, IL (Curtis Williams)
89 CHRIS FETTER/Troy, MO (Fetter Racing)
91 JUSTIN GRANT/Ione, CA (Hemelgarn Racing)
92 DAVE DARLAND/Lincoln, IN (Gene Kazmark)
97 TYLER COURTNEY/Indianapolis, IN (Hans Lein)
99 (R) KOREY WEYANT/Springfield, IL (Scott Weyant)
124 (R) MIKE HAGGENBOTTOM/Levittown, PA (Haggenbottom Racing)
(R) = USAC Silver Crown Champ Car Series Rookie of the Year contender.