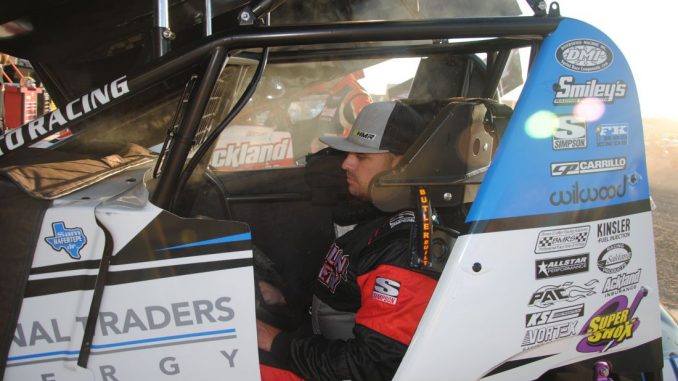 By T.J. Buffenbarger
With the Night Before the Nationals in the books here are five takeaways from the preliminary feature:
Sam Hafertepe seemed to be the odds-on favorite to win the Canadian Nationals going the weekend. Friday's strong performance during the 15-lap preliminary feature solidified that thought as Hafertepe seemingly won with ease. Hafertepe said after Friday's feature win he feels they have more gains to make on the car. With Hafertepe and company doing a lot of experimenting with different setups throughout the night on Friday, the competition must be wary of what they might be up against when the trophy is on the line Saturday night. In my eyes its going to take a major mistake from Hafertepe or a New York style slick race track to trip him up from winning Saturday's finale.
While Hafertepe and Parker Price-Miller are the ringers that most people are taking about, but don't count out Mark Smith. Smith says driving Patrick Vigneault's car is virtually the same as driving his own car. After overcoming some bad luck early in his trip to Ohsweken forgetting his passport at home and having to drive two hours back to get it before setting out again for Canada, Smith is off to a strong start. Smith is someone I should have mentioned more in my work leading up to the Canadian Nationals, but his luck in the past masked his potential of running well at Ohsweken. Better luck combined with getting more of a handle on the "east coast slick" is showing in Smith's performance.
If the track slicks off more on Saturday Chuck Hebing and Dylan Westbrook could be the drivers to challenge the trio of Hafertepe, Price-Miler, and Smith. Hebing was impressive in route to winning the makeup program for the Patriot Sprint Tour to start the night on a very fast Ohsweken surface. Not normally his forte, if Hebing improves as the track gets slicker he could be in contention for his first Canadian Nationals title.
While the track surface has been a struggle at times this season for Ohsweken Speedway officials Friday's track was in great shape the entire night with multiple racing lines. Some of the two, three, and even four wide racing we expect to see in the heat races was evident. While the feature winners starting positions may not show how good the track was, Westbrook came from the back row of the makeup Patriot tour feature for a top five finish.
While the Canadian Nationals is known for cool, wet weather this 2018 edition started on Friday with summer like conditions with lots of sunshine and temperatures in the low 80's. Virtually every conversation I had on Friday started with how great the weather was. Hopefully that is a trend that can carry into Saturday's finale.