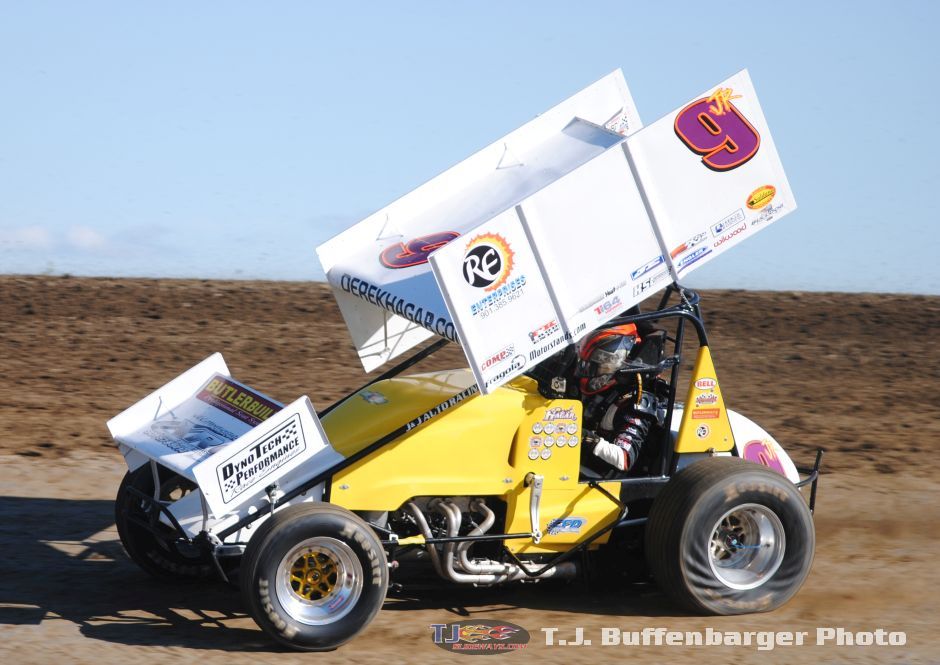 From Bryan Hulbert
LITTLE ROCK, Ark. (September 15, 2018) – Earning the pole, then leading start to finish, Arkansas shoe Derek Hagar had the field covered Saturday night at I-30 Speedway with the American Bank of Oklahoma ASCS Red River Region and ASCS Mid-South Region.
Winning the Ralph Henson Memorial for the second time since 2016, Hagar picked up $2,046 for the "Hammer Hill" victory.
The start of an all Arkansas podium, Tim Crawley grabbed second with Cody Gardner picking up three spots to claim the bronze position. Rolling 11th to fourth, Matt Covington was the highest finishing Okie with Tennessee's Brian Bell making up the top-five.
Having to advance out of the night's second B-Feature, Blake Hahn powered ahead 10 positions to sixth. Jan Howard was seventh with Cannon McIntosh posting a hard-charging performance of 11 spots gained to finish eighth. Jordan Mallett was ninth with Wally Henson going 17th to tenth.
Extra money was given out through the Past Champion's Race presented by AC Sports and the Advanced Security Dash For Cash. Jordan Mallett won $500 in the Past Champion's Race while Derek Hagar collected an extra $200 in the Dash For Cash.
The ASCS Mid-South Region Wraps up the 2018 season at I-30 Speedway on October 5 and 6 with the 31st Annual COMP Cams Short Track Nationals.
The American Bank of Oklahoma ASCS Red River Region races next at Creek County Speedway with the Lucas Oil American Sprint Car Series presented by Sawblade.com at the Fall Fling on October 26 and 27. The event is the Season Finale for both series and will be filmed for broadcast on MAVTV Motorsports Network.
For other news, notes, and information on the American Sprint Car Series, from the National Tour to any of the Regional Tours that make up the nearly 150 races across the ASCS Nation in 2018, log onto http://www.ascsracing.com, follow on Facebook, on Instagram, and on Twitter (@LucasOilASCS).
Race Results:
ASCS Mid-South/ASCS Red River
I-30 Speedway – Little Rock, Ark.
Saturday, September 15, 2018
Ralph Henson Memorial
A Feature (25 Laps): 1. 9JR-Derek Hagar, [1]; 2. 1X-Tim Crawley, [3]; 3. 88R-Cody Gardner, [6]; 4. 95-Matt Covington, [11]; 5. 23B-Brian Bell, [7]; 6. 52-Blake Hahn, [16]; 7. 121-Jan Howard, [4]; 8. 08-Cannon McIntosh, [19]; 9. 14-Jordon Mallett, [12]; 10. 2H-Wally Henson, [17]; 11. 86-Tony Bruce Jr, [14]; 12. 91A-Ernie Ainsworth, [9]; 13. 40-Howard Moore, [2]; 14. X-Charlie Louden, [18]; 15. 23-Seth Bergman, [5]; 16. 47-Dale Howard, [8]; 17. 26-Marshall Skinner, [13]; 18. 30-Joseph Miller, [20]; 19. 15J-Jeremy Middleton, [15]; 20. 31-Justin Webb, [10]
B Feature 1 (12 Laps): 1. 15J-Jeremy Middleton, [5]; 2. 2H-Wally Henson, [2]; 3. 08-Cannon McIntosh, [6]; 4. 68-Dustin Gates, [1]; 5. 38-Rick Pringle, [9]; 6. 12T-Joe Young, [7]; 7. 21B-Kevin Hinkle, [3]; 8. 32X-Robert Richardson, [8]; 9. 99-Blake Jenkins, [10]; 10. 44C-Chase Howard, [11]; 11. 26M-Fred Mattox, [4]; 12. 23P-Hunter Poe, [12]
B Feature 2 (12 Laps): 1. 52-Blake Hahn, [2]; 2. X-Charlie Louden, [3]; 3. 30-Joseph Miller, [4]; 4. 17W-Harli White, [7]; 5. D6-Dakota Gaines, [1]; 6. 49-Justin Fifield, [12]; 7. 00-Tucker Doughty, [11]; 8. 44-Ronny Howard, [5]; 9. 45-Martin Edwards, [9]; 10. 21-Spencer Meredith, [10]; 11. 20G-Jake Greider, [6]; 12. 8Z-Zach Pringle, [8]
Pole Dash (6 Laps): 1. 9JR-Derek Hagar, [1]; 2. 40-Howard Moore, [4]; 3. 1X-Tim Crawley, [6]; 4. 121-Jan Howard, [2]; 5. 23-Seth Bergman, [5]; 6. 88R-Cody Gardner, [3]; 7. 23B-Brian Bell, [8]; 8. 47-Dale Howard, [7]
Race of Champions (6 Laps): 1. 14-Jordon Mallett, [1]; 2. 1X-Tim Crawley, [3]; 3. 9JR-Derek Hagar, [6]; 4. 47-Dale Howard, [4]; 5. 88R-Cody Gardner, [5]; 6. 86-Tony Bruce Jr, [2]
Heat 1 (8 Laps): 1. 31-Justin Webb, [1]; 2. 14-Jordon Mallett, [3]; 3. 9JR-Derek Hagar, [7]; 4. 21B-Kevin Hinkle, [2]; 5. 08-Cannon McIntosh, [4]; 6. 26M-Fred Mattox, [8]; 7. 38-Rick Pringle, [5]; 8. 49-Justin Fifield, [6]
Heat 2 (8 Laps): 1. 23-Seth Bergman, [2]; 2. 26-Marshall Skinner, [3]; 3. 47-Dale Howard, [7]; 4. 68-Dustin Gates, [6]; 5. 15J-Jeremy Middleton, [5]; 6. 17W-Harli White, [4]; 7. 00-Tucker Doughty, [1]; 8. 21-Spencer Meredith, [8]
Heat 3 (8 Laps): 1. 95-Matt Covington, [1]; 2. 23B-Brian Bell, [7]; 3. 40-Howard Moore, [6]; 4. X-Charlie Louden, [2]; 5. 44-Ronny Howard, [5]; 6. 8Z-Zach Pringle, [3]; 7. 99-Blake Jenkins, [4]; 8. 44C-Chase Howard, [8]
Heat 4 (8 Laps): 1. 121-Jan Howard, [2]; 2. 86-Tony Bruce Jr, [3]; 3. 91A-Ernie Ainsworth, [6]; 4. 30-Joseph Miller, [1]; 5. 52-Blake Hahn, [7]; 6. 32X-Robert Richardson, [4]; 7. 45-Martin Edwards, [5]
Heat 5 (8 Laps): 1. 88R-Cody Gardner, [4]; 2. 1X-Tim Crawley, [7]; 3. 2H-Wally Henson, [2]; 4. D6-Dakota Gaines, [6]; 5. 20G-Jake Greider, [3]; 6. 12T-Joe Young, [5]; 7. 23P-Hunter Poe, [1]