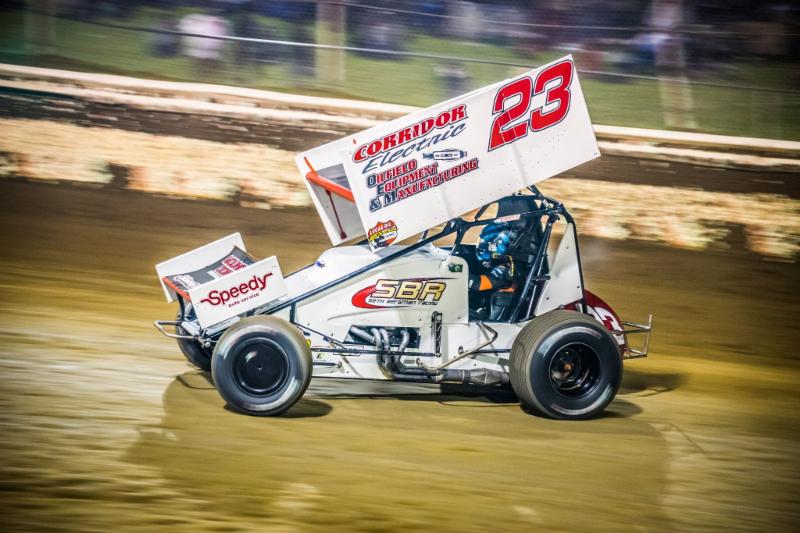 From Bill Wright
WEST BURLINGTON, Iowa (September 30, 2018) — Seth Bergman led all 34 laps to claim an exciting inaugural "Fall Haul" Sunday night at 34 Raceway near West Burlington, Iowa. The Sprint Invaders season finale paid $3,400 to win, and the Snohomish, Washington native added $1,700 in lap money to bring his winning total to $5,100. The win marked Bergman's first with the Sprint Invaders Cody Wehrle capped a strong season to cement a championship with the series. A number of bonuses added to the coffers of all drivers assembled.
Bergman shot out from the pole position in the 34-lap main event ahead of Brayden Gaylord and Terry McCarl. The leader was dominant on the dry-slick 3/8-mile oval, and entered lapped traffic by the seventh lap. Top series career feature winner, Kaley Gharst, entered the top five by the eleventh lap, working by two drivers in one corner.
McCarl pursued Gaylord in heavy lapped traffic and took over second on lap 14. Gharst passed young Colten Fisher for fourth on the 15th lap, before the only caution of the race flew for debris. Bergman led McCarl, Gaylord, Gharst and John Schulz back to green.
While Bergman pulled away into his own zip code, McCarl and Gaylord battled hard for the second spot. In fact, you could have thrown a blanket over positions two through six at that point. Gharst was getting better on the bottom and passed Gaylord for third on lap 19 and then shot under McCarl for second on lap twenty.
The battle between Gharst and McCarl was on. McCarl would regain the spot with 11 laps to go. Weekend hard-charger, Joe B. Miller, entered his hat in the ring, and he and Gharst went back and forth for the third spot in the closing stages.
In the end, Bergman led McCarl, Gharst, Miller and Schulz to the finish. Jon Agan, Gaylord, Paul Nienhiser, Tanner Gebhardt and Fisher rounded out the top ten. Gaylord, Wehrle, Fisher and Schulz won heats. Schulz also won the Dash. Dustin Clark claimed the B main.
"Sometimes it's tough," said Bergman in Victory Lane. "We've never been here, and we didn't know what to expect. I haven't raced with this series in a while, so you don't know how they call their starts, and how things go. There's a bit of things we had to adapt to. I'm glad they ran the show tonight and we were able to apply some of the things we learned on Friday. We had a really good race car. The guys did a great job. Traffic was exciting too. I almost took myself out. My hat's off to the people who came out on a Sunday night like this. My hat's off to the owners (Brad Stevens and Jessi Mynatt) for putting on a show for us. This is a great event. We saw the show on paper and knew it was a great deal. The owners and the series were great and treated us like gold. We really enjoyed it."
"Seth was on another planet tonight," said McCarl. "I'm just happy to jump in this car (Scott Bonar's #50). It's fun to drive for him. He's a very underrated mechanic. I really got going before the yellow. Seth really got me good on the restart. He kept it high going into one, so I dove low. At the last minute he ended up going low and got me up in the slick stuff. That was a great driver move. I had to fend off Kaley and those other guys at that point. They did a great job. This was a great field of cars. This is one of my favorite racetracks. I'm so glad they put on this race, and I hope they do more next year. I work hard on our promotions, and when so many work so hard on the bonuses and things they had this weekend, you really appreciate it. It means a lot to us. Also, it was a great track tonight…completely different from Friday, which was also a good track."
"I kind of lost a couple spots at the beginning trying to run the top," said Gharst. "We got down on the bottom, and started making some ground up. I think we were up to fourth by the yellow. Then it took five or six laps to get heat back in the tires. We were pretty decent before that. We had the wing way back, and I knew we might be loose late. We got by (Gaylord) and we got by Terry there. We started getting loose, and Terry found a little better line in three than I did. We ended up finishing third. The track threw us for a loop a little. We have to thank 34 Raceway and everyone who raised money for this deal. Hopefully, they can continue to build it."
Wehrle was jazzed about his championship. "I'm glad this weekend is over!" he said. "This has been stressful. I love this track, and I love this series. I think a lot of people take this series for granted. There's a lot of hard work that goes into it, and there's not enough thanks for the people who make it happen. This team works their butts off. I can't thank Andy (Huston) enough. It's unbelievable what he's done getting out of the seat and letting me drive the car. I can't thank him enough."
Sprint Invaders A main (started), 34 laps: 1. 23, Seth Bergman, Snohomish, WA (1) 2. 50, Terry McCarl, Altoona, IA (3) 3. 78, Kaley Gharst, Decatur, IL (7) 4. 51B, Joe B. Miller, Millersville, MO (14) 5. 99, John Schulz, West Burlington, IA (6) 6. 4, Jon Agan, Knoxville, IA (8) 7. 13, Brayden Gaylord, Wever, IA (2) 8. 9x, Paul Nienhiser, Chapin, IL (5) 9. 81, Tanner Gebhardt, Burlington, IA (16) 10. 11az, Colten Fisher, Mediapolis, IA (4) 11. 97, Carson McCarl, Altoona, IA (11) 12. 40c, Cody Wehrle, Burlington, IA (9) 13. 49, Josh Schneiderman, West Burlington, IA (13) 14. 51J, Ryan Jamison, Mediapolis, IA (17) 15. 44, Chris Martin, Ankeny, IA (12) 16. 3, Ayrton Gennetten, Gravois Mills, MO (18) 17. 7w, Tasker Phillips, Pleasantville, IA (19) 18. 16, Dustin Clark, Agency, IA (21) 19. 9, Daniel Bergquist, Burlington, IA (24) 20. 10, Ryan Leavitt, Knoxville, IA (10) 21. 50P, Harold Pohren, Lowell, IA (25, prov.) 22. 55, McKenna Haase, Des Moines, IA (15) 23. 1st, John Greenwood, Woodward, IA (20) 24. 24N, Nathan Mills, Bondurant, IA (23) 25. 88, Jarrod Schneiderman, West Burlington, IA (22). Lap Leaders: Bergman 1-34. KSE Hard-charger: Gebhardt. Hard-charger: Miller.
Randall's Performance Heat one (started, *qualified for feature), 8 laps: 1. Brayden Gaylord (3*) 2. Seth Bergman (5*) 3. McKenna Haase (1*) 4. Tanner Gebhardt (4*) 5. Ayrton Gennetten (6*) 6. Jarrod Schneiderman (7) 7. Harold Pohren (2)
CenPeCo Lubricants Heat two (started, *qualified for feature), 8 laps: 1. Cody Wehrle (1*) 2. Kaley Gharst (2*) 3. Joe B. Miller (3*) 4. Ryan Jamison (4*) 5. Tasker Phillips (6*) 6. Dustin Clark (7) 7. 69, Justin Buchholz, Davenport, IA (7)
Mohrfeld Electric Heat three (started, *qualified for feature), 8 laps: 1. Colten Fisher (1*) 2. Carson McCarl (2*) 3. Terry McCarl (6*) 4. Ryan Leavitt (7*) 5. 56, Matt Krieger, Burlington, IA (4) 6. 007, Brady Barker, New Berlin, IL (3) 7. Daniel Bergquist (5)
Midland Performance Heat four (started, *qualified for feature), 8 laps: 1. John Schulz (3*) 2. Chris Martin (2*) 3. Josh Schneiderman (4*) 4. Nathan Mills (1) 5. John Greenwood (6*) 6. 2D, Dave Keperling, Hannibal, MO (5)
B main (started), 12 laps: 1. Dustin Clark (4) 2. Jarrod Schneiderman (3) 3. Nathan Mills (1) 4. Daniel Bergquist (8) / 5. Matt Krieger (2) 6. Harold Pohren (9) 7. Justin Buchholz (7) 8. Dave Keperling (5) 9. Brady Barker (6)
Budweiser King of Beers – Golden Eagle Distributors Shake-up Dash (started), 6 laps: 1. John Schulz (6) 2. Seth Bergman (3) 3. Brayden Gaylord (1) 4. Terry McCarl (4) 5. Colten Fisher (6) 6. Paul Nienhiser (8) 7. Kaley Gharst (10) 8. Jon Agan (7) 9. Cody Wehrle (5) 10. Ryan Leavitt (9)
Contingencies
Pyrotec – John Greenwood
Saldana Racing Products – Harold Pohren
Kreitz Oval Track Products – Daniel Bergquist