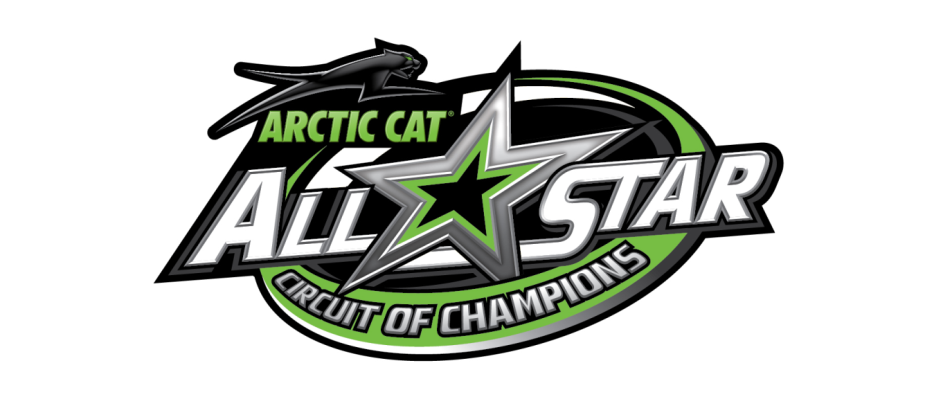 From ASCOC
BROWNSBURG, Ind. (October 3, 2018) – The 2018 Arctic Cat All Star Circuit of Champions presented by Mobil 1 Driver Championship, as well as the 2018 All Star Owner Championship, will be decided at 'Indiana's Baddest Bullring' – Kokomo Speedway in Kokomo, Ind., on Saturday, October 6.
The 'Get Your Ass To Kokomo Extravaganza' (#GYATKExtravaganza), the second and final Hoosier State appearance for the traveling All Stars in 2018, will headline action at the northern Indiana quarter-mile on Saturday night, concluding a near-nine month All Star campaign complete with events in nine states across much of the Midwest and Northeast. The season ignited officially with action in sunny, northern Florida on February 1.
Despite weather wreaking havoc during most recent attempts, Tony Stewart's All Stars have visited Kokomo Speedway on 24 occasions throughout Series history, most recently making the trek in 2016 for two nights of Dirt Classic Indiana competition on July 22 & 23. St. Helena, California's Rico Abreu is the most recent to 'park it' in Kokomo victory lane, earning the Dirt Classic Indiana title worth $12,500. With plans to defend his All Star triumph, Abreu will return to Kokomo Speedway on Saturday night for the season-ending Extravaganza.
As an added bonus for open wheel fans across the map, the POWRi Lucas Oil WAR Sprint Cars will also be on the evening card at 'Indiana's Baddest Bullring,' For those who cannot attend the sprint car doubleheader, Speed Shift TV will be on hand to capture all of the action, as well as offer a live pay-per-view internet broadcast for purchase. Those seeking additional information should visit Speed Shift TV live on the Web at www.speedshifttv.com.
Aaron Reutzel and Baughman-Reutzel Motorsports will enter the Kokomo Speedway All Star finale in sole control of the Driver Championship and Owner Championship, respectively. Considering Reutzel's current point lead in the driver chase that equals 64 markers over Lemoore, California's Carson Macedo, simply taking the green on Saturday night will lock up the All Star Driver Championship. With provisionals still available for Aaron Reutzel, the driver title is all but a guarantee.
The All Star Circuit of Champions owner chase is a little more complicated. Baughman-Reutzel Motorsports' cushion over Tom Buch Racing is a mere-32 points. If Paul McMahan, Buch's primary wheelman for the 2018 season, is able to win the #GYATKExtravaganza at Kokomo Speedway, Aaron Reutzel, the full-time ace for Baughman-Reutzel Motorsports, will have to finish 15th or better to clinch the title for BMR, 16th to tie. With that said, Reutzel owns the tiebreaker which is the highest number of wins on the season; nine including a recent victory at Eldora Speedway on September 22.
The 2018 All Star Circuit of Champions Owner Championship is worth $50,000.
Kokomo Speedway in Kokomo, Ind., will open pit gates at 3 p.m. on Saturday, October 6. Hot laps will begin at 6 p.m. with qualifying time trials and racing to follow. Those seeking additional news and notes should visit Kokomo Speedway live on the Web at www.kokomospeedway.net. If weather becomes a conflict, the All Star Circuit of Champions will utilize the previously scheduled rain date of Sunday, October 7.
All Star Circuit of Champions Driver Standings: (after Eldora Speedway on 9/22/2018)
1. Aaron Reutzel – 5462
2. Carson Macedo – 5398
3. Chad Kemenah – 5318
4. Paul McMahan – 5174
5. Dave Blaney – 5016
6. Cale Conley – 4736
7. Brandon Spithaler – 4410
8. Tyler Esh – 4164
9. Jac Haudenschild – 4042
10. Parker Price-Miller – 3994
About the Arctic Cat All Star Circuit of Champions presented by Mobil 1:
All Star Enterprises, LLC, wholly owned by Tony Stewart, d/b/a the All Star Circuit of Champions, is a winged sprint car series. The All-Star Circuit of Champions Sprint Car Series is one of the oldest traveling 410 sprint car organizations and is a staple of grassroots, open-wheel racing. Formed in 1970 by Bud Miller, the series has largely been considered the first 'outlaw' Sprint Car organization of the modern era. Motorsports entrepreneur Tony Stewart agreed to terms with Guy Webb to become the sole owner of the original winged sprint car tour in January of 2015. In 2018, MAVTV Motorsports Network will be the official television home of the Arctic Cat All Star Circuit of Champions presented by Mobil 1 and will broadcast eight high-profile events.
About Arctic Cat:
For more than 50 years, the Arctic Cat snowmobile brand has stood as one of the most widely recognized and respected in the industry. Today Arctic Cat's snowmobile product lines span more than 50 different models, with offerings for every style of riding, from trail-riding with the family, to long-distance touring with friends, to mountain sleds to handle the most severe backcountry conditions. For more information, visit: www.arcticcat.com.
About Textron Specialized Vehicles Inc:
Textron Specialized Vehicles Inc. is a leading global manufacturer of golf cars, utility and personal transportation vehicles, snowmobiles, side-by-sides, all-terrain vehicles, professional turf-care equipment, and ground support equipment. Textron Specialized Vehicles markets products under the E-Z-GO®, Cushman®, Arctic Cat®, Textron Off Road™, Jacobsen®, Dixie Chopper®, Ransomes®, TUG™, Douglas™, Premier™ and Safeaero™ brands. Its vehicles are found in environments ranging from golf courses to factories, airports to planned communities, and theme parks to hunting preserves.
About Mobil 1:
The world's leading synthetic motor oil brand, Mobil 1™ features anti-wear technology that provides performance beyond our conventional motor oils. This technology allows Mobil 1 to meet or exceed the toughest standards of car builders and to provide exceptional protection against engine wear, under normal or even some of the most extreme conditions. Mobil 1 flows quickly in extreme temperatures to protect critical engine parts and is designed to maximize engine performance and help extend engine life.
For more information, visit mobiloil.com, on Twitter @Mobil1 and, on Facebook, www.facebook.com/mobil1.
Mobil, Mobil 1 and Mobil 1 Racing are registered trademarks of Exxon Mobil Corporation or one of its subsidiaries.