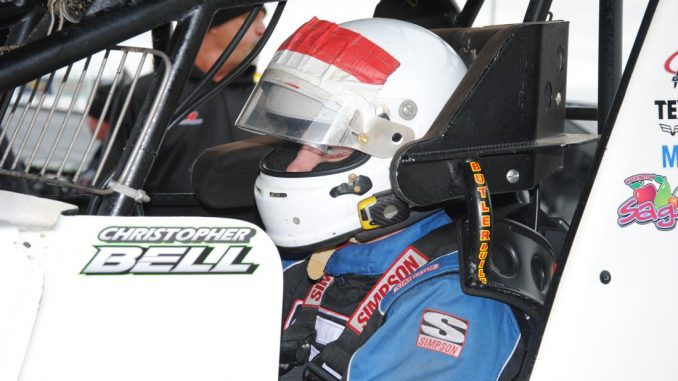 1. Christopher Bell driving Tony Stewart Racing's #14B car at Eldora Speedway is special to watch. Even standing next to the car while heat is being put in the engine is attention grabbing for how hard the motor hits standing still. With that caliber of equipment and the talent of Bell, who has shown a propensity for running Eldora's high wire act up next to the fence with little to no fear.
After shaking off some rust at the Terre Haute Action Track on Saturday, Bell charged from fifth starting spot and blasted through the field to drive by Parker Price-Miller and checked out from the rest of the field.
The handwriting is on the wall that opportunities to watch the Bell's sprint car exploits like Saturday are going to become fewer as his star rises. That's why it was great to see the second TSR hauler pull in Sunday.
2. Bernie Stuebgen from Indy Race Parts did his best Steve Lewis Racing impression on Sunday fielding three virtually identical 71 cars for Gio Scelzi, Parker Price-Miller, and Joey Saldana. While Scelzi set fast time just a few ticks of the clock off Craig Dollansky's long standing track record at Eldora, it was Price-Miller who starred in most of Sunday's feature leading early before falling back to third behind the Tony Stewart Racing sweep of the first two positions.
3. Carson Macedo has clearly shown over the 2018 season he is one of the best prospects for the World of Outlaws tour, and I'd be surprised if that didn't happen next season. Watching Macedo's progress at Eldora from his first laps to now proficiently running up by the either the inside or outside fence culminated in his run on Sunday in the Jason Johnson Racing car being up front the entire night. Stars like Macedo that want to make a career in sprint car racing are a real treat, and hopefully a young talent we get to watch for years to come.
4. Brent Marks has become known for his passing proficiency with the World of Outlaws. This continued Sunday running up from 12th to sixth position. Marks was upstaged on Sunday by Logan Schuchart's 20th to 9th place run in the feature.
5. After hosting two complete late model programs with over 70+ cars on Saturday, one of which had extended laps for every event, Eldora Speedway officials came back with a track that nearly set a track record on Sunday and provided some entertaining racing throughout the field on Sunday for the World of Outlaws. The Eldora track crew takes a lot of heat at times, but the racing I've seen at the Big E this year with cars often running top to bottom throughout the event is remarkable.