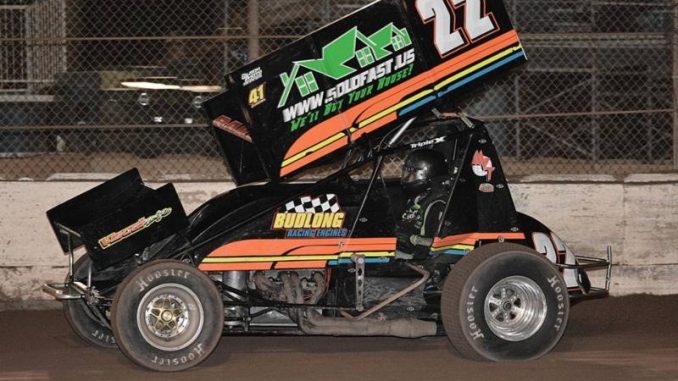 From Bryan Hulbert
PEORIA, Ariz. (October 19, 2018) – Putting his Jackson Compaction No. 22 in Victory Lane Friday night at Canyon Speedway Park, New Mexico's Jesse Baker picked up his fourth career win with the ASCS Southwest Region.
Going into the redraw fifth in passing point standings, Baker drew the right of the front row and took full advantage at the one-third mile Arizona oval. Picking up two spots before it was all said and done, Rick Ziehl crossed second with Billy Chester slipping from pole to show. Having to charge from the back after a spin, J.T. Imperial crossed fourth with Jarrett Martin fifth.
Mason Keefer sixth was followed by Nick Parker. A regular in Non-Wing competition, Bruce St. James continues to get laps with wings on, netting an eighth-place finish. Steve Cushman and Alex Pettas made up the field.
Up next for the ASCS Southwest Region is a feast of a weekend as the Copper Classic hits Thanksgiving weekend at Arizona Speedway in Queen Creek, Ariz. $2,000 to win on November 23, the following day ups the winner's bounty to $5,000.
For other news, notes, and information on the American Sprint Car Series, from the National Tour to any of the Regional Tours that make up the nearly 150 races across the ASCS Nation in 2018, log onto http://www.ascsracing.com, follow on Facebook, on Instagram, and on Twitter (@LucasOilASCS).
Race Results:
ASCS Southwest Region
Canyon Speedway Park – Peoria, Ariz.
Friday, October 19, 2018
Heat 1 (8 Laps): 1. 57-Jarrett Martin, [1]; 2. 22X-Jesse Baker, [2]; 3. 20Z-Rick Ziehl, [5]; 4. 2-Alex Pettas, [3]; 5. 33-Steve Cushman, [4]
Heat 2 (8 Laps): 1. 75X-J.T. Imperial, [1]; 2. 2B-Billy Chester III, [4]; 3. 7K-Bruce St. James, [3]; 4. 7M-Mason Keefer, [2]; 5. 115-Nick Parker, [5]
A Feature (25 Laps): 1. 22X-Jesse Baker, [2]; 2. 20Z-Rick Ziehl, [4]; 3. 2B-Billy Chester III, [1]; 4. 75X-J.T. Imperial, [3]; 5. 57-Jarrett Martin, [6]; 6. 7M-Mason Keefer, [8]; 7. 115-Nick Parker, [9]; 8. 7K-Bruce St. James, [5]; 9. 33-Steve Cushman, [10]; 10. 2-Alex Pettas, [7]