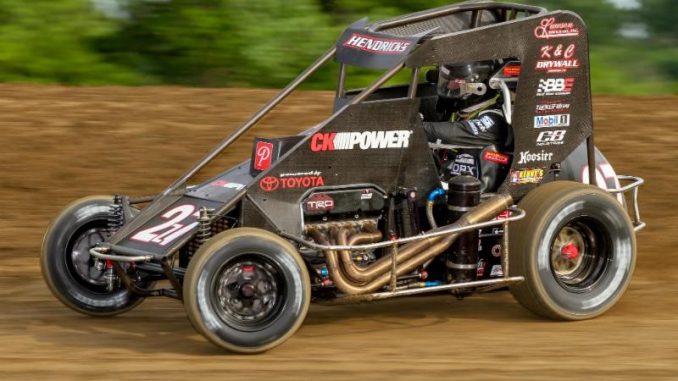 From Richie Murray
INDIANAPOLIS, Ind. (December 7, 2018) — Right now, Stillwater, Oklahoma native Zane Hendricks is in the house-hunting phase as he's in the process of making the move to the state of Indiana.
In the racing world, though, the 18-year-old racer has already found a home, two homes in fact, as he pursues a run at the full USAC AMSOIL National Sprint Car and NOS Energy Drink National Midget schedules in 2019.
Hendricks will pilot the No. 27 for Goodnight Racing in all 44 USAC AMSOIL National Sprint Car races this season in pursuit of series Rookie of the Year honors. On the midget side, he will campaign his own No. 27 on the complete 33-race USAC NOS Energy Drink National Midget schedule.
In 2018, Hendricks made seven USAC National Midget starts for Tucker/Boat Motorsports with a best finish of 14th at Eldora Speedway's "4-Crown Nationals." But now, Hendricks is stepping it up with a full-plate of racing on the table for 2019 – just the way he likes it.
"Being able to run full time is something I've dreamed about for a long time. It's finally coming true and I can't wait" Hendricks exclaimed.
Hendricks raced Goodnight's sprinter a couple of times toward the end of this past season in local Indiana action, but beyond that, there's not much experience to be noted behind the wheel of a car with this much horsepower for the driver who began his racing career in micros back in his home state.
"The sprint car is going to be a learning experience since I've run them so little," Hendricks admitted. "In the midget, I've gotten some experience at these tracks that I'd never been to before this year. Stepping into USAC this past year, it really made me step my up my game. You have to in order to be competitive."
The plan is to be full-time in the midget as well as he bids for Rookie of the Year on the USAC NOS Energy Drink National Midget tour.
"We'll see how far we get," Hendricks stated. "We've only got one car and one motor, so hopefully nothing goes wrong and we can make it all season."
Christopher Bell, Brady Bacon, Tyler Thomas and Jason McDougal are among the Okie Invasion that has been highly-successful in USAC of late, all of whom won in National competition this season. Hendricks aims to be the next. His goals remain humble. His heart is in sprint car and midget racing and now he's living his dream.
"I'm not like most kids now trying to make it to NASCAR," Hendricks explained. "That's definitely something I'd love to do, but it's not the number one priority. Racing open wheel stuff is where my heart is. Just being able to race full time is something I've always wanted to do."