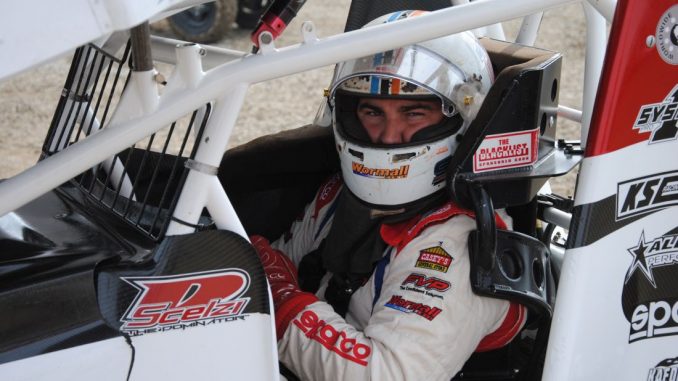 By T.J. Buffenbarger
No coffee was needed on Friday night to stay awake through a stellar Mini Gold Cup program for the World of Outlaws NOS Energy Drink Sprint Car Series. Here are my immediate takeaways from Friday's show:
T.J.'s Takeaways from the Mini Gold Cup
When the announcement came down that Carson Macedo would join Kyle Larson Racing with Joe Gaerte spinning the wrenches it was a foregone conclusion from my vantage point that they would have a stellar short track program. Gaerte has always been fond on short tracks as a driver and mechanic and Macedo has very good short track chops.

This was on display Saturday at Silver Dollar Speedway setting fast time, winning his heat race, and then charging from seventh starting position for the victory. Macedo was relentless in his drive through the field with a daring pass of Tim Shaffer coming off turn four that had everyone holding their breath and a wild pass of Brad Sweet for the lead bouncing through turns one and two.

More telling was how Macedo was unphased through multiple caution and red flag periods to stay poised for the win.
Silver Dollar Speedway was in great shape on Friday for the Mini Gold Cup program providing a great racing surface, but the most noticeable difference was the addition of a berm around the inside of the race track replacing the dreaded infield marker tires. Though the racing was full contact at times in the main with several caution and red flag periods, there was also a lot of side by side racing. The track looks better and seems to race better with the berm rather than the tires. The infield berm is an improvement more tracks around the country need too look at rather than having the car-eating infield tractor tires.

Additional bonus points for the promotion team of the Mini Gold Cup for only having one support division, and a quality one at that with the dwarf cars that provided good racing with minimal carnage.
While Giovani Scelzi has been in most of the headlines over the past year, Gio's brother Dominic has made very steady improvement over the past couple of seasons. After a solid end to the 2018 season Dominic had a great run from 14th starting position to finish fifth, holding off defending World of Outlaws champion Donny Schatz for most of the 35-lap main event. It wouldn't surprise me to see both Scelzi brothers with major event victories under their belts before the end of the summer.