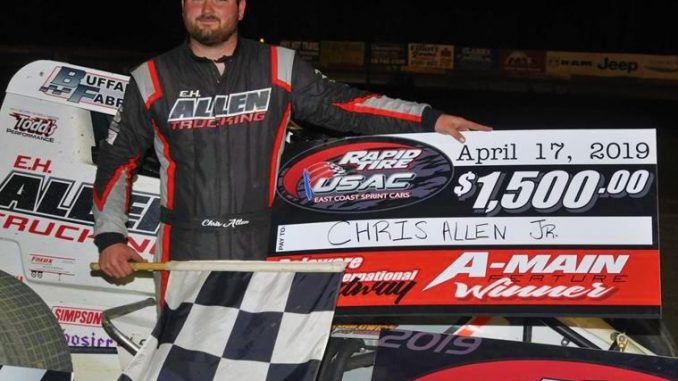 By: Jenna Shotz
DELMAR, DELAWARE (April 18th, 2019)-Chris Allen Jr. scored his first series victory on Wednesday at the ½ mile of Delaware International Speedway with the USAC East Coast Sprint Cars. Bill Unglert had the early lead, holding off Allen's advances until lap seven. Once Allen found comfort on the top groove, he managed to rocket past Unglert and secure the lead coming out of turn two.
Until a caution on lap 17, Allen managed to have a four-second lead on the rest of field while he worked his way through lapped traffic. There was a fantastic battle for every position in the top 5, as Chandler Leiby, Steven Drevicki, and Eddie Strada traded exciting slide jobs for position.
In the end it would be Bill Unglert and Eddie Strada on the podium with Chris Allen Jr. "It has been a hard couple of years not racing as much as we wish we could with rainouts and stuff. This win is awesome, though." Explained Allen Jr. in victory lane. This win has been a long time coming for Chris, as he has had strong finishes in the past but came up short of a victory last season. Allen Jr. carried his momentum from a Hard Charger Award just four days ago at Lincoln Speedway (p4 finish).
The USAC East Coast 360 Sprint Cars will make their next appearance NEXT FRIDAY April 26th, 2019 at the BEDFORD FAIR SPEEDWAY. More information will be released soon.
————————————
USAC RAPID TIRE EAST COAST SPRINT CAR RACE RESULTS: April 17, 2019 – Delaware International Speedway – Delmar, Delaware
FIRST HEAT: (8 Laps, All Qualify, Top 3 to Redraw) 1. Steven Drevicki (#19 Drevicki), 2. Chris Allen, Jr. (#71 Allen), 3. Trevor Kobylarz (#14 Kobylarz), 4. Mark Bitner (#15 Bitner), 5. Heidi Hedin (#3H Hedin), 6. Jonathan Swanson (#17J Swanson). NT
SECOND HEAT: (8 Laps, All Qualify, Top 3 to Redraw) 1. Chandler Leiby (#119 Leiby), 2. Eddie Strada (#5G Gallagher), 3. Bill Unglert (#33B Unglert), 4. Ryan Quackenbush (#5Q TQT), 5. David Swanson (#117 Swanson), 6. Mike Thompson (#39 Hogue), 7. Craig Pellegrini, Jr. (#11A Pellegrini). NT
FEATURE: (25 laps) 1. Chris Allen, Jr., 2. Bill Unglert, 3. Eddie Strada, 4. Steven Drevicki, 5. Chandler Leiby, 6. Trevor Kobylarz, 7. Mark Bitner, 8. Ryan Quackenbush, 9. Eric Jennings (#61 Jennings), 10. Mike Thompson, 11. Jonathan Swanson, 12. David Swanson, 13. Heidi Hedin, 14. Craig Pellegrini, Jr. NT
FEATURE LAP LEADERS: Laps 1-6 Unglert, Laps 7-25 Allen.
SCOTTY SIGNS HARD CHARGER: Eric Jennings (14th to 9th)