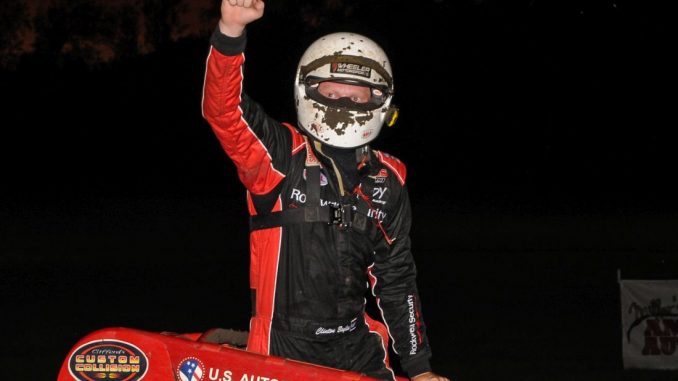 By Linda Mansfield
GAS CITY, Ind., July 7 — Gas City I-69 Speedway switched to a Saturday night format instead of its usual Friday night races over the Fourth of July weekend, presenting a six-division card for its "Star-Spangled Spectacular" show. Defending track champion Clinton Boyles of Brownsburg, Ind. won his second 25-lap non-wing sprint car feature of the year at the quarter-mile clay oval. Three-time track champion Scott Orr of Columbia City, Ind. got his first victory at the track this year in the 20-lap main event for UMP modified drivers. James Headley Jr. of Wabash, Ind. nabbed his third 15-lap hornet feature victory of the season and Andy Bishop of Gas City won his fourth 15-lap street stock feature of the year. Anthony Haas of Sabina, Ohio was the cream of the crop among the Midwest Mini Sprint Association (MMSA) mini-sprint drivers, and Chris Hicks of Fort Jennings, Ohio repeated as the tough trucks feature winner in the jam-packed program that featured 113 race cars and a big fireworks show.
After running three heats without a caution, the sprint car feature had a six-car crash with two laps down. Tyler Hewitt of Marion, Ind., who was running fourth, got sideways across the track and five other drivers joined him in a big pile low in Turn 4. Luckily no one was hurt, and a couple even restarted. The others involved were Scotty Weir, also of Marion; Sterling Cling of Tempe, Ariz.; Anthony D'Alessio of Gas City; Scott Hampton, and Korbyn Hayslett of Troy, Ohio.
From the beginning of the race polesitter Dustin Ingle of Elida, Ohio led the way followed closely by his fellow front-row starter, J.J. Hughes of Terre Haute, Ind. Boyles started sixth but he was fourth for the restart after the big crash and he passed Tim Creech of Indianapolis for third working lap four.
There was only one other yellow, which was a quick pause to pick up debris in Turn 1 with six laps down. Hughes got around Ingle momentarily on the frontstretch on lap 13 and then made a pass for the lead stick working lap 15 when both he and Boyles passed Ingle in Turn 4.
With five laps to go Boyles used a lapped car to get under Hughes in Turn 4 and went on to post the victory in Paul Hazen's DRC, which has a Kercher-prepped engine and is sponsored by Physical Medicine Consultants, Wix Filters, Rod End Supply and KECO Coatings. Hughes finished second and Ingle was third. Cole Ketcham of Muncie, Ind. finished fourth and Garrett Abrams of Rushville, Ind. rounded out the top five.
A new UMP modified feature winner was guaranteed, as four-time winner Derek Losh and Logan Kirkman and Dyland Woodling, who have each won once so far this year at Gas City, weren't in attendance.
As it turned out, polesitter Scott Orr led all 20 laps. That race only had one yellow with four laps down, and another incident when Tyler Teegardin went through the infield, including over the berm in the middle of it, working lap 12. Orr was lapping cars by lap nine.
Ryan Ramseyer started second but lost that spot to Darryl Banks on the second lap. Ramseyer made a last-ditch effort to pass Banks on the white-flag lap, but it was unsuccessful, and neither of them had anything for Orr. Andy Bishop was fourth and Jessica Sroufe finished fifth.
Polesitter James Headley led the first three laps of the hornet feature before his son passed him with a move to the outside as they were going down the backstretch working lap four of that 15-lap main event. Jason Spencer ran in third from the start until he spun on the frontstretch with nine laps down. He'd been battling Brandon Shelhart, who went on to finish third behind the Headleys. Josh Lank and Gage Allen rounded out the top five.
Four early cautions slowed the street stock feature, but Andy Bishop was unperturbed by it all. He started second and took the lead from polesitter John Rhodes with a move to the outside of Turn 2 on the first lap and led the whole race. Rhodes finished second followed by David Short, Brett Backus and Tyler Sweat.
Polesitter Anthony Haas led all 20 laps of the mini-sprint feature. Jac Nickles of Harrod, Ohio ran second the entire race and Brad Strunk of Mason, Ohio held third throughout. The best battle was for fourth, which went to defending champion Cody Trammell of Smithville, Ind. over Chris Bounds of Lima, Ohio.
Chris Hicks started second but led all 15 laps of the tough trucks feature, finishing with more than a straightaway lead over runner-up Chris Bitters. Polesitter Frankie Weigt was third when he flipped his truck in Turn 4 with 12 laps down, landing on his hood and bringing out a red. Luckily he wasn't hurt. That gave third to Terry Klopenstein, who finished in that position three laps later. Kevin Knittle started ninth but placed fourth, and Leslie Hurd finished fifth.
The track will be back in action on Friday nights for its July 12 "Christmas in July" show prior to its Thursday night, July 18 date that is part of USAC Sprint Week.
Fans can see the 2019 schedule and get additional information on the track's website at GasCityI69Speedway.com. Fans can also follow it on Facebook (@GasCitySpeedwayOnTheGas), Twitter (@GasCitySpeedway) and Instagram (@GasCitySpeedway).
The speedway is located west of exit 259 off Interstate 69 in Gas City.
The results:
Non-Wing Sprint Heat 1 (8 laps): 1. Scott Hampton, 2. J.J. Hughes, 3. Cole Ketcham, 4. Sterling Cling, 5. Brayden Clark, 6. Adam Byrkett, 7. Paul Dues, 8. Adam Wilfong.
Non-Wing Sprint Heat 2 (8 laps): 1. Clinton Boyles, 2. Tim Creech, 3. Garrett Abrams, 4. Austin Nigh, 5. Steve Little, 6. Parker Frederickson, 7. Mike Miller, 8. Gage Etgen (DNF).
Non-Wing Sprint Heat 3 (8 laps): 1. Tyler Hewitt, 2. Dustin Ingle, 3. Scotty Weir, 4. Anthony D'Alessio, 5. Korbyn Hayslett, 6. David Hair, 7. Cody White.
Non-Wing Sprint Feature (25 laps): 1. Clinton Boyles, 2. J.J. Hughes, 3. Dustin Ingle, 4. Cole Ketcham, 5. Garrett Abrams, 6. Brayden Clark, 7. Tim Creech, 8. Adam Byrkett, 9. Scotty Weir, 10. Korbyn Hayslett, 11. Sterling Cling, 12. Paul Dues, 13. Cody White, 14. Anthony D'Alessio, 15. Parker Fredrickson, 16. Adam Wilfong, 17. Tyler Hewitt, 18. Mike Miller, 19. David Hair, 20. Scott Hampton, 21. Austin Nigh, 22. Steve Little, 23. Gage Etgen.