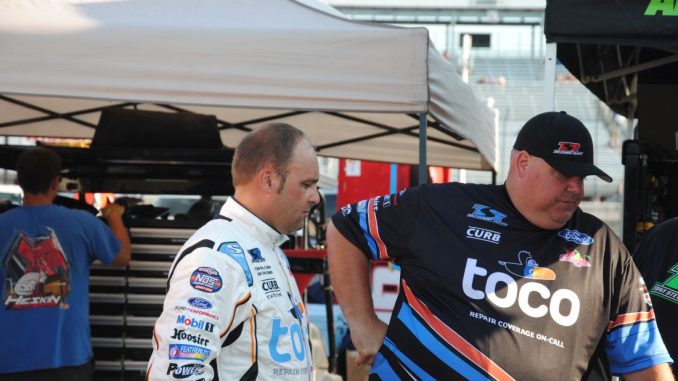 By T.J. Buffenbarger
BABERVILLE, FL (February 7, 2020) — Donny Schatz ended the opening night of the 2020 campaign with the World of Outlaws NOS Energy Drink Sprint Car Series in a familiar location, victory lane. The feature win Friday night at Volusia Speedway Park during the DIRTcar Nationals did not come easy for the veteran from Fargo, North Dakoda as Schatz had to trade the lead multiple times with Logan Schuchart before taking the lead with four laps to go.
The victory was Schatz's fourth of the 2020 calendar year following three wins in Australia as Archerfield Speedway in January. Schatz hopes the win is a good omen for the rest of the World of Outlaws campaign after his crew worked hard making changes to his car after racing the two previous nights at Volusia with the All Star Circuit of Champions.
"It's always good to win the first one, that means you are having a good year…but, its that two through 84 race that count more than the first one and the last one," Schatz said in victory lane looking at the big picture. "Hats off to this whole team. What a rebuilding winner. Anyone that knows my guys they put in a lot of effort. The hardest guy in the pit area to work with in the pit area is me. Steven Swenson and all these guys got their work cut out for them and they did a great job. They have been working on these motors and the cars, working on everything, so hats off to them."
Schuchart led the opening lap before Schatz drove by using the outside of the track in turn two on the second circuit. Schatz's lead was short lived though as Schuchart caught him in traffic to take the lead through turns one and two.
Behind Scuchart and Schatz Brad Sweet and Parker Price-Mmiller were trading third and fourth position before Sweet took the position on lap nine. Sweet quickly closed on Schuchart and Schatz to create a three-car race for the lead.
Sweet briefly took over second spot on lap 11 before he tagged the wall coming off turn two and allowed Schatz to get by. One late later the caution flag appeared for Chad Kemenah ending up backwards in turn four.
Schuchart pulled away until traffic came back into play on lap 20. Schatz quickly closed to pressure Schuchart for the lead. Schuchart was able to hold off multiple challenges from Schatz including racing three wide through slower traffic until lap 27 when Schatz got a run through turns three and four to drive around the outside of Schuchart for the lead.
Schuchart stayed on Schatz's back bumper but could not make a move as Schatz held on to win over Schuchart, Sweet, Price-Miller, and David Gravel.
Schatz noted the racetrack went through a wide variety of change from the track re-work before the feature through the 30-lap distance.
"The track was a little greasy to start," said Schatz. "I moved up the racetrack and we were running wide open. I'm sure those were some of the fastest laps in the race. Then it started to go it was kind of crazy. We started sliding around, going sideways, and all kinds of stuff. I managed to get myself in a bad spot for the middle part of the race. (Schuchart) got by and he was good. Towards the end and it started to get a little abrasive and rubbered up. I saw he moved down in three and four and I had nothing to lose, so I decided to run the top again and we able to squeak by."
Schatz, known for his clean driving, also apologized for getting into Schuchart at one point during the main event.
I got into him on the front stretch. I didn't mean to; it was purely my fault. When I do something wrong, I'll wear it. I misjudged and got into the back of him, so I apologize for that."
World of Outlaws NOS Energy Drink Sprint Car Series
DIRTcar Nationals
Volusia Speedway Park
Barberville, FL
Friday February 7, 2020
Qualifying:
1. 41-David Gravel, 13.015
2. 1S-Logan Schuchart, 13.132
3. 14P-Parker Price-Miller, 13.161
4. 83-Daryn Pittman, 13.17
5. 2M-Kerry Madsen, 13.186
6. 15-Donny Schatz, 13.188
7. 49-Brad Sweet, 13.193
8. 15H-Sam Hafertepe, 13.195
9. 7-Shane Stewart, 13.237
10. 87-Aaron Reutzel, 13.24
11. 13-Paul McMahan, 13.24
12. 5W-Lucas Wolfe, 13.254
13. 26-Cory Eliason, 13.259
14. 39M-Anthony Macri, 13.291
15. 2-Carson Macedo, 13.291
16. 48-Danny Dietrich, 13.305
17. 57-Kyle Larson, 13.319
18. 9-James McFadden, 13.325
19. 14-Tim Shaffer, 13.339
20. 21-Brian Brown, 13.391
21. 3Z-Brock Zearfoss, 13.411
22. 15K-Chad Kemenah, 13.425
23. 1A-Jacob Allen, 13.439
24. 2C-Wayne Johnson, 13.465
25. 17-Sheldon Haudenschild, 13.500
26. 3C-Cale Conley, 13.524
27. 5-Brent Marks, 13.537
28. 18-Ian Madsen, 13.564
29. 4-Terry McCarl, 13.564
30. J4-John Garvin, 13.6
31. 6-Bill Rose, 13.718
32. 11K-Kraig Kinser, 13.867
33. W20-Greg Wilson, 13.903
34. 7S-Jason Sides, 13.978
35. 33M-Mason Daniel, 14.495
36. B15-Kurt Conklin, NT
Drydene Heat Race#1 (8 Laps)
1. 2M-Kerry Madsen [2]
2. 41-David Gravel [1]
3. 26-Cory Eliason [4]
4. 7-Shane Stewart [3]
5. 57-Kyle Larson [5]
6. 4-Terry McCarl [8]
7. 17-Sheldon Haudenschild [7]
8. 3Z-Brock Zearfoss [6]
9. W20-Greg Wilson [9]
Drydene Heat Race#2 (8 Laps)
1. 15-Donny Schatz [2]
2. 1S-Logan Schuchart [1]
3. 87-Aaron Reutzel [3]
4. 9-James McFadden [5]
5. 15K-Chad Kemenah [6]
6. 39M-Anthony Macri [4]
7. 3C-Cale Conley [7]
8. 7S-Jason Sides [9]
9. J4-John Garvin [8]
Drydene Heat Race#3 (8 Laps)
1. 14P-Parker Price-Miller [1]
2. 49-Brad Sweet [2]
3. 2-Carson Macedo [4]
4. 13-Paul McMahan [3]
5. 14-Tim Shaffer [5]
6. 5-Brent Marks [7]
7. 1A-Jacob Allen [6]
8. 33M-Mason Daniel [9]
9. 6-Bill Rose [8]
Drydene Heat Race#4 (8 Laps)
1. 83-Daryn Pittman [1]
2. 15H-Sam Hafertepe [2]
3. 2C-Wayne Johnson [6]
4. 48-Danny Dietrich [4]
5. 11K-Kraig Kinser [8]
6. 21-Brian Brown [5]
7. 18-Ian Madsen [7]
8. 5W-Lucas Wolfe [3]
9. B15-Kurt Conklin [9]
DIRTVision Fast Pass Dash (6 Laps)
1. 15-Donny Schatz [4]
2. 1S-Logan Schuchart [2]
3. 83-Daryn Pittman [6]
4. 14P-Parker Price-Miller [1]
5. 2M-Kerry Madsen [8]
6. 49-Brad Sweet [5]
7. 41-David Gravel [7]
8. 15H-Sam Hafertepe [3]
Last Chance Showdown (12 Laps)
1. 5W-Lucas Wolfe [1][-]
2. 4-Terry McCarl [3][-]
3. 17-Sheldon Haudenschild [6][-]
4. 21-Brian Brown [5][-]
5. 57-Kyle Larson [Unable to start Feature][$300]
6. 39M-Anthony Macri [2][$250]
7. 3C-Cale Conley [7][$225]
8. 18-Ian Madsen [9][$200]
9. 1A-Jacob Allen [8][$200]
10. 33M-Mason Daniel [12][$200]
11. 3Z-Brock Zearfoss [10][$200]
12. 7S-Jason Sides [11][$200]
13. 6-Bill Rose [15][$200]
14. W20-Greg Wilson [13][$200]
15. J4-John Garvin [14][$200]
16. B15-Kurt Conklin [16][$200]
NOS Energy Drink Feature (30 Laps)
1. 15-Donny Schatz [1][$10,000]
2. 1S-Logan Schuchart [2][$5,500]
3. 49-Brad Sweet [6][$3,200]
4. 14P-Parker Price-Miller [4][$2,800]
5. 41-David Gravel [7][$2,500]
6. 2M-Kerry Madsen [5][$2,300]
7. 2-Carson Macedo [11][$2,200]
8. 83-Daryn Pittman [3][$2,100]
9. 14-Tim Shaffer [18][$2,050]
10. 87-Aaron Reutzel [10][$2,000]
11. 17-Sheldon Haudenschild [22][$1,500]
12. 9-James McFadden [14][$1,200]
13. 7-Shane Stewart [13][$1,100]
14. 26-Cory Eliason [9][$1,050]
15. 33M-Mason Daniel [26][$200]
16. 2C-Wayne Johnson [12][$900]
17. 15H-Sam Hafertepe [8][$800]
18. 5W-Lucas Wolfe [20][$800]
19. 5-Brent Marks [27][$800]
20. 48-Danny Dietrich [16][$800]
21. 4-Terry McCarl [21][$800]
22. 13-Paul McMahan [15][$800]
23. 15K-Chad Kemenah [17][$800]
24. 11K-Kraig Kinser [19][$800]
25. 7S-Jason Sides [24][$]
26. 1A-Jacob Allen [25][$]
27. 21-Brian Brown [23][$800]
KSE Hard Charger Award: 17-Sheldon Haudenschild[+11]
Lap Leaders: Logan Schuchart 1, 7-26
Donny Schatz 2-6, 27-30
DIRTCAR NATIONALS POINTS TOP 10
1. Brad Sweet – 740
2. David Gravel – 708
3. James McFadden – 706
4. Donny Schatz – 702
5. Logan Schuchart – 690
6. Carson Macedo – 690
7. Daryn Pittman – 690
8. Tim Shaffer – 690
9. Cory Eliason – 690
10. Sheldon Haudenschild – 676