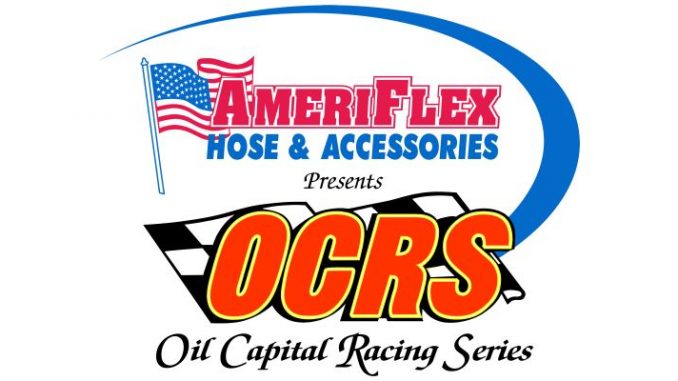 By John Rittenoure
NEVADA, Mo. (May 23, 2020) – It has been a long time coming, but Casey Wills is back in the AmeriFlex / OCRS winners circle.
Wills set the pace for 20 laps on Sunday at Nevada Speedway and crossed the finish line first to log his second career OCRS victory.
"It has been a few years. I won at Salina four or five years ago," Wills said as he thought back to that first win.
That win did come at Salina, but it was July 13, 2013 to be exact.
After running seventh the night before at Monett, Wills made some changes to the setup that made a difference on Sunday.
"Rob helped me get the motor better from last night (at Monett)," Wills said. "We changed headers and leaned it down from last night. Made it run a lot better."
Wills started on the pole thanks to the redraw and he made the best of it beating outside front row starter Terry Easum to the first turn.
"I just had to beat Terry (Easum) to the first corner, hit my marks and not mess up," Wills said.
While Wills was working the bottom of the track Easum eventually gave up second to Johnny Kent. Kent chased Wills to the checkered unable to mount a challenge.
"It was rubber all the way in (turns) 1-2 and it was a little tricky in 3-4 with the rocks getting throwed up," said Wills. "It was finish where you start."
Wills was not sure what was going on behind him until a late race restart.
"Not after the first couple of laps then after that one caution I heard somebody," he said. "But I just concentrated on hitting my marks. It was up to me to lose, not anybody else to win."
More effort at home also played a part in the victory.
"We put in a lot more effort at the shop to make sure the car was ready," Wills said. "Andrew helped me with the setup and my dad and Clayton and my wife and daughter always help me at the track."
Kent settled for second at the finish leaving Easum with third for the second straight night. However, that was enough to take over the early AmeriFlex / OCRS points lead after two events. Jase Randolph finished fourth and Whit Gastineau, driving a sprinter normally driven by Wayne Johnson, was fifth.
Zach Chappell earned the DFR Tire Hard Charger award after coming from a 12th place start to finish 8th.
Oil Capital Racing Series
Nevada Speedway
Nevada, MO
Sunday May 24, 2020
Car and Fleet Heat Race #1 (8 Laps)
1. 88-Terry Easum[2]
2. 55-Johnny Kent[4]
3. 15D-Andrew Deal[5]
4. 15-Jase Randolph[6]
5. 9-Casey Buechler[1]
6. 30J-Larry Bratti[3]
7. 2L-Brandon Leland[7]
M W Aluminum Heat Race #2 (8 Laps)
1. 31-Casey Wills[1]
2. 2W-Whit Gastineau[4]
3. 5-Joe Bob Lee[5]
4. 62-James Shoun[6]
5. 39-Kimberly Tyre[2]
6. 50Z-Zach Chappell[3]
AmeriFlex Hose and Accessories A-Main (30 Laps)
1. 31-Casey Wills[1]
2. 55-Johnny Kent[3]
3. 88-Terry Easum[2]
4. 15-Jase Randolph[7]
5. 2W-Whit Gastineau[4]
6. 5-Joe Bob Lee[6]
7. 15D-Andrew Deal[5]
8. 50Z-Zach Chappell[12]
9. 30J-Larry Bratti[11]
10. 39-Kimberly Tyre[9]
11. 9-Casey Buechler[10]
12. 62-James Shoun[8]
13. 2L-Brandon Leland[13]