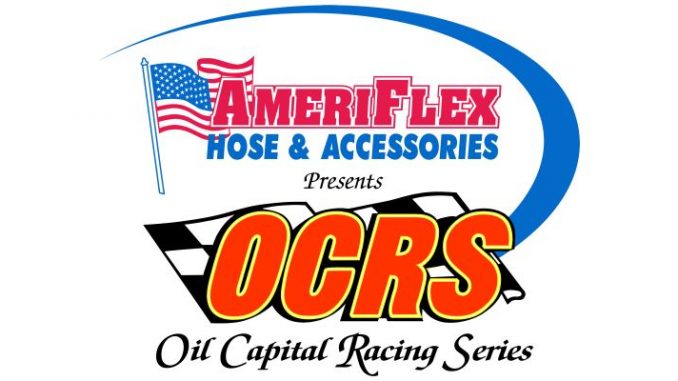 By John Rittenoure – HUMBOLDT, Kans. (June 12, 2020) – It was just a matter of time for Terry Easum to earn his first career AmeriFlex / OCRS sprint car victory.
Since the season opener at Monett Motor Speedway Easum has been knocking on the door. After running second to winner Kinzer Edwards Easum fell to third late in the race. The next night at Nevada it was another second place run only to fall to third in the closing laps in a race won by Casey Wills. At Caney Valley Speedway another third place run was in the cards.
Friday at Humboldt Speedway Easum was not to be denied. Starting on the pole, Easum set a fast pace turning 13 second laps on his way to victory.
"Glad to finally get one," Easum said of his first OCRS victory. "It has taken long enough, but with three thirds and a win we are getting rolling now.
"We had a good redraw and that helped."
Alex Sewell gave chase in the early going with Kinzer Edwards in third. Eleven laps in Zach Chappell passed Edwards for third. Sewell and Chappell continued to chase Easum but could not get close enough to challenge. On the final lap Sewell had a tire go down allowing Chappell to take over second. Joe Bob Lee, Jared Sewell and Stephanie Chappell rounded out the top five. Sewell was able to hang on for sixth.
Easum was getting faster each lap and was knocking out 13 second laps late in the race making it hard for anyone to catch him. Easum had the fastest time of the night with a 13.441 on the final lap. Next was Lee with a 13.621.
"The track cleaned off there," Easum said of his high speed pace around the Humboldt 3/8's mile oval. "Just got more toward the bottom."
Easum continues to hold down the AmeriFlex / OCRS points lead and gives a lot of the credit to his crew.
"Jimmy Jones is helping us and he definitely has us going a lot better," Easum said. "And I am figuring out what I need to do better."
Casey Buechler picked up the DFR Tire Hard Charger award advancing from 15th starting to run 7th.
Alex Sewell earned the most passing points to earn the AMSOIL High Point contingency award.
Oil Capital Racing Series
Humboldt Speedway
Humboldt, KS
Friday June 12, 2020
Car Fleet Heat Race #1 (8 Laps)
1. 50Z-Zach Chappell[2]
2. 8-Alex Sewell[5]
3. 2C-Whit Gastineau[3]
4. 44-Jared Sewell[6]
5. 62-James Shoun[1]
6. 9-Casey Buechler[4]
M W Alumium Heat Race #2 (8 Laps)
1. 5-Joe Bob Lee[1]
2. 22C-Charlie Crumpton[2]
3. 22T-Frank Taft[3]
4. 39-Kimberly Tyre[5]
5. DNS: 15D-Andrew Deal
WESMAR Heat Race #3 (8 Laps)
1. 88-Terry Easum[1]
2. 9E-Kinzer Edwards[3]
3. 14-Stephanie Chappell[2]
4. 31-Casey Wills[4]
5. 2L-Brandon Leland[5]
AmeriFlex Hose Accessories A-Main (30 Laps)
1. 88-Terry Easum[1]
2. 50Z-Zach Chappell[2]
3. 5-Joe Bob Lee[4]
4. 44-Jared Sewell[6]
5. 14-Stephanie Chappell[10]
6. 8-Alex Sewell[3]
7. 9-Casey Buechler[15]
8. 31-Casey Wills[12]
9. 62-James Shoun[14]
10. 22T-Frank Taft[9]
11. 2L-Brandon Leland[13]
12. 39-Kimberly Tyre[11]
13. 22C-Charlie Crumpton[5]
14. 9E-Kinzer Edwards[8]
15. 2C-Whit Gastineau[7]