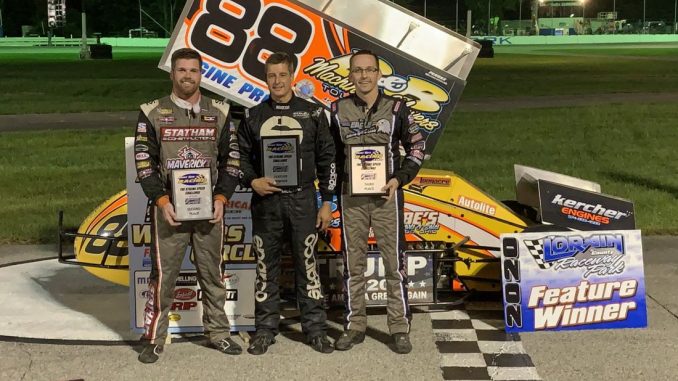 From MSR
LORAIN, Ohio – Jimmy McCune continued his family's run of dominance in the Must See Racing Sprint Car Series presented by Engine Pro by returning to victory lane Saturday night at Lorain County Speedway.
After being bested by his nephew Anthony during the opening doubleheader at Wisconsin's Golden Sands Speedway one week earlier, the five-time defending series champion rekindled his traditional dominance by ruling the roost at the third-mile Ohio short track.
McCune took command on lap 15 from polesitter Craig Mintz and led the remaining distance, pulling away down the stretch for his 34th career Must See Racing victory by .888 seconds over Troy DeCaire.
The race marked the third round of the Must See Racing winged sprint car points season, and it was the third feature in a row to go uninterrupted from green to checkered once the first lap was completed.
Mintz, normally a dirt-track mainstay in Ohio, hung on for a strong finish in third. He was trailed by Anthony McCune and local favorite Charlie Schultz.
Sixth through 10th were Kevin Feeney, Joe Speakman, Tom Jewell, Christian Koehler and Jacob Dolinar.
Saturday's event was an emotional affair, after the passing of longtime Must See Racing sprint regular and past championship runner-up Jerry Caryer in the hours prior to the Lorain County event.
A missing-man salute was performed during the three-wide parade lap in Caryer's honor.
The Must See Racing Sprint Car Series season continues Sept. 5 with the non-points Pay Less Little 500 at Indiana's Anderson Speedway. Kody Swanson is the defending champion of the Little 500.
The finish:
1. 88-Jimmy McCune, 2. 36-Troy DeCaire, 3. 11m-Craig Mintz, 4. 8-Anthony McCune, 5. 9s-Charlie Schultz, 6. 6k-Kevin Feeney, 7. 72s-Joe Speakman, 8. 7-Tom Jewell, 9. 10k-Christian Koehler, 10. 13-Jacob Dolinar, 11. 12-Kyle Capodice, 12. 8a-Adam Biltz, 13. 11g-Tom Geren, 14. 51s-Joshua Sexton, 15. 99s-Craig Sharfenberg Jr., 16. 42-Jason Blonde, 17. 26-Jeff Bloom, 18. 85-Rick Holley.