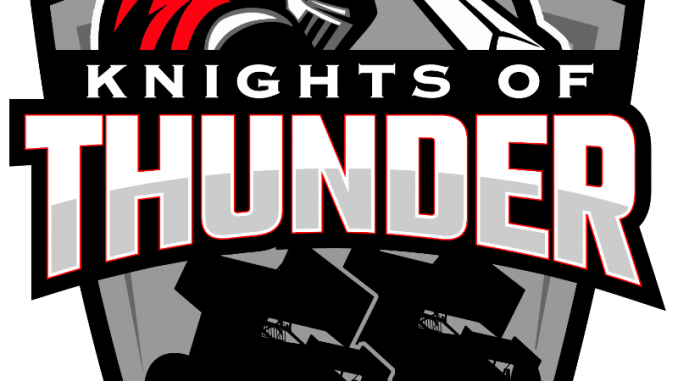 By Tommy Goudge
(April 8, 2021) – The Knights of Thunder 360 Sprint Car series will now debut on Victoria Day weekend. The 2021 KoT season was set to begin April 17 at Merrittville Speedway, however all April events at the Niagara Region venue were cancelled in the wake of Ontario's four week provincial shutdown due to a rise in COVID-19 cases.
The Knights of Thunder schedule will now kick off Saturday, May 22 at Brighton Speedway, followed by a Victoria Day race at Merrittville Speedway on Monday, May 24. More than 30 drivers have indicated their intention to compete in at least a portion of the 2021 Knights of Thunder season. While several Sprint Car races were run at Merrittville in 2020, Brighton hasn't played host to the winged open wheel racers since 2019 and anticipation is high for their return.
Make sure to visit the official website and social media pages of the Knights of Thunder for news and updates on Eastern Canada's newest racing series:
Website: www.knightsofthunder.com
Twitter: @KoTSprints
Facebook: KnightsofThunderSprintCars
Instagram: @knightsofthunder
YouTube: GForceTV
About the Knights of Thunder Sprint Car Series: Founded in 2021, Knights of Thunder is a traveling winged 360 Sprint Car tour based in Ontario, Canada. The 2021 schedule consists of 26 events at seven different venues in the province; each event will pay a minimum of $2,000-to-win and $250-to-start, and selected events will be broadcast live on GForceTV. The 2021 Knights of Thunder Sprint Car Series is made possible with the support of Pinty's Delicious Foods, Corr/Pak Merchandising, Stoneridge Specialty Insurance, Hoosier Tire Canada, Burger Barn, Nitro 54 Variety, Strickland's Brantford Chevrolet, and EPIC Racewear. Visit www.knightsofthunder.com for more information.