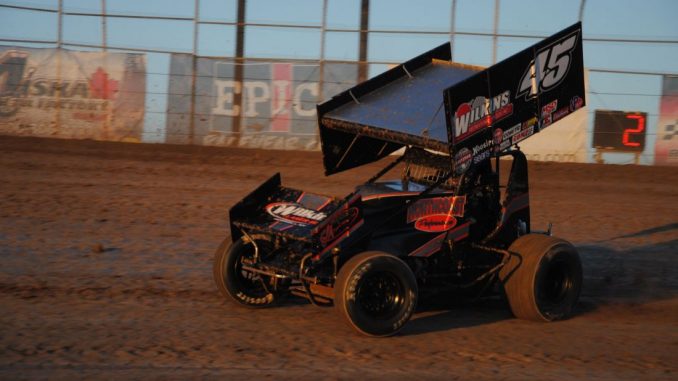 By Paul Harkenrider
(Woodhull, NY) In what was an absolute thriller of an A Main, two of the best in the business, Davie Franek and Chuck Hebing would battle on the high banks of Woodhull with Hebing taking the checkers with a pass for the lead on lap 19.
Franek would draw the pole for the 25 lap A Main and would take command early with Paulie Colagiovanni and Jordan Thomas rounding out the top three. Jared Zimbardi and Chuck Hebing wasted no time getting into the top five.
Franek would begin to pull away as the rest of the field would fight for position behind him. During the middle stages of the race, Hebing would get by Zimbardi for fourth and start to charge for the third spot which was obtained by Thomas.
Hebing would attempt a slide job in three and four but could not get the car to stick so Thomas would remain in third. The following lap, Hebing would make the same slide job move with this time, making the car stick to take over the three spot.
Franek was not really contested and never really encountered lap traffic his entire time while leading. Hebing was able to get around Colagiovanni for second on lap 17 and start tracking down Franek. Two laps later on lap 19, Franek took an extremely high line which enabled Hebing to run the bottom and make the pass for the lead.
Once Hebing took the lead on lap 20, the caution flag ironically came out from a slowing Kelly Hebing on the front stretch. Hebing though was able to pull away for the remaining five laps to score the win over Franek, Colagiovanni, Jared Zimbardi and Jordan Thomas. This was Hebing's seventh career win at Woodhull and his 52nd overall in PST Competition.
Heat race wins went to Zimbardi, Corey Sparks and Chuck Hebing. The Bonnell's Rod Shop Dash for Cash winner was Dylan Sweirnik.
The Patriots will now set its sights on their Massive Memorial Day weekend in the state of Ohio. Friday, May 28 the tour will visit Limaland Motorsports Park. Then Saturday, they visit Wayne County Speedway with the weekend concluding at Waynesfield. Friday and Saturday will each pay $2,500 to win with the final night paying an unbelievable amount of $12,000. A full rules and procedure package will be announced this week.
Please stick with patriotsprinttour.com online and like them on facebook, you can also follow them @PatriotSprints on twitter and Instagram.
A-Verdi Storage Containers Patriot Sprint Tour
Woodhull Speedway
Woodhull, New York
Saturday May 15, 2021
Heat 1:
1. 35-Jared Zimbardi
2. 10-Paulie Colagiovanni
3. 79-Jordan Thomas
4. 66-Ryan Kissinger
5. 10LC-Kelly Hebing
6. 2J-Aaron Jacobus
7. 7-Andrew Jacobus
Heat 2:
1. 1HD-Corey Sparks
2. X-Dan Bennett
3. 67-Steve Glover
4. 74-Eric Kurtz
5. 81-Derek Jonathan
6. 42-Jesse Pruchnik
7. 1-Jake Hummel
Heat 3:
1. 45-Chuck Hebing
2. 28f-Davie Franek
3. 22k-Mike Koehler
4. 7c-Dylan Swiernik
5. 00-Danny Varin
6. 2-Dave Axton
7. 90-Matt Tanner
Bonnell's Rod Shop Dash for Cash:
1. Dylan Sweirnik
2. 22K-Mike Koehler
3. 67-Steve Glover
4. 2J-Aaron Jacobus
5. 66-Ryan Kissinger
A Main:
1. 45-Chuck Hebing
2. 28f-Davie Franek
3. 10-Paulie Colagiovanni
4. 35-Jared Zimbardi
5. 79-Jordan Thomas
6. 00-Danny Varin
7. X-Dan Bennett
8. 22k-Mike Koehler
9. 66-Ryan Kissinger
10. 2-Dave Axton
11. 1HD-Cory Sparks
12. 7c-Dylan Sweirnik
13. 7-Andrew Jacobus
14. 1-Jake Hummel
15. 81-Derek Jonathan
16. 10lc-Kelly Hebing
17. 74-Eric Kurtz
18. 2J-Aaron Jacobus
19. 67-Steve Glover
20. 90-Matt Tanner
DNS: Jesse Pruchnik