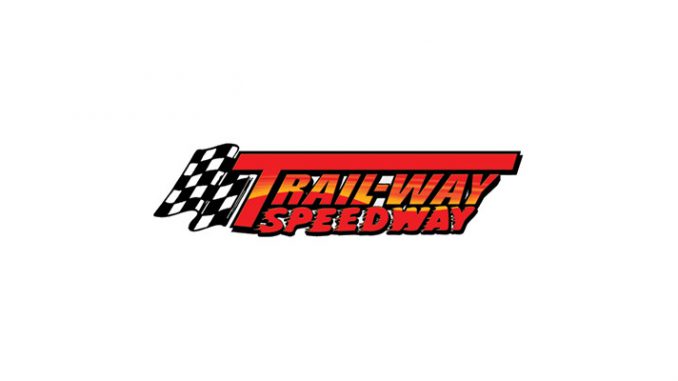 By Kalida Landis
HANOVER, Penn. (June 18, 2021) –HANOVER, PA – You would expect Mason Chaney to struggle in the 358 Sprint Car division at Trail-Way Speedway or any other facility, for that matter.
See, Chaney comes from the Legend ranks, and there are very few, if any, similarities between his former class and the competitive 358 Sprint Car division. Speed, handling, set-up … the learning curve is steep.
That doesn't seem to matter to the Littlestown, Pa., ace. Chaney has already posted some quality finishes in limited starts and landed his first career 358 Sprint Car victory last week at the Hanover, Pa., facility.
"We've been struggling with this thing … the feel," Chaney said. "Coming from a Legend car, this thing is completely different. I don't know how to tell these guys what I need, and they're trying to give me what I need every week.
"Tonight, the car felt great. I had a buddy come up from work at Hyper [Chassis] with one of his buddies that works on his car, and this thing was just completely different. It feels great."
Chaney led all 25 circuits, but his march to victory wasn't easy. Especially over the first five laps, as he battled pole-sitter Cody Fletcher.
The first lap featured a multi-car pile-up that started when Riley Emig got sideways in the fourth corner. On the second attempt at a start, Chaney got the jump on Fletcher and was able to lead the first circuit.
Chaney continued to lead Fletcher through the first 10 laps. Things slowed down on Lap 12, when Tony Hippensteel II spun in Turn 4. He brought out the caution again on the restart and was sent to the pits.
Nothing changed on the restart. The Carroll Motor Fuels machine of Chaney had plenty of motor to hold off Fletcher through the middle stages of the race.
Lapped traffic became a factor on Lap 22 and allowed Fletcher to close the gap a bit. That didn't stop Chaney, 26, from negotiating the backmarkers and holding the point through tight racing action through the corners.
Kyle Rohrbaugh spun on the last lap, but Chaney was able to take the checker and the win before a caution was displayed.
"I hope it stays like this," Chaney said. "I just rode the brake and stood on the throttle, and it would go where it needed to go. There's a little hole down here we were building, and one time the thing stood up, and I thought we were done. I thought we were going over.
"My motor builder, Paul, made a bet with me this week. He said if I win, he gives me $500 and if I don't the next two weeks, I give him $200. He's been doing so much for me that I'm not taking a dime from him."
Continued Chaney, "He does so much for me, coming to the house, tuning this thing, and when I feel like I have a problem, but I don't, he still comes over to help me through it. He bends over backward for me, so I'm not taking a dime of his money."
Fletcher settled for a second-place finish. He was followed by David Holbrook, Cody Phillips, and Tim McClelland, who also passed nine cars to win Big Mike's Crabhouse Hard Charger honors.
Travis Kreiser topped the field to capture the 20-Lap 600 Micro Sprint main event. It was his fifth career Trail-Way Speedway victory.
Randy Kunkle took the early lead and led the first three circuits. Keiser, of Thomasville, Pa., slipped past Kunkle for the lead on Lap 4 and led the rest of the way for the win.
Kunkle finished second and was followed by Daniel Bair and Randy Westhafer. Current point leader Bradley Weber completed the top five.
In Street Stock action, Sammy Rial won his second career feature in the division and first of the 2021 season in the 20-Lap main event.
Rial, of Etters, led the entire race distance. He was followed by Shane McQuay, Jimmy Combs, Kody Sites, and Danny Beard.
Gettysburg's Terry Hartlaub led all 15 Laps and claimed the win in the JWE Remodeling and Roofing Limited Stock feature. Cody Klinedinst, Robbie Carroll, Rob Nicklow, and Justin Oberlin completed the top five.
Trail-Way Speedway
Hanover, Pennsylvania
Friday, June 18, 2021
Winged 358 Sprint Cars
Heat Race #1
1. 35-Steve Owings[1]
2. 84M-Chad Criswell[3]
3. 69-Cameron Smith[5]
4. 8CR-Mason Chaney[4]
5. 44-Steven Cox[2]
6. 55-Tony Hippensteel II[6]
Heat Race #2
1. 8-Kenny Kuhn[1]
2. 12-Mike Bittinger[2]
3. 1-Cody Phillips[4]
4. 33-Riley Emig[5]
5. 6-Tim McClelland[6]
6. 2D-Dylan Orwig[3]
Heat Race #3
1. 77K-Steven Kisamore[1]
2. 66A-Cody Fletcher[2]
3. 77-David Holbrook[3]
4. 12K-Kyle Rohrbaugh[4]
5. 22B-Nat Tuckey[5]
6. 17-Andrew Hake[6]
A-Main
1. 8CR-Mason Chaney[2]
2. 66A-Cody Fletcher[1]
3. 77-David Holbrook[3]
4. 1-Cody Phillips[7]
5. 6-Tim McClelland[14]
6. 84M-Chad Criswell[11]
7. 35-Steve Owings[6]
8. 44-Steven Cox[13]
9. 69-Cameron Smith[5]
10. 22B-Nat Tuckey[15]
11. 2D-Dylan Orwig[17]
12. 17-Andrew Hake[18]
13. 12K-Kyle Rohrbaugh[8]
14. 8-Kenny Kuhn[12]
15. 55-Tony Hippensteel II[16]
16. 33-Riley Emig[4]
17. 77K-Steven Kisamore[9]
18. 12-Mike Bittinger[10]