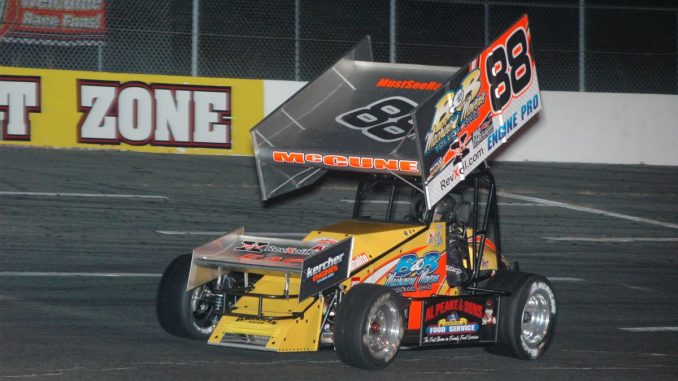 From David Sink
JONES, Mich. (June 19, 2021) — wo rainstorms and a complete power outage couldn't stop Jimmy McCune from capturing the Must See Racing Sprint Series presented by Engine Pro feature event Saturday night at M-40 Speedway in Jones, Michigan. It was McCune's second MSR feature victory of the season.
A complete power outage at the track earlier in the night would set the tone for a long evening.
Joe Liguori captured quick time to start the night off with a lap of 11.035 seconds around the 3/8-mile, semi-banked speedway. Liguori was unable to break the existing track record of 10.34 seconds currently held by Jeff Bloom.
Just as the first heat race was on the track, a rainstorm hit the area and dampened the speedway. Track officials dried the track and were ready for racing action before a second rainstorm swept through the area. At that point, MSR officials elected to cancel the heat races and Engine Pro Fast Car Dash to get the feature event completed.
As cars were being pushed off for the 30-lap feature, fast qualifier Liguori's machine was unable to fire. Liguori was forced to retire to the pits and the starting line-up was slightly shuffled.
When the green flag dropped, Tom Jewell got the jump on Teddy Alberts and led the opening seven circuits with Jimmy McCune in tow. McCune had quickly worked himself into the runner-up spot from his fifth starting position. McCune would assume command of the event on lap eight.
The first caution of the race waved on lap eleven when Jacob Dolinar spun in turn three. This would create a double-file restart. On the restart McCune assumed command of the event once again. But going down the backstretch while batting for third position, Jewell and Jason Blonde were racing side-by-side. The two made contact as Blonde momentarily ran out of room. Jewell's car made contact with the outside retaining wall in all the confusion, ending his night.
McCune would lead the rest of the way to seal the win over Charlie Schultz, Blonde, Jeff Bloom and Dolinar. McCune's win would make him the first repeat winner of the season and snapped the streak of four different feature winners to start the 2021 season.
Must See Racing
M-40 Speedway
Jones, Michigan
Saturday, June 19, 2021
Feature:
Feature:
1. 88-Jimmy McCune
2. 9S-Charlie Schultz
3. 99-Jason Blonde
4. 26-Jeff Bloom
5. 48-Jacob Dolinar
6. 12-Dylan Watson
7. 85-Ricky Holley
8. 44-Teddy Alberts
9. 2-Todd McQuillan
10. 90-Joshua Sexton
11. 72S-Joe Speakman
12. 18-A.J. Lesieski
13. 7-Tom Jewell