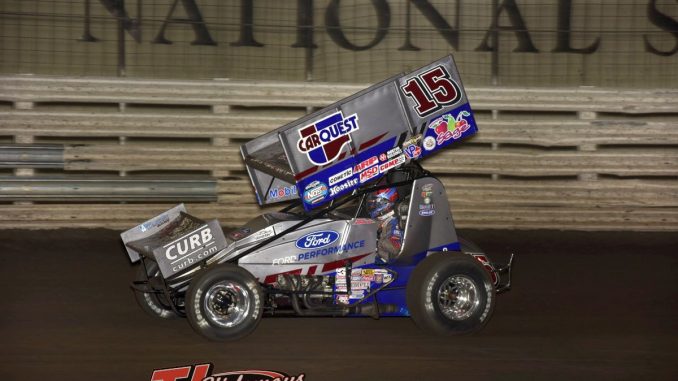 By T.J. Buffenbarger
(August 11, 2021) — The first night of racing during the 60th Annual NOS Energy Drink Knoxville Nationals presented by Casey's General Stores is complete. Here are a few of my takeaways from BRANDT Professional Agriculture Qualifying Night.
Wednesday night saw two young stars in David Gravel and Giovanni Scelzi that had opportunities to leave sprint car racing, yet in 2021 they are both present at the biggest race in the sport. All too often the best talent in our sport ventures off to other forms of racing to make significantly more money.

While Gravel's truck race effort may not have panned out at planned. He could have chosen a different path to try and or went and did something else. Scelzi was a Toyota development driver that seemed destined to go stock car racing. Yet both are here performing at a high level.

I don't blame any of the people that make that career move to make the kind of money drivers can potentially make in other forms of racing. I think its wonderful that Gravel and Scelzi are still here wanting to win sprint car racing, performing in front of us at a high level.
Sprint car racing is more interesting with Donny Schatz in the mix for victories. Schatz has been incredibly consistent all year but has not come near his winning ways of the past with only one feature win to his credit on the World of Outlaws tour this year.

Wednesday showed flashes of vintage Schatz running the bottom, passing cars, and making some late race moves to put himself on the podium and second overall in points.

We even got to see a little of snarky Schatz in the press conference when Jeff Gluck asked a question about Kyle Larson, which Schatz promptly replied, "I didn't know we were coming up here to talk about Kyle Larson, he isn't even here tonight."

As Schatz enters his mid-40's it feels like he is about to take the turn we see a lot of successful sprint car drivers that were booed during the prime winning of their careers to their talent being appreciated more by the masses. There is a chance you might hear more cheers than boos if Schatz were to score his 11th Nationals title on Saturday. With everything he's gone through with his father's health, development of the Ford engine, I think it would be an appropriate response.
My favorite part about Knoxville Nationals preliminary features are the surprises that put their teams into Saturday's A-Main.

I'm not sure how many people would have Brooke Tatnell in their pools or friendly wagers on making Saturday's finale through the preliminary night. Tatnell threw down the gauntlet as the fastest qualifier, recovering from not transferring through the heat race to finish third in the B-Main before charging from 22nd to 12th in the feature.

Looking back, I should have known better. We have seen Tatnell's heroics back when the World Challenge was still part of the Nationals and guaranteed the winner a starting position in the feature. Tatnell is very good at Knoxville and showed it on Saturday.

In a roundabout way, I hope the Canadian fans were proud to see their sprint car flagship, Ohsweken Speedway, represented at the Nationals in fine fashion.

The other name I would not have expected to see in the top 10, but should have known better, was Josh Baughman. Even with only making a handful of starts this season, Baughman managed to put himself 10th in points after the first night of the Knoxville Nationals and should be in position for a position towards the front of the B-Main.

Early in the day I had discounted Baughman during a discussion about a "for entertainment purposes only" pool where he was one of the drivers that could be chosen. I was hesitant to pick Baughman because of his number of starts. Baughman's success on Wednesday is one of those moments where I was perfectly happy to be wrong.