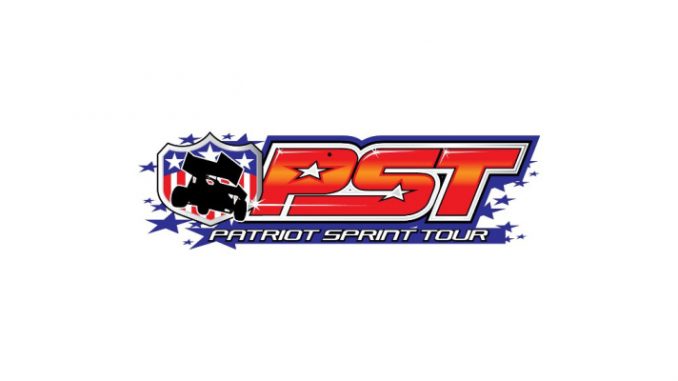 By Paul Harkenrider
(Canandaigua, NY) As it has been talked about for weeks, it is the tight point battle for the 2021 championship for the A-Verdi Storage Containers Patriot Sprint Tour. Jordan Thomas entered Saturday night at Land of Legends trailing Davie Franek by four points.
During heat race action, Thomas started second in his heat and finished second which got himself as the eighth and final driver in the top eight redraw from the passing points qualifying system. Franek however did not have a good qualifying race as he started seventh and finished seventh. He would be forced to start 19th for the A Main.
Good luck certainly was on Thomas's side during the redraw as well as he was the last person to draw and was left with the one pill for the 25 lap A Main.
Thomas would start alongside Joe Trenca where they would bring the 22 car field to the green flag. Thomas and Trenca would duel for the top spot in the opening laps but it was Thomas running the bottom which would solidify himself as the leader.
Lap two was the only time a caution came out which involved both Chuck and Kelly Hebing as well as Darryl Ruggles. Chuck Hebing and Ruggles were unable to return but Kelly Hebing would return despite significant nose wing damage.
It was noted that 19th starter, Davie Franek was already up to seventh.
On the single file restart, Thomas would lead the way but along came a firing Paulie Colagiovanni who was coming from fourth and immediately got by both Trenca and Jason Barney for second.
Laps would continue to click by with both Thomas and Colagiovanni up front. Colagiovanni would show his nose wing a couple of times but Thomas would still be able to hold off anything Colagiovanni was trying to do.
The final podium spot was also interchangeable between Trenca, Jason Barney and Matt Farnham.
At the line, it was Thomas holding off Colagiovanni to score his first PST Main of the 2021 season. Joe Trenca would battle back for third over Jason Barney and Matt Farnham. Davie Franek would end up seventh.
With the win, Thomas went from trailing Franek by four points to a 16 point advantage for the 2021 championship with at least two full point races remaining.
Heat race winners went too Joe Trenca, Paulie Colagiovanni and for the 75th time in his career, Jared Zimbardi was a heat race winner. It was also Matt Tanner's first career Bonnel's Rod Shop Dash for Cash win.
Our next event will be Sunday, September 5 at the Utica Rome Speedway. It will be the series' first visit to Utica Rome since 2006.
To follow along, please be sure to connect with PST on Facebook, twitter and Instagram. You can also visit patriotsprinttour.com.
Trevor Years won the winged 305 sprint car feature.
Land of Legends Raceway
Canandaigua, New York
Saturday, August 28, 2021
Patriot Sprint Tour
Heat Race #1:
1. 35-Jared Zimbardi
2. 7ny-Matt Farnham
3. 22-Jonathan Preston
4. 42-Jesse Pruchnik
5. 17-Sam Reakes IV
6. 67-Steve Glover
7. 28f-Davie Franek
8. 47-Kyle Drum
Heat Race #2:
1. 98-Joe Trenca
2. 79-Jordan Thomas
3. 87-Jason Barney
4. 90-Matt Tanner
5. 21-Randy Years
6. 36-Mike Stelter
7. 36b-Brian Preston
8. 3z-Bobby Parrow
Heat Race #3:
1. 10-Paulie Colagiovanni
2. 45-Chuck Hebing
3. 10c-Jeff Cook
4. 48-Darryl Ruggles
5. 10h-Kelly Hebing
6. 4s-Johnny Smith
7. 2x-Dave Axton
Dash:
1. 90-Matt Tanner
2. 48-Darryl Ruggles
3. 10h-Kelly Hebing
4. 17-Sam Reakes IV
5. 42-Jesse Pruchnik
6. 21-Randy Years
Feature:
1. 79-Jordan Thomas
2. 10-Paulie Colagiovanni
3. 98-Joe Trenca
4. 87-Jason Barney
5. 7ny-Matt Farnham
6. 10c-Jeff Cook
7. 28f-Davie Franek
8. 90-Matt Tanner
9. 35-Jared Zimbardi
10. 17-Sam Reakes IV
11. 22-Jonathan Preston
12. 67-Steve Glover
13. 2x-Dave Axton
14. 42-Jesse Pruchnik
15. 36-Mike Stelter
16. 4s-Johnny Smith
17. 21-Randy Years
18. 10h-Kelly Hebing
19. 47-Kyle Drum
20. 36b-Brian Preston
21. 45-Chuck Hebing
22. 48-Darryl Ruggles
Winged 305 Sprint Cars
Heat Race #1:
1. 18c-Dan Craun
2. 53-Bobby Parrow
3. 48J-Darryl Ruggles
4. 13t-Trevor Years
5. 48a-Alysha Bay
6. 66-Jordan Hutton
7. 41-Chase Moran
8. 36-Todd Kaplin
Heat Race #2:
1. 2-Randy Years
2. 75-Brandyn Griffin
3. 77-Matt Rotz
4. 38-Jason Whipple
5. 62-Jacob Lynch
6. 4t-Ray Preston
7. 18-Timmy Lotz
8. 25h-Tyler Emmons
Feature:
1. 13t-Trevor Years
2. 75-Brandyn Griffin
3. 18c-Dan Craun
4. 48a-Alysha Bay
5. 48J-Darryl Ruggles
6. 41-Chase Moran
7. 53-Bobby Parrow
8. 66-Jordan Hutton
9. 2-Randy Years
10. 25h-Tyler Emmons
11. 38-Jason Whipple
12. 18-Timmy Lotz
13. 4t-Ray Preston
14. 77-Matt Rotz
15. 62-Jacob Lynch
DNS: 36-Todd Kaplin