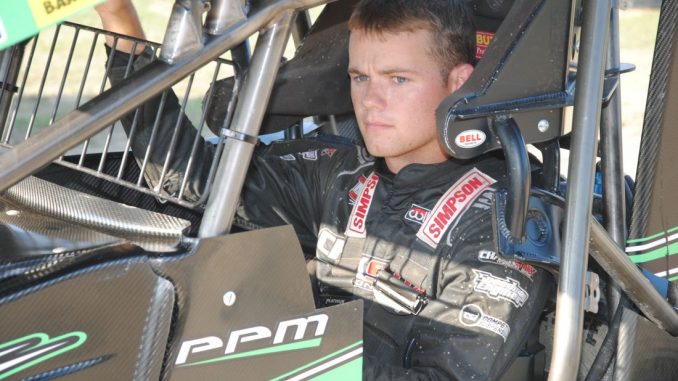 By Aaron Fry
Parker Price-Miller was tapped to fill the driver's seat in the Sam McGhee Motorsports 11 this week. He then proceeded to lead all 30 laps of the Atomic Blast on the high banks of the highly revered and historic Atomic Speedway. He had to fight off the challenge of perennial Atomic stalwart, Cole Duncan, to score his first career win with the Ti22 Performance FAST on Dirt tour. Though Miller won the battle, it was Vienna, West Virginia's Cale Conley who won the war, claiming the $10,000 to win FAST 2021 title over Lee Jacobs and Jordan Harble.
A perfect field of 32 cars put the drivers into split qualifying flights for ARP Fasteners qualifying. Flight A, setting up heats 1 and 2 saw Cale Thomas set quick time with a 11.807 second lap, earning him $100 from The dirt life for overall fastest time. He edged out Cole Duncan, Hunter Schuerenberg, Price-Miller and Bryan Nuckles. Heats 3 and 4 came from flight B which was quick timed by Travis Philo followed by Nate Reeser, Henry Malcuit, Lee Jacobs and Chris Garnes.
Preliminary heat races were won by Cale Thomas, Price-Miller, Jake Hesson and Lee Jacobs. A scary incident in heat 3 saw Chris Garnes and Jimmy Stinson crash in turn 1 with both cars getting upside down and sustaining heavy damage. Thankfully both emerged unhurt. The MSD Ignitions B-Main was claimed by Iowa's McKenna Haase over Jordan Ryan, Ryan Broughton, Duane Zablocki, Mitch Harble and Sean Rayhall who all moved on to the main event.
The main event redraw put Parker Price-Miller on the pole with Nate Reeser alongside. Lee Jacobs and Jake Hesson rolled off from row 2 with Duncan and Schuerenberg in row 3. Following a perfect 4 wide salute to the crowd, starter Adam Brimmer enthusiastically threw the green flag sending 22 of the best midwest sprint car racers into the early autumn night. But it did not take long for the first caution to fly when a major incident collected 4 cars in turns 1 and 2. A second caution would come out just 2 laps later.
Finally able to get a long green flag run in, Price-Miller showed the way as Cole Duncan methodically worked his way to the runner-up spot. Two late race caution flags set up what appeared to be a classic Atomic Speedway finale showdown. However, late in the race, the track had begun to take rubber, putting a premium on passing. Parker Price-Miller drove away on a 2 lap dash to the finish with Duncan on pace, but a few car lengths back at the finish. Travis Philo had a great run from 8th to finish 3rd with early challenger Lee Jacobs falling to fourth and Hunter Schuerenberg rounding out the top 5.
Ryan Broughton earned the "Hard Charger" $100 bonus from The Bridge Restaurant and "The dirt life" for racing from 19th to 6th. Newly crowned 2021 FAST champion, Cale Conley, was 7th as Nate Reeser, Jake Hesson and Henry Malcuit completed the top 10.
BOX SCORE
FAST on Dirt
Atomic Speedway
Sat., Oct 1, 2021
ARP Fasteners Qualifying
Flight A: 1. 101-Cale Thomas 11.807, 2. 22-Cole Duncan 11.852, 3. 55-Hunter Schuerenberg 12.023, 4. 11-Parker Price-Miller 12.344, 5. 59-Bryan Nuckles 12.536, 6. 16c-Max Stambaugh 12.537, 7. 3c-Cale Conley 12.569, 8. 25R-Jordan Ryan 12.673, 9. 1B-Keith Baxter 12.821, 10. 78-Todd Kane 12.843, 11. 22B-Ryan Broughton 12.999, 12. 55M-McKenna Haase 13.085, 13. 14R-Sean Rayhall 13.181, 14. 6J-Joe Allagree 14.320, 15. 4xa-Bradley Ahsford DNQ, 16. 15-Mitch Harble DNQ
Flight B: 1. 5T-Travis Philo 12.271, 2. 83x-Nate Reeser 12.402, 3. 70-Henry Malcuit 12.525, 4. 81-Lee Jacobs 12.651, 5. 42-Chris Garnes 12.865, 6. 98-Clinton Boyles 12.961, 7. 4x-Jimmy Stinson 13.003, 8. 08-Brandon Conkel 13.227, 9. 23-Jordan Harble 13.262, 10. 9z-Duane Zablocki 13.352, 11. 5-Ben Webb 13.656, 12. 09-Justin Adams 13.703, 13. 17w-Danny Williams 13.883, 14. 9K-Kyle Kruger 13.955, 15. 7m-Geoff Dodge DNQ ; 16. 5J-Jake Hesson DNQ
NAPA of Fremont – Heat 1: 1. 101-Thomas[4] ; 2. 55-Schuerenberg[3] ; 3. 3c-Conley[1] ; 4. 59-Nuckles[2] ; 5. 22B-Broughton[6] ; 6. 1B-Baxter[5] ; 7. 14R-Rayhall[7] ; 8. 4xa-Ashford[DNS]
Helms Construction – Heat 2: 1. 11-Price-Miller[3] ; 2. 22-Duncan[4] ; 3. 78-Kane[5] ; 4. 16c-Stambaugh[2] ; 5. 55M-Haase[6] ; 6. 25R-Ryan[1] ; 7. 6J-Allagree[7] ; 8. 15-Harble[DNS]
The Cushion. com – Heat 3: 1. 5J-Hesson[8] ; 2. 70-Malcuit[3] ; 3. 23-J.Harble[5] ; 4. 5T-Philo[4] ; 5. 17w-Williams[7] ; 6. 4x-Stinson[1] ; 7. 42-Garnes[2] ; 8. 5w-Webb[DNS]
Outsiders Merchandise & Apparel – Heat 4: 1. 81-Jacobs[3] ; 2. 98-Boyles[2] ; 3. 08-Conkel[1] ; 4. 83x-Reeser[4] ; 5. 9z-Zablocki[5] ; 6. 09-Adams[6] ; 7. 9K-Kruger[7] ; 8. 7m-Dodge[DNS]
MSD Ignitions – B Main: 1. 55m-Haase[2] ; 2. 25R-Ryan[6] ; 3. 22B-Broughton[1] ; 4. 9z-Zablocki[4] ; 5. 15-M.Harble[14] ; 6. 14R-Rayhall[9] ; 7. 1B-Baxter[5] ; 8. 17w-Williams[3] ; 9. 09-Adams[8] ; 10. 9K-Kruger[12] ; 11. 6J-Allagree[10] ; 12. 4x-Stinson[DNS] ; 13. 42-Garnes[DNS] ; 14. 4xa-Ashford[DNS] ; 15. 5w-Webb[DNS] ; 16. 7m-Dodge[DNS]
Ti22 Performance – A Main: 1. 11-Price-Miller[1] ; 2. 22-Duncan[5] ; 3. 5T-Philo[8] ; 4. 81-Jacobs[3] ; 5. 55-Schuerenberg[6] ; 6. 22B-Broughton[19] ; 7. 3c-Conley[11] ; 8. 83x-Reeser[2] ; 9. 5J-Hesson[4] ; 10. 70-Malcuit[9] ; 11. 98-Boyles[10] ; 12. 55m-Haase[17] ; 13. 78-Kane[12] ; 14. 08-Conkel[14] ; 15. 25R-Ryan[18] ; 16. 14R-Rayhall[22] ; 17. 23-J.Harble[13] ; 18. 16c-Stambaugh[16] ; 19. 15-M.Harble[21] ; 20. 101-Thomas[7] ; 21. 59-Nuckles[15] ; 22. 9z-Zablocki[20]
The Bridge Restaurant – Hard Charger: 22B-Ryan Broughton +13 $100
Kear's Speed Shop / Atomic Speedway – Hard Luck: 42-Chris Garnes $500
All Star Performance – Sweet Move: 5J-Jake Hesson
The dirt life – Overall Fastest Qualifier: 101-Cale Thomas
Atomic Speedway – first non transfer bonus: 1B-Keith Baxter $500
The dirt life – 2nd non transfer bonus: 17w-Danny Williams $350
The dirt life – 3rd non transfer bonus: 09 – Justin Adams $300