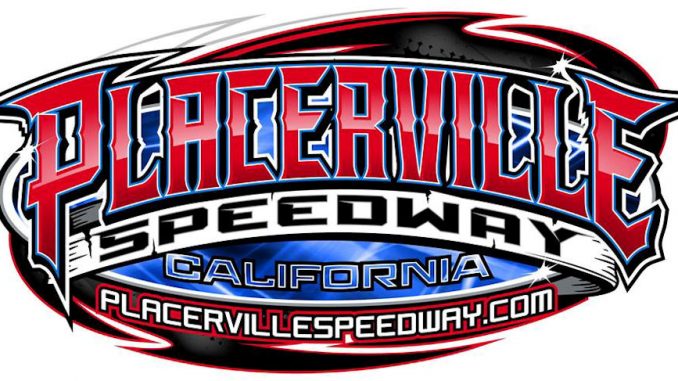 By Gary Thomas
Placerville, CA…Mather's Kalib Henry withstood a late race challenge from second-year driver Landon Brooks to bring home his fifth career Thompson's Family of Dealerships Winged 360 Sprint Car victory at Placerville Speedway on Saturday.
The triumph for Henry came at the helm of the Brown Eagle Racing No. 01 and moved him into a tie with Tanner Carrick and Jimmy Trulli respectively on the all-time win list at the track. Sharing victory lane at the opening Hoosier Tires championship point race were Jake Morgan with the Joe Hunt Magnetos Wingless Tour, Nick Baldwin with the Red Hawk Casino Pure Stocks and Mike Miller in the Mountain Democrat Mini Trucks.
The 25-lap Thompson's Winged 360 finale began with Jake Haulot and Bubba Decaires battling it out for the top spot, as Haulot led the opening circuit. Superb racing was seen early on with Redding's Chase Majdic finding the high side to his liking. The "Magic Man" charged around Decaires and slipped under Haulot to grab the point shortly after. His bid at victory came to end however, when he slowed with issues on lap eight.
Kalib Henry inherited the lead and pulled away to a sizable advantage, until Landon Brooks began to cut away at that as lapped traffic came into play. With the crowd coming to their feet Brooks inched to the inside for the lead with a few circuits remaining, but Henry remained poised and kept his momentum upstairs to drive back around and remain out front. After that Henry kicked it into overdrive and crossed the stripe for the win over Brooks, Placerville's Shane Hopkins, Decaires and Haulot.
Rounding out the top-10 were Trent Canales, Andy Forsberg, John Clark, Colby Johnson and Justyn Cox. A total of 31 cars competed on opening night with the Thompson's Winged 360 Sprint Cars. Bubba Decaires began the evening by earning the ADCO Driveline and Custom Exhaust Fast Time Award with a lap of 10.647. It was a career best night for Decaires at the quarter-mile, with a fast time effort and fourth place finish in the feature.
Thompson's Family of Dealerships Winged 360 finish:
1. 01-Kalib Henry[4]; 2. 34-Landon Brooks[3]; 3. 21-Shane Hopkins[6]; 4. 94-Greg Decaires V[1]; 5. 7H-Jake Haulot[2]; 6. 5C-Trent Canales[7]; 7. 92-Andy Forsberg[10]; 8. 12J-John Clark[13]; 9. 5H-Colby Johnson[11]; 10. 31C-Justyn Cox[16]; 11. 4-Jodie Robinson[8]; 12. X1-Kaleb Montgomery[9]; 13. 7C-Steven Tiner[15]; 14. 24-Justin Henry[17]; 15. 83SA-Isaiah Vasquez[12]; 16. 20-Michael Ing[20]; 17. 5V-Daniel Whitley[14]; 18. 35M-Chase Majdic[5]; 19. 93-Stephen Ingraham[18]; 20. 2-Cody Spencer[19]
Fair Oak's racer Jake Morgan has been the man to beat with the Joe Hunt Magnetos Wingless Tour in recent years at Placerville Speedway. That story remained the same on Saturday, as he tallied his eighth career Wingless Spec Sprint victory at the track, moving into sole possession of first place all-time.
Morgan had to withstand the relentless challenges from Shane Hopkins over much of the contest, but was able to remain calm, cool and collected to cross the Ron Stahl checkered flag after 25 laps of hard-hitting competition. Hopkins finished in the runner up spot and put together a phenomenal night of racing, paired with a third-place effort in the Winged 360 feature. Marcus Hardina, Jimmy Christian and Nick Robfogel completed the top-five.
A total of 24 cars signed into the pit area with the Joe Hunt Magnetos Wingless Tour. Christian began the night by setting fast time with a lap of 12.385 around the quarter-mile.
Joe Hunt Magnetos Wingless Tour finish:
1. 7M-Jake Morgan[1]; 2. 51-Shane Hopkins[5]; 3. 21X-Marcus Hardina[2]; 4. 32C-Jimmy Christian[3]; 5. 3-Nick Robfogel[9]; 6. 7EJ-Josh Young[8]; 7. 3F-Jacob Tuttle[4]; 8. 151-Eric Hopkins[18]; 9. 17-Anthony Snow[21]; 10. 92Z-Troy DeGaton[13]; 11. 31P-Eathon Lanfri[11]; 12. 5-Kaimi Moniz Costa[16]; 13. 33-Heath Holdsclaw[10]; 14. 98Z-Jordan Garretson[15]; 15. 60-Scott Clough[22]; 16. 50-Tony Bernard[14]; 17. 12-Jarrett Soares[17]; 18. 2STX-Brent Steck[7]; 19. 79-Mark Hanson[6]; 20. 17M-Evan Gularte[19]; 21. 7-Trey Walters[12]; 22. X-Antonio Aragon[20]; 23. (DNS) 17T-Grasen Ternora