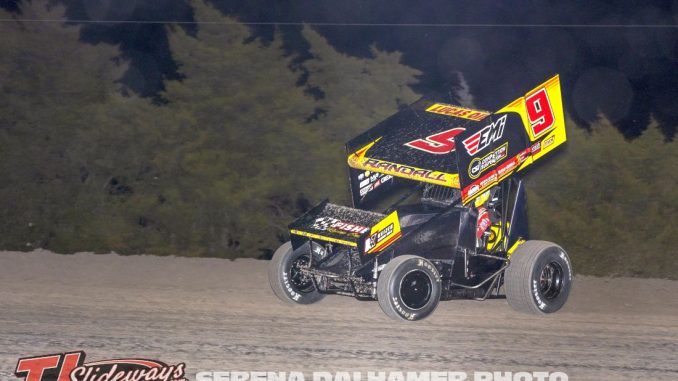 By Bill W
West Burlington, IA, May 29, 2022 – The 20th season for the Sprint Invaders couldn't have started in more exciting fashion than it did on Sunday night at the 34 Raceway in West Burlington, Iowa! Waco, Texas's Chase Randall emerged victorious after a heat race crash, a run from the back to win the B, and an incredible charge from row eight in the $2,000 to win feature event.
Early on, the 25-lap main event was a two-horse race. Paul Nienhiser led early over Ryan Jamison, Chris Martin, Jamie Ball and Josh Schneiderman. Martin would get around Jamison early and was quickly in pursuit of the leader.
Nienhiser and Martin separated themselves from the pack, and entered lapped traffic on the 3/8-mile by lap eight. With Nienhiser low behind a lapper, Martin used the high side to take the lead by a nose on lap ten.
Three laps later, an infield tire was knocked into turn three, bringing the only caution. While almost all attention was on the two up front, suddenly the crowd set its sights on Chase Randall. Randall had been a victim of circumstance in his heat, getting upside down after contact from another car. The crew spent the rest of the night preparing for the B, which he won from the tenth starting spot.
Now he would restart fifth (from 16th) behind Martin, Nienhiser, Jamison and Schneiderman. Randall gained fourth from Schneiderman on the restart, and then made a sensational move on the low side of turns one and two on lap 15, to pass both Jamison and Nienhiser into the runner-up spot.
With five laps to go, Martin and Randall were back in traffic. Randall took advantage of Martin, who was picked by a lapper and took the lead for good to take his first ever Sprint Invaders feature win. Nienhiser would recover for second, passing Martin with two to go. Following Randall, Nienhiser and Martin were Jamison and Schneiderman. Cody Wehrle, Ball, Kaley Gharst, Cam Martin and Colton Fisher rounded out the top ten.
Ball, Nienhiser, Chris Martin and Jamison were heat race winners. Jamison also won the Dash, and Randall took the B main. Austin Miller was another flip victim in the heats. He was uninjured and returned for the B main.
"We had to change just about everything on this racecar," said Randall in Victory Lane. "We were thrashing for the B and barely made it out. We didn't get a chance to set up much, I just kind of went out and drove it. I can't thank the track enough for getting the show in with the wind here. It turned out to be a good race. The first part of the race, I was slowly picking them off one by one. We were able to get to fifth by the restart. They kind of shot up the track in turn one and left a hole for me. That's kind of how we got the lead as well. It was just a good race."
"(Randall) must have been rolling really good," said Nienhiser. "Starting on the pole with a track that was probably going to change lanes and the traffic…I probably would have been better off in second. Where we were, you kind of want to get the lead and make them drive around you. I was kind of surprised when Chris got around us, and I kind of drove into the back of him one lap and Randall got by. There at the end, we were closing back in and I probably needed another lap or two and a lapped car to make it happen. You can't win them all."
"Paul was rolling real good," said Martin. "I was able to take advantage of a few scenarios in lapped traffic, and I felt like towards the end, what I was able to do to Paul, happened to me (with Randall). Honestly, when I got passed by the 9 car, I had to check the leader board on the front stretch. I thought, 'What the heck? Did this kid just come from the B and pass me for the lead?' That was pretty crazy, but we had a strong car all night. We just needed to be a little stronger the last five laps."
The Sprint Invaders will next compete on Friday, June 3 at the Lee County Speedway in Donnellson, Iowa. The event was added after the Friday, May 27 event at the facility was rained out. For more information on the Sprint Invaders, visit www.SprintInvaders.org or look us up on Facebook.
Sprint Invaders Results
Howard Law A main (started), 25 laps: 1. 9R, Chase Randall, Waco, TX (16) 2. 50, Paul Nienhiser, Chapin, IL (1) 3. 44, Chris Martin, Ankeny, IA (4) 4. 51J, Ryan Jamison, Mediapolis, IA (3) 5. 49, Josh Schneiderman, West Burlington, IA (5) 6. 40, Cody Wehrle, Burlington, IA (9) 7. 35, Jamie Ball, Knoxville, IA (2) 8. 78, Kaley Gharst, Decatur, IL (10) 9. 4, Cam Martin, Ankeny, IA (11) 10. 11, Colton Fisher, Mediapolis, IA (14) 11. 99, Bret Tripplett, Lincoln, IL (13) 12. 11T, Dugan Thye, Burlington, IA (17) 13. 28, Luke Verardi, Taylorsville, IL (6) 14. 21, Devin Wignall, Altoona, IA (15) 15. 7, Tyler Lee, Cedar Rapids, IA (12) 16. 81, Tanner Gebhardt, Burlington, IA (7) 17. 8L, Tom Lenz, Marion, IA (8) 18. 9, Daniel Bergquist, Burlington, IA (21, prov.) 19. 41, Noah Samuel, Burlington, IA (19) 20. 31, McClain Richards, Burlington, IA (20) 21. 2A, Austin Archdale, Brimfield, IL (18). Lap Leaders: Nienhiser 1-9, Ch. Martin 10-21, Randall 22-25. KSE/$75 Christine Wahl-Levitt Hard-charger: Randall. $50 CenPeCo Mystery Spot: Gebhart. $50 Double J's Steakhouse $50 Mystery Spot: Ball.
Randall's Performance Heat one (started), 8 laps: 1. Jamie Ball (3) 2. Cody Wehrle (2) 3. Luke Verardi (5) 4. 5A, Alex Vande Voort, Knoxville, IA (1) 5. Colton Fisher (6) 6. Dugan Thye (7) 7. 83, Austin Miller, Lacona, IA (4)
Joshua Denning & Associates Heat two (started), 8 laps: 1. Paul Nienhiser (1) 2. Josh Schneiderman (4) 3. Bret Tripplett (3) 4. Kaley Gharst (6) 5. Noah Samuel (2) 6. 14, Aidan Zoutte, Knoxville, IA (7) 7. Jack Anderson, Newton, IA (5)
Mohrfeld Solar Heat three (started), 8 laps: 1. Chris Martin (2) 2. Tom Lenz (1) 3. Tanner Gebhardt (5) 4. Devin Wignall (3) 5. Austin Archdale (4) 6. 16. Dustin Clark, Agency, IA (6) 7. 5, Gage Pulkrabek, Grand Forks, ND (7)
Golden Eagle Distributors – Budweiser Heat four (started), 8 laps: 1. Ryan Jamison (3) 2. Cam Martin (1) 3. Tyler Lee (2) 4. McClain Richards (7) 5. 4x, Chase Richards, Burlington, IA (5) 6. Daniel Bergquist (4) 7. Chase Randall (6)
Shottenkirk Automotive Shake-up Dash (started), 6 laps: 1. Ryan Jamison (2) 2. Chris Martin (3) 3. Josh Schneiderman (4) 4. Luke Verardi (6) 5. Paul Nienhiser (5) 6. Jamie Ball (1) 7. Tanner Gebhardt (7) 8. McClain Richards (8)
B main (started), 12 laps: 1. Chase Randall (10) 2. Dugan Thye (4) 3. Austin Archdale (3) 4. Noah Samuel (6) / 5. Alex Vande Voort (1) 6. Dustin Clark (7) 7. Daneil Bergquist (8) 8. Austin Miller (12) 9. Chase Richards (2) 10. Aidan Zoutte (5) 11. Jack Anderson (11) 12. Gage Pulkrabek (9)
Contingencies
DMI: Luke Verardi
Brown & Miller Racing Solutions: Bret Tripplett
Saldana Racing Products: Cam Martin
Trophy Sponsor: Campbell's Body Shop & Towing