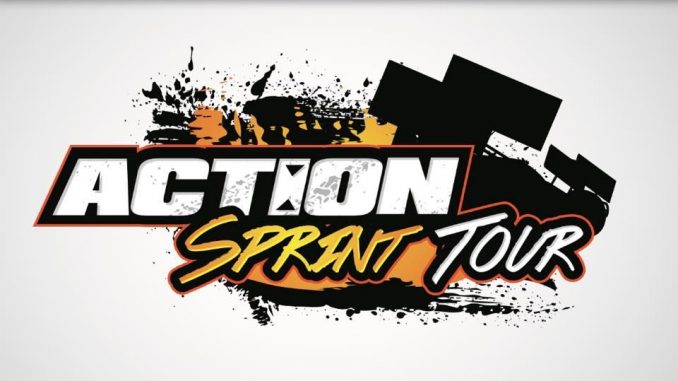 By Tommy Goudge
THOROLD, Ont. (June 11, 2022) – Jacob Dykstra started his 2022 Pinty's Action Sprint Tour Crate Sprint Car Series season off on the right foot with a win on Saturday night at Merrittville Speedway.
Defending AST champion Dykstra and Modified racing standout Mike Bowman started the 25 lap A-Main on the front row, but Bowman dropped out of the race on lap one with mechanical trouble. Dykstra successfully negotiated traffic to lead the race flag-to-flag for his 16th career AST win, while there was plenty of action throughout the field.
Darren Dryden charged from row ten to take the runner-up spot, followed by Allan Downey, row nine starter Austin Roes, and Brett Stratford. Quebec driver Mathieu Bardier drove from row eight to finish sixth in his first AST race, while Jonah Mutton, row seven starter Curtis Gartly, Steven Beckett, and row eight starter Adrian Stahle rounded out the top ten. Heat race wins were claimed by Bowman, Dykstra, and Joshua Hill.
The Action Sprint Tour will next be in competition on Thursday, June 30 at Humberstone Speedway. Visit www.actionsprinttour.com for more information.
Pinty's Action Sprint Tour Crate Sprint Car Series
Statistical Report – Saturday, June 11, 2022
Merrittville Speedway
Thorold, Ontario, Canada
Heat Race 1 [Started] 8 laps – NT
1. 71-Mike Bowman[1]; 2. 88-Lance Erskine[2]; 3. BS39-Brett Stratford[6]; 4. 2M-Steve Murdock[3]; 5. 45L-Curtis Gartly[5]; 6. 19-Mathieu Bardier[7]; 7. 77T-Tyeller Powless[8]; 8. 77E-Ashton VanEvery[4]
Heat Race 2 [Started] 8 laps – 2:04.150
1. 5D-Jacob Dykstra[7]; 2. 39-Jonah Mutton[1]; 3. 4B-Darrell Pelletier[3]; 4. 12DD-Darren Dryden[6]; 5. 50LS-Adrian Stahle[4]; 6. 9C-Brian Nanticoke[2]; 7. 20-Johnny Miller[5]; 8. 5X-Seth Roy[8]
Heat Race 3 [Started] 8 laps – 2:04.289
1. 99-Joshua Hill[1]; 2. 9-Luke Stewart[3]; 3. 19D-Allan Downey[4]; 4. 26X-Terry Baker[2]; 5. 08-Steven Beckett[6]; 6. 3S-Austin Roes[7]; 7. 29W-Tyler Ward[5]
A-Main [Started] 25 laps – NT
1. 5D-Jacob Dykstra[1]; 2. 12DD-Darren Dryden[9]; 3. 19D-Allan Downey[4]; 4. 3S-Austin Roes[17]; 5. BS39-Brett Stratford[6]; 6. 19-Mathieu Bardier[16]; 7. 39-Jonah Mutton[3]; 8. 45L-Curtis Gartly[14]; 9. 08-Steven Beckett[12]; 10. 50LS-Adrian Stahle[15]; 11. 2M-Steve Murdock[11]; 12. 5X-Seth Roy[23]; 13. 88-Lance Erskine[5]; 14. 9-Luke Stewart[8]; 15. 77T-Tyeller Powless[18]; 16. 26X-Terry Baker[13]; 17. 9C-Brian Nanticoke[19]; 18. 20-Johnny Miller[20]; 19. 77E-Ashton VanEvery[22]; 20. 29W-Tyler Ward[21]; 21. 99-Joshua Hill[7]; 22. (DNF) 4B-Darrell Pelletier[10]; 23. (DNF) 71-Mike Bowman[2]
A-Main Lap Leaders – Jacob Dykstra 1-25
Margin of Victory – 1.483 seconds
Hard Charger – Austin Roes +13