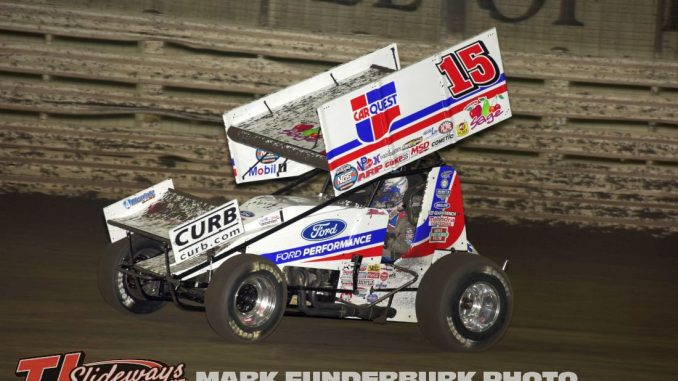 By T.J. Buffenbarger
KNOXVILLE, Iowa (August 13, 2022) — Donny Schatz returned to victory lane at the NOS Energy Drink Knoxville Nationals for the first time in six years Saturday night at the Knoxville Raceway. Schatz, from Fargo, North Dakota, took the lead from David Gravel with four laps to go to pick up his 11th Nationals title and ninth driving for Tony Stewart Racing.
Schatz and his team made large adjustments after Schatz was unhappy the first part of the race that helped propel him to victory.
"I didn't know if we were gonna get there and we fell back to seventh or something early," said Schatz. "I just couldn't control the wheel spin and then Scoob can read me like a book he knew when I didn't say nothing on that stop that he better do the 911 on it. That's what he did and hats off to them. They did a incredible job."
The victory was emotional for Schatz who recently lost his father Danny to a long bout with cancer. Schatz was in tears when he got out of the car and celebrated with his crew, hearing his Dad's advice in his head when the first few laps did not go as well as planned.
"I didn't drive like I should at the beginning there," said Chatz. I was a little bit frustrated, but I can hear (Danny) telling me to just gather it up and settle down., so it worked."
During the initial start to the 50-lap main event J.J. Hickle got upside down hard in turn one and collected Parker Price-Miller and Kerry Madsen. Hickle was able to get out of the car under his own power, Price-Miller was alert and talking with the safety crew but was transported to a local area hospital for treatment, and Madsen went to the work area with a flat right rear tire.
After the open red Austin McCarl took the lead into turn one with Tyler Courtney driving around the outside of Schatz for second. Courtney took a look to the inside of McCarl but could not make the pass in turns one and two. Courtney then got a second shot at McCarl getting to the inside of the track to pull alongside and crossing lines with Courtney taking the lead.
Further back in the field Schatz and Carson Macedo were exchanging the third position back and forth with Macedo holding the position on lap four. This was the point in the race where defending Knoxville Nationals champion Kyle Larson entered the picture. Larson pulled a slide job on Schatz to take away the fifth position. Schatz tried to counter on the inside but could not get the position back from Larson on lap six.
Up front it was all Courtney with McCarl trying to keep pace on lap 10 with David Gravel starting to close in on McCarl in third. One lap later McCarl found himself under pressure from Gravel for second when that challenge was thwarted when the caution appeared for Larson shredding a right rear tire. Larson's car owner Paul Silva and crew were able to get the tire changed in time for Larson to rejoin the feature at the tail end of the field.
During the restart McCarl closed in on Courtney to challenge for the lead, but his slide job came up short just as the red flag appeared when Gio Scelzi crashed in turn three. Scelzi emerged from the car under his own power but was unable to continue.
Courtney motored away at the start while Gravel was able gain enough momentum off turn two to drive by setup a slide job to pass McCarl for second. McCarl and Gravel then crossed lines multiple times per lap until Gravel secured the second position on lap 13.
By lap 16 Schatz was starting to work his way through the field after dropping back, driving by Brad Sweet for fifth position and started to challenge Macedo for fourth when another caution flag occurred when Justin Sanders slowed in turn one. Sanders brought the car to the work area but was unable to continue.
During the restart Courtney found himself under fire from Gravel. Further back Macedo briefly pressured McCarl for third until Brent Marks made his presence felt driving by Macedo to take the fifth spot. Marks then briefly took fourth from McCarl but was unable to hold the position as McCarl took the spot again off turn four.
The race for third heated up as the halfway point in the race loomed between McCarl, Marks, Macedo, and Schatz. Schatz passed Macedo again for fifth place on lap 22, only to have Macedo take it back on lap 23.
Meanwhile up-front Courtney had built up a substantial lead when the caution came out for the break at the halfway point.
After the teams were done changing tires and adjusting their cars Courtney, Gravel and McCarl sparred for the lead. Gravel and Courtney exchanged the top spot multiple times until Gravel came out with the lead off turn two.
Schatz started to come to life again on lap 29 driving under Macedo for the fifth spot and two laps later blasted off turn two to setup a slide job and Schatz droveby McCarl for third with 32 laps complete.
By lap 34 gravel had built up a half straightaway leads as Schatz closed on Courtney for second. As this was happening McCarl's right rear tire let go as he slowed in turn three to bring out the caution flag. McCarl was able to go to the work area and make repairs to continue but fell out of contention for the win.
After a second caution for a 360 degree spin by James McFadden, Gravel checked out while Schatz swept around Courtney to take second. Macedo tried to follow Schatz but could not make the pass on Courtney for third. Shortly after Macedo's right rear tire let go to bring out another caution flag. Macedo's Jason Johnson Racing team was able to make repairs and join the tail of the field.
Gravel was strong during the restart again as Shark Racing's Logan Schuchart and Jacob Allen took over the fourth and fifth positions, racing each other for fourth.
Up front Schatz was slowly reeling in Gravel for the lead with seven laps to go. Three laps later Schatz made his move with a huge run through the middle of the track to pass Gravel for the lead. From there Schatz held the top spot as Gravel tried to build up enough momentum around the top to catch back up. Gravel's effort was to no avail as Schatz won his 11th Knoxville Nationals title over Gravel.
Schuchart got by Courtney for third with three laps to go to round out the podium. Schuchart's teammate Jacob Allen rounded out the top five.
61st NOS Energy Drink Knoxville Nationals presented by Casey's
Knoxville Raceway
Knoxville, Iowa
Saturday, August 13, 2022
A Main (50 Laps)
1. 15-Donny Schatz[3]
2. 2-David Gravel[4]
3. 1S-Logan Schuchart[17]
4. 7BC-Tyler Courtney[2]
5. 1A-Jacob Allen[11]
6. 57-Kyle Larson[6]
7. 19-Brent Marks[7]
8. 17-Sheldon Haudenschild[23]
9. 49-Brad Sweet[9]
10. 27H-Daryn Pittman[8]
11. 11X-Michael Kofoid[14]
12. 13-Justin Peck[19]
13. 24R-Rico Abreu[21]
14. 8-Aaron Reutzel[16]
15. 83JR-Kerry Madsen[22]
16. 88-Austin McCarl[1]
17. 41-Carson Macedo[5]
18. 7TAZ-Tasker Phillips[15]
19. 83-James McFadden[20]
20. 21-Brian Brown[24]
21. 39-Justin Sanders[13]
22. 18-Giovanni Scelzi[18]
23. 25-JJ Hickle[10]
24. 11M-Parker Price Miller[12]