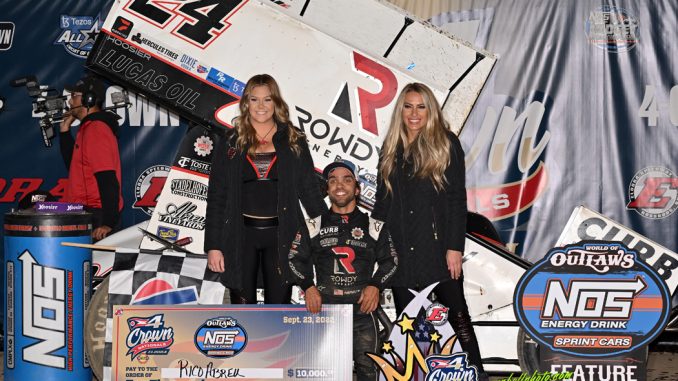 By T.J. Buffenbarger
(September 23, 2022) — After the opening night of the 4-Crown Nationals at Eldora Speedway here are three takeaways from the great night of racing.
Sprint Car racing is more fun when Rico Abreu is running well. I knew it had been a while since Abreu had won with the World of Outlaws but was surprised to hear it had been over four years that an Outlaw victory had alluded Abreu.

After some recent struggles it appears Abreu is back in form at the Big E after driving a great race in the closing stages of Friday's World of Outlaws NOS Energy Drink Sprint Car Series event. Ricky Warner has not only produced race cars that Abreu can win in night in and night out but seems to have restored some of the swagger we became accustomed too out of Abreu coming into places like Eldora.

That confidence is showing a different maturity to Abreu's driving. Friday, we saw Abreu utilize the low side of turns three and four to fend off challenges from Donny Schatz and James McFadden show a different level of decision making on the racetrack.

Abreu's level of popularity in sprint car racing that reminds me of Jac Haudenschild's following when I was growing up. Fans seems to gravitate towards his style on and off the racetrack. If someone had told me the kid I met for the first time at the Brad Doty Classic while he was hanging out with Kasey Kahne Racing for the night would become one of the most exciting drivers in our sport and have one of the best social media presences in the sport I would have taken the bet.
This is the first time I've attended a 4-Crown Nationals in person with two days of USAC National Midget Car Series action. After witnessing it in person I'm happy to have the opportunity to hold my breath for 25-laps twice this weekend.

There is nothing quite like the USAC Midgets at Eldora. Friday was prime evidence of this as the mighty midgets were rim riding Eldora's wall, throwing haymaker sliders, and produced some three and four wide scrums during starts and restarts that almost made me want to wince at times, but couldn't take my eyes off it.

From Cannon McIntosh and Mitchel Moles bouncing off the wall leaving us to wonder who would make a mistake that could put them out of the race first, to the race for second between Buddy Kofoid and Bryan Wiedeman exchanging massive slide jobs,

I always tell new Eldora patrons to get a pit pass and go to the infield in turn three and get as close to the fence as possible during hot laps. During 4-Crown do this when the midgets are on track for practice, and you would see why I say that drivers that compete in the midget division at Eldora are wired differently than any other race car driver on the planet. The screaming four-cylinder engine butted right up against Eldora's unforgiving concrete fence is something to behold.

While those thrills have been the same since I started coming to the 4-Crown Nationals in 1986, the biggest difference is the engines being more reliable. I recall a 4-Crown Nationals with only a handful of cars finishing the midget feature in the early 90's. Last night most of the field was hammer down with on a couple of mechanical issues.
Fall has always been my favorite time of year to visit Eldora Speedway. No matter if it was for the 4-Crown Nationals, Johnny Appleseed Late Model Race/All Star Circuit of Champions Season Finale, Sprintacular, or even a Frosty 40 (once) fall produces a different type of racing at Eldora. Even the pack trucks have a different sound when running in the racetrack for a cool, fall race at the Big E.

While most of those fall races have gone by the wayside we still thankfully have the 4-Crown Nationals. With it's current iteration the 4-Crown serves as a perfect buffet to sample all of the great open wheel racing Eldora has to offer over two night's of racing.

When I left Michigan and didn't see a significant spike in temperature combined with overcast skies over Rossburg, Ohio, I knew we would see a very fast racetrack most of the night. I felt Eldora officials did a great job on the prep for Friday producing a fast racetrack that also offered multiple lines at times producing hellacious racing for second on back in the USAC National Midget Car feature and a great late race surge by James McFadden in the World of Outlaws feature.

This is why when people ask me which race they should attend as their first at Eldora Speedway, the 4-Crown has become my default go to event to suggest. You get to see all of this top flight racing and explore the facility without having to fight the massive crowd that shows up for a crown jewel event.