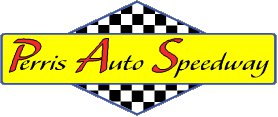 By Scott Daloisio
(Perris, CA, March 16, 2022) Despite being pounded by a heavy rainstorm late Tuesday night and into Wednesday morning, the 20th annual "Sokola Shootout" is still on for this Saturday night, March 18th, at Perris Auto Speedway. The Amsoil USAC/CRA Sprint Cars, PAS Senior & Young Gun Sprints, PASSCAR Super Stocks, and Street Stocks will all be in action on the Riverside County half-mile clay oval.
Despite the fact that the grounds of the facility were extremely wet from recent storms, up until Tuesday night the race was definitely on. However, a late night, early morning deluge hit the track beginning late Tuesday. Things became questionable when promoter Don Kazarian and his staff got a look at all the new water on the grounds on Wednesday morning. At that point, he deferred a decision on whether the race would take place until today. At around 11 AM, he gave the word that the race is still on for Saturday.
"We are definitely on for this Saturday," Kazarian said after looking at the conditions when he arrived at the track on Thursday morning. "It is going to take a lot of work, but we will be ready. The pits will not be open for parking until noon on Saturday as we may still be working down there."
Adult tickets for Saturday's race are $30.00. Seniors 65 and over get in for $25.00. For kids 6 to 12, it is just $5. Children 5 years of age and under are admitted free. The fairgrounds charges $10 for parking.
Advanced tickets for Saturday's race and every race at The PAS are available until noon on race day at https://www.tix.com/ticket-sales/pas/7 or by calling 1-800-595-4849. For fans who do not wish to buy advance tickets, there will be plenty available for everyone at the ticket window each race night.
Races from Perris Auto Speedway will not be streamed on Flo Racing in 2023.
Perris Auto Speedway is conveniently located on the Lake Perris Fairgrounds (home of the Southern California Fair), one-hour east of Los Angeles and one-hour North of San Diego. To get to the track, take the 215 freeway, exit on the Ramona Expressway, and go three miles east to the fairgrounds. For directions online, the address to enter is: 18700 Lake Perris Drive and the zip code is 92571.
Fans can stay up to date on track and driver news on The PAS social media efforts at the links below.
Facebook: https://www.facebook.com/pages/Perris-Auto-Speedway/113876798686480?ref=hl
Twitter: Perris Auto Speedway on Twitter
Instagram: https://www.instagram.com/perrisautospeedway/
Website: http://perrisautospeedway.com/
Perris Auto Speedway wants to thank the following corporate partners. Ahern Equipment Rentals, Anderson Chevrolet, Battery Systems, Chris' Hauling, City of Perris, Communication Innovations, Daytona Boat & RV Storage, Ed Moore Bullet Proof Driveshaft, Flowdynamics, HD Industries, Heimark/Anheuser Busch, Hoosier Tires, Inland Rigging, Living Water's Hospice, LKQ Pick Your Part, Luke's Transmission, Moose Racing, Pepsi-Cola, Performance Online, Pole Position Raceway, PrintItNow.com, Rainbow Bolt & Supply, Rene's Bar & Grill, Rugged Radios, Shaver Specialties, Square H, Sunoco Race Fuels, Trench Shoring, Upland Rock, Varner Construction and Vista Paint.
Video and DVD productions of all racing sprint cars events at Perris Auto Speedway are available from Loudpedal Productions. For more information on these productions you can contact them by calling (805) 844-3854, E-mailing mailto:trtruex@gmail.com or you can visit the website LoudPedal Productions.
DVDs of all the PASSCAR/IMCA racing and Nights of Destruction at The PAS are available from Fourvideos. For more information call (714) 225-9500.