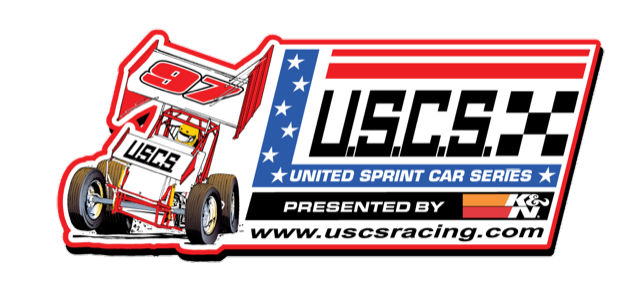 By Pete Walton
March 27, 2023 – Atlanta, GA – Wild and exciting winged sprint car racing returns to the racing program at Travelers Rest Speedway on Friday, March 31st at 7:30 pm. When the United Sprint Car Series "Outlaw Thunder" Tour www.uscsracing.com winged sprint cars will roar into the fast 3/8-mile high-banked clay oval for the USCS "Thunder in the Foothills" Sprint Car Speed Spectacular 2023. The event is the fifteenth event on the 27th Anniversary schedule for the Nationally touring USCS drivers. The race is the first USCS Outlaw Thunder Tour winged sprint car event scheduled at Travelers Rest Speedway during the 2023 season. The event also serves as Round #7 on the USCS Southern Thunder Tour regional series schedule. The Travelers Rest Speedway race will award USCS Outlaw Thunder Tour drivers with National and USCS Southern Thunder Tour regional series championship points. Entries are expected from eight or more states for the event.
Expected entries for Friday night include two National Sprint Car Hall of Fame inductees and multi-time USCS Southern Thunder Tour feature winners. Those drivers include 14-time USCS National and multi-time Southern Thunder Tour USCS Champion Terry Gray, from Bartlett, Tennessee. Also entered is 2015 National Sprint Car Hall of Fame inductee and 2021 USCS National and USCS Southern Thunder regional series Champion, Danny Smith from Chillicothe, Ohio. Danny Smith.
A past USCS Outlaw Thunder Tour multi-time USCS feature winner Lance Moss from Cherryville, North Carolina is expected as is his Nebraska based teammate, Ryan Roberts from Aurora, Nebraska. The 1998 USCS Rookie of the Year and a former USCS Asphalt Thunder Tour series Champion, Johnny Bridges also from Cherryville, North Carolina who is a previous winner at Travelers Rest Speedway an expected entry.
Other top North Carolina based entries include Eric Riggins,Jr. from Charlotte, North Carolina who has 20+ USCS Outlaw Thunder Tour wins. Joining Riggins, Jr. as Tar Heel State entries is expected to be CJ Miller from Mooresville, North Carolina. Talented sprint car rookie sensation driver, Gavan Boschele from Mooresville, North Carolina, who is in fifth place in the current USCS Outlaw Thunder Tour National point standings and will be driving the (Christopher) Bell Brian Kemanah owned #21 sprint car.
Several past National and regional Rookie of the Year drivers who are entered include the 2012 USCS National Rookie of the Year, Jeff Willingham from Ripley, Mississippi, who is sixth in the current 2023 USCS National standings after finishing in the 2022 National standings. The 2020 USCS Southern Thunder Tour regional series Rookie of the Year, Eric Gunderson from Canton, Georgia, who finished in fourth place in the 2022 standings is also entered as is Jake McLain, from Indian Trail, North Carolina who was the 2009 USCS Southern Thunder Tour regional series Rookie of the Year and a past Racesaver Carolina Sprint Tour Champion is also entered as is his teammate brother, Brandon McLain who was the USCS 2014 Rookie of the Year.
Mark Ruel, Jr. from Jacksonville, Florida, who won the September 10t, 2020 USCS Outlaw Thunder event at Travelers Rest Speedway leads a Florida contingent that also includes former Top Gun Sprints Champion, Hayden Campbell from Montverde, Florida and Garrett Green from Riverview, Florida. Veteran USCS sprint car driver Joe Larkin from Suwannee, Georgia who finished sixth in the USCS Southern Thunder 2022 standings joins Eric Gunderson as the only Georgia entries thus far.
Two South Carolina upstate area drivers, Brian Paulus from Clemson who is a veteran sprint car driver transplant originally from Central Pennsylvania is entered as is rookie sprint car driver John Peden from the Greenville area.
The USCS winged sprint cars are joined on the Friday night racing card by a full program of stock car racing as well including Renegade Sportsman, Thunder Bombers, Thunder Bomber Futures, Pure Stock, and Front Wheel Drive divisions to create an action-packed night of racing and family entertainment.
For directions to and more information about Travelers Rest Speedway please visit www.trspeedwaysc.com For updated schedules, rules and more for the United Sprint Car Series, please visit www.uscsracing.com. If you still have questions please call 770-865-6097.