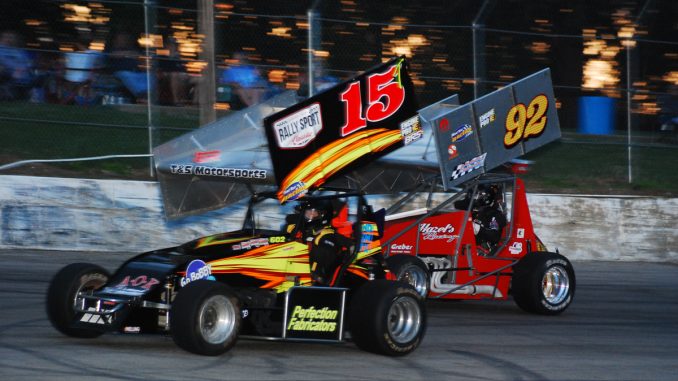 From Must See Racing
April 17, 2023 – Holly, Michigan – The Maxima Racing Oils Must See Racing Midwest Lights Series is less than a week away from its 2023 season opener. The fourth year series will kick off its 2023 campaign this Saturday night, April 22 at Lorain Raceway Park in South Amherst, Ohio.
LRP has been the unofficial home to the MSR Lights series. The track has played host to more MSR Lights events than any other track on the current schedule since its inauguration in 2020. LRP has been the sight of several fantastic MSR Lights races over the years. The speedway is conducive of side-by-side racing for virtually every winged sprint car race that is held at the track, and Saturday will be no exception.
The series was designed to be a low-cost, entry-level option, into winged asphalt sprint car competition the last three years. It has been a pipeline to the 410 MSR National Series. The series gives younger drivers much needed seat time at most of the same tracks the MSR National series competes at. Costs to compete are curbed due to the relatively inexpensive 602 crate engines that are currently being utilized.
A solid group of cars is expected highlighted by 2022 and defending champion Cody Gallogly. A handful of new teams will see the series fielding more cars and bigger car counts in 2023. An early list of drivers expected to compete includes Charlie Bauer, Lauren DePasquale, Parker Corbin, Matt Double, John Dale Evans, Bob Komisarski, Dale McQuillen, Todd McQuillen, Joshua Sexton, and Sawyer Stout. 2022 feature winners J.J. Henes and Andrew Bogusz are also expected. Gallogly, Henes, and Bogusz accounted for all eight of last season's feature victories.
Saturday night's event will be the Autism Awareness Opening Night/Remembrance Night for LRP. For more info on the Maxima Racing Oils Must See Racing Midwest Lights Series please follow Must See Racing of Facebook or visit the website www.mustseeracing.com for updates and additional information.