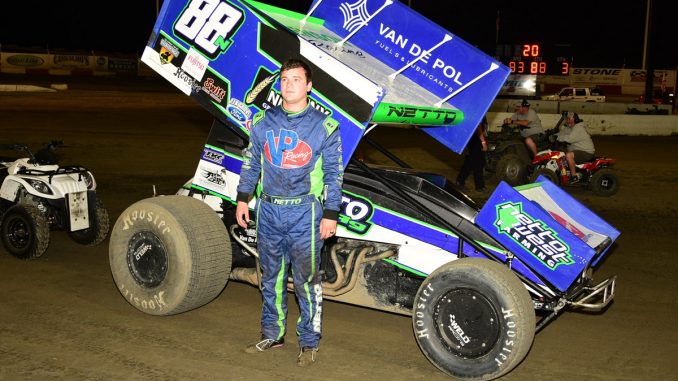 By Gary Thomas
Tulare, CA…Finding redemption this past Saturday at Thunderbowl Raceway former NARC champion DJ Netto claimed victory with the Kings of Thunder Sprint Cars during the Dennis Roth Classic.
"This is definitely an emotional win for me so it's safe to say I'm pretty happy right now," commented Netto, who suffered a shattered collar bone during an incident at Thunderbowl Raceway last October. "Once I got into the lead there was no way that I was going to back down. I wanted to get a win bad at this race and especially wanted to get back in victory lane at Thunderbowl Raceway after what happened during Trophy Cup."
Netto began the Kings of Thunder Winged 360 Sprint Car portion of the Dennis Roth Classic finale by setting fast time with a lap of 14.521. He proceeded to run third in the opening heat race, before starting from third in the main event. The Hanford, California racer settled into P3 at the waving of the green flag.
With four laps down Netto slid under Tanner Carrick to grab second, only to have Carrick return the favor a lap later. The 27-year-old stayed with it however and completed another picture-perfect slider to snatch the runner up spot on lap six.
Shortly after that exchange Netto assumed the lead and went on to cross under the Darryck Fairbanks checkered flag for the special win. Netto also ran third during Friday's Kings of Thunder feature.
"There were a lot of emotions as I rounded turn four, because I've been in that position at Tulare before and then ended up in the hospital," Netto elaborated. "This is a total team effort, so I have to thank my dad Frank, uncle James, Cori, Doug and Jason, along with all our sponsors who continue to support us."
With a busy work schedule, the next event for Netto is currently to be determined.
DJ Netto Racing would like to thank Netto AG, Van De Pol Petroleum, Penny Newman Grain, Estenson Racing and E.M. Tharp Peterbilt for their support this season.
𝗗𝗝 𝗡𝗲𝘁𝘁𝗼 𝗥𝗮𝗰𝗶𝗻𝗴 𝗤𝘂𝗶𝗰𝗸 𝗥𝗲𝗰𝗮𝗽- Thunderbowl Raceway
Friday April 14th:
NARC 410: Qualified (19th), Heat Race (7th), A-main (11th)
KOT 360: Qualified (3rd), Heat Race (3rd), A-main (3rd)
Saturday April 15th:
NARC 410: Qualified (21st), Heat Race (5th), A-main (14th)
KOT 360: Qualified (1st), Heat Race (3rd), A-main (1st)